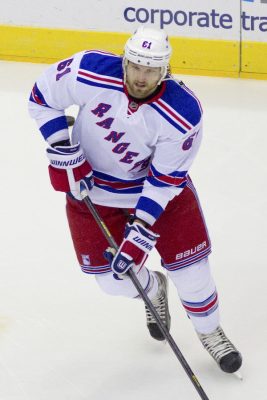 Rick Nash peaked in a decade ago. But for some reason, teams treat him like he's a one of a kind player. Based on his salary alone, one would think he's the most iconic left wing of the century.
Newsflash, he's really not.
Nash is a mediocre player, who, for some reason, is treated like an idol. And it's been getting to his head.
Earlier this month, Nash sent in a list of 18 teams he didn't want to be traded to. He could sense a trade might be coming, since his huge salary was holding the New York Rangers back from doing anything productive.
Nash is being treated like he's still a top pick in the NHL Entry Draft like he was back in 2002. Alert the media, it's not 2002 anymore, and not every top draft pick ends up playing the career they predicted.
Nash's intuition was right, and he was traded to the Boston Bruins on Sunday.
The Bruins also signed 39-year-old forward Brian Gionta, who was formerly on the Buffalo Sabres, to a one-year, one-way contract.
Buffalo chose not to renew his contract during the 2017 off-season. So with some extra time on his hands, Gionta was just in Pyeongchang playing in the 2018 Winter Olympics and captaining Team USA.
On its surface, the Nash trade might seem like a good move for the Bruins. Nash can play on a line with center David Krejčí and add some depth to the second line. He's a veteran guy and has playoff experience. That would make sense if it was a different player, but Nash can't and won't be that guy for the Bruins.
Gionta could fit in well with Boston's mantra and playing style. Nash certainly doesn't.
Since the 2013 Stanley Cup Finals when the Bruins lost to the Chicago Blackhawks, Boston hasn't been able to make much ground in the playoffs. The Bruins might just be looking for ways to make it past the second round of the playoffs. But this attempt seems a little desperate.
There's no doubt that Boston lost in this round, but a quick look over to the Rangers' locker room tells a completely different story. Yes, it seems a little empty right now, but this is a rebuild that was well overdue.
Despite trading captain Ryan McDonagh and J.T. Miller to the Tampa Bay Lightning, New York needed the purge. And the Rangers still have a good, core group. Jimmy Vesey, Pavel Buchnevich and Kevin Shattenkirk are all hitting their strides as relatively new additions to the roster.
New York certainly dodged a bullet with a potential Rick Nash debacle. He was getting a little diva-ish, especially with that no-trade list. In that situation, it's always good to take a page from New England Patriots head coach Bill Belichick and cut out the nonsense.
Calling him a diva may be a bit of an exaggeration, but Nash isn't worth all the money the Bruins are paying for him. Yes, it's half of the contract from the Rangers, which is a great discount, but Nash comes with a lot of baggage.
There's no way to spin it. Boston lost in this deal. Yes, the team might get to round three of the playoffs this year with this little boost, but it won't last. It's not a stable relationship.
The Bruins should learn from New York and start a rebuilding process for themselves.
Nash is more of a rental property than anything for the team. If it doesn't work out, he won't be there for long.
Bottom line, Nash is better suited in a lower-level NHL team. The Bruins don't need the veteran leadership of Rick Nash right now. They don't need the distraction before they head into the playoffs. Maybe Buffalo or the Ottawa Senators would be better Atlantic Division fits for Nash.
And if not an NHL team, Nash would probably be best suited for the AHL in the last few years of his hockey career.