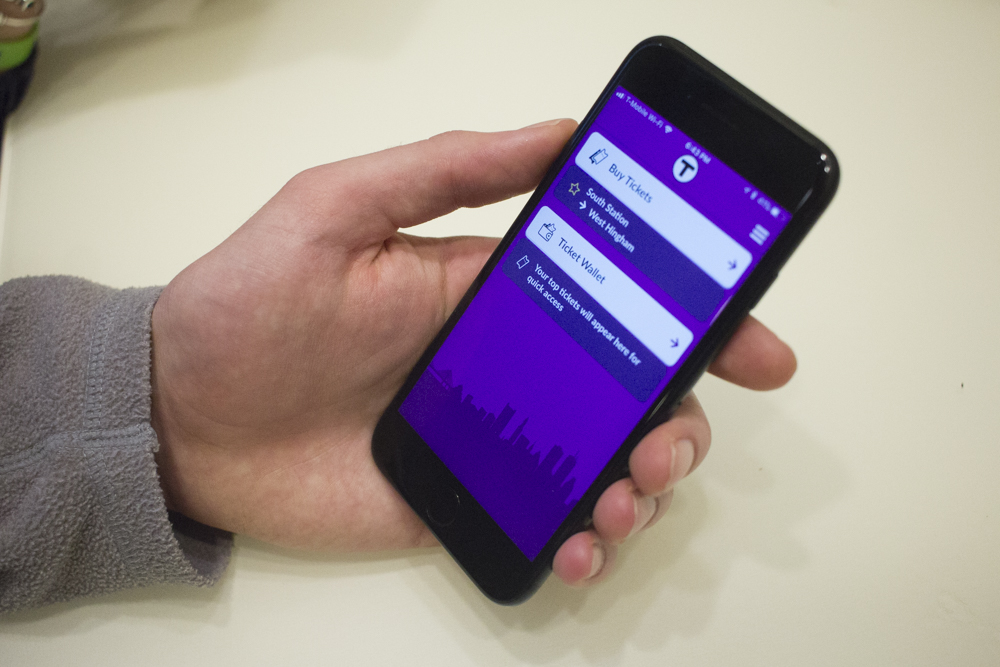 The Massachusetts Bay Transportation Authority announced Tuesday that commuter rail and ferry customers can now use Apple Pay to purchase tickets on the MBTA mTicket App.
Users of the MBTA's mobile ticketing app will now be prompted to "Pay with Apple Pay" using their iPhone's touch or face identification feature, according to a press release from the MBTA. The addition of Apple Pay is meant to give customers a quicker and safer way to purchase tickets, according to the release.
The MBTA is updating its app in partnership with Masabi, a company that specializes in transit mobile ticketing. The two companies previously worked together to launch the mTicket app in 2012.
Lisa Battiston, the deputy press secretary for the MBTA, wrote in an email that the MBTA is committed to being technologically forward.
"We have long believed that for transit to work best for its riders, we need to be technologically forward, whether in providing real time data, or in the way that people pay," Battiston wrote. "This same model is reflected for next generation fare payments system, where in 2020 our riders will be able to be able to pay directly with their mobile phones, contactless credit cards or an MBTA issued card."
The mTicket app was the first mobile ticketing rollout for any agency in the country, according to the press release.
Daniel Ivey, 44, of Brighton, said the MBTA should move toward a full investment in mobile technology to provide ease of access for customers.
"Anything that makes transportation options easier is good with me," Ivey said. "I think for some people, it can be difficult keeping track of a Charlie Card or their tickets so Apple Pay could make things a lot easier for them. It's just an added nice option."
When customers use the mTicket app, users have no need to carry cash when buying tickets, nor are they charged convenience fees, according to the release.
Shelle Santana, a business administration professor at Harvard University, said customers will latch onto the update to reduce time spent buying tickets.
"One of the experiences of using your phone, which is ubiquitous for all of us, is having to type all of these 15 numbers for your credit cards while using a small keypad," Santana said. "By embedding Apple Pay into the MBTA app and allowing customers to purchase that way, it removes a big friction point and just makes it more secure, faster and easier to use which I think is great for customers."
The MBTA can do even more, beyond the implementation of Apple Pay, to improve the user experience, Santana said.
"I think if we can get to the point where your phone can actually be used as your ticket, where you make your purchase and use it in a similar way as a boarding pass for a plane," Santana said. "You can just see how that will speed up all of the movement and the logistics of all the customers through the station and really help the flow of traffic."
This update aligns with the MBTA's pledge to the Automated Fare Collection 2.0, a project proposed by in 2017. AFC 2.0 has a goal of allowing users to tap their fare card, smartphone or contactless credit card to any door and be able to board. The system has plans to be available to the general public in May 2020, according to the MBTA website.
Kathy Martin, 51, of South Boston, said the she recently started using Apple Pay because of its expediency.
"I was a bit hesitant at first since I've always been a paper money kind of person, but it's very convenient and it'll definitely be a nice option to use that for the T," Martin said. "So, I'd say I'll probably use it."
Jakob Nichols, 36, of Natick, said while waiting for the train that the MBTA should have transitioned to using a universal app years ago.
"I really like the idea of using the app for the MBTA," Nichols said. "It seems a lot easier when you're on the go and maybe carrying a lot of stuff. People always have their phone in their hand and this way they could just open the app instead of having to search their bag."
Hannah Schoenbaum contributed to the reporting of this article.