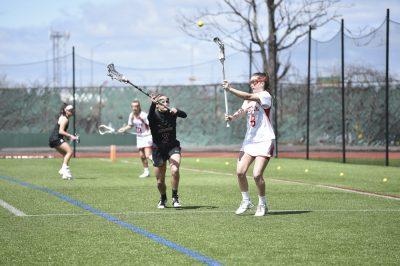 The Boston University women's lacrosse team will be looking for its second win of the season in a Wednesday afternoon matchup against Fairfield University, the final stop in a series of four away games.
During the Terriers' (1-3) spring break road trip, they suffered a 13-21 loss to then-No. 14 Duke University on March 4, which was followed by an 18-11 setback against Johns Hopkins University three days later.
Johns Hopkins (6-2) has yet to lose a home game, and its only losses were one-point deficits against the University of Pennsylvania and Georgetown University during the last week of February.
BU head coach Liz Robertshaw said she sees these non-Patriot League games as opportunities for the team to gain greater awareness of itself.
"I feel like these first couple games have been a tune-up against some really challenging competition and that was by design," Robertshaw said. "We wanted to see where our strengths were, where our weaknesses were and I think we've seen that. Now we're working to get better every day and bring our best game."
The 11 goals scored by the Terriers tied Loyola University Maryland for the most goals scored against Johns Hopkins at its home field.
Senior goalkeeper Christine Laible took over the net for BU in the last two games, making a total of 23 saves.
The road trip also saw the Terriers' leading scorer, sophomore attack Kailey Conry, extending her multi-goal streak to four games. The Needham native currently has a total of nine goals this season.
Senior attack and co-captain Avery Donahoe has also scored in every outing so far and posted her second hat-trick of the season against Johns Hopkins.
The duo's first hat-tricks came in the team's 14-10 win over the University of Massachusetts Lowell, its first away game of 2018.
"[Their scoring] has been great, it shows we have some consistency," Robertshaw said of Conry and Donahoe. "They have shown every day that they can put some points on the board. I think that gives our other attackers confidence to take some risks and learn how to play this game. We have a lot of freshmen and sophomores, and that means learning."
Fairfield (4-3) will be coming off of a 12-11 home loss against BU's conference opponent, Lehigh University, which snapped the Stags' three-game winning streak.
However, sophomore midfielder Meaghan Graham and senior attack Brenna Connolly both collected hat-tricks against Lehigh (5-3).
This was the third hat-trick of the season for Connolly, who leads Fairfield in goals with 14 and assists with 11 for a total of 25 points.
The team's defensive play has kept its opponents' offensive production in the single digits in three of its four wins and kept all of its losses within one goal.
While the defense will provide the Terriers a challenge, Robertshaw said she wants her team to take the lessons it has learned and put them into its next performance.
"Both offensively and defensively, [we] could be better," Robertshaw said. "We've seen some people score some goals, we've seen some nice defense and now we're looking to put it together. We've learned a lot."
Fairfield's sophomore goalkeeper Paulina DiFatta has started all seven games this season, putting up a goals against average of 9.94 and a goal save percentage of .536.
DiFatta is currently ranked No. 10 in the NCAA with an average of 11.57 saves per contest.
While Fairfield, Connecticut is under a weather advisory for the same storm that shut down BU's campuses Tuesday, Robertshaw does not believe snow will be a factor in Wednesday's game.
"The team is actually practicing [Tuesday] morning without me, because I'm snowed in and can't get in," Robertshaw said. "The team and assistant coaching staff have been going over the game plan, which is great, and then, [Wednesday], I don't think there will be any issues with the roads. We're just making sure the squad is ready to go, well-fueled and excited for another game day."