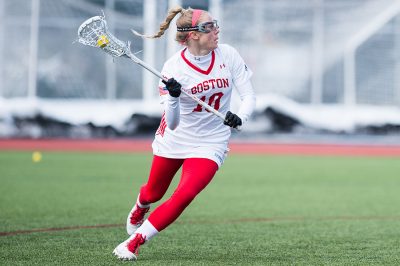 The Boston University women's lacrosse team will look to pick up its first Patriot League victory Saturday afternoon when it takes on Lafayette College, following a loss in its first conference matchup against Lehigh University last Saturday.
After splitting a series of away games 2-2, the Terriers (2-4, 0-1 Patriot League) returned to Nickerson Field for the first time since their season opener to face off against Lehigh (6-3, 1-0 Patriot League).
The home field didn't provide an advantage, as BU dropped the conference opener 15-8.
The Mountain Hawks pulled ahead quickly, putting 11 goals on the board by halftime.
The Terriers managed only one goal in the first half — the first of freshman defender Nicole Foringer's collegiate career.
"We were on separate pages as a team," BU head coach Liz Robertshaw said. "We just needed to focus on playing for each other and our game plan that we'd worked on. I think we settled in a lot better in the second half."
After refocusing, the Terriers pulled ahead offensively in the second, more than doubling their shot production from eight to 20.
Of BU's eight goals, six came from underclassmen: Foringer, freshman attack Makenzie Irvine and sophomore attack Kailey Conry.
Conry extended her active point streak to 21 games, and she has found the back of the net in all six games this season — the only Terrier to do so.
"We had some people getting on the field and taking some great looks for us," Robertshaw said. "We had freshmen like Makenzie Irvine go out and score a couple goals like she had in practice, and that was great highlight."
Despite the improved second half, the game would prove to be the first conference opener the Terriers have lost since joining the Patriot League in 2014.
"It wasn't the first half we wanted," Robertshaw said, "But I think the team showed a lot of character coming back in the second half and playing a better game."
Lafayette (3-5, 0-1 Patriot League) will also be on the hunt for its first Patriot League victory of the 2018 season after its 16-14 loss to the College of the Holy Cross last Saturday. It was the team's second straight loss after a three-game winning streak on its home turf.
Leading the Leopards' offense is junior attack Jane Kirby, who scored six goals on 14 shots against Holy Cross (3-6, 1-0 Patriot League) and currently leads the team in points with 35.
Additionally, Kirby put up five goals when the Leopards faced off against BU last season.
Junior midfielder Hannah Davey dominated the faceoff X against the Crusaders, winning nine of the team's 16 draw controls.
Davey, who is third in points on the Leopards' roster with 17, also collected a goal, an assist, three ground balls and a caused turnover on the day.
When considering how the Terriers will look to combat Lafayette, Robertshaw looked inward.
"We know we need to focus on the best parts of our game and making them better, and then working on the parts of our game that are a little lacking," Robertshaw said. "I think we've identified them, we're very conscious of that, so we want to bring our best game forward."
Three goalkeepers saw action for the Leopards that afternoon against Holy Cross.
Freshman goalkeeper Quinn Lacy started in net, as she has for six games this season, but was pulled after making two saves and allowing eight goals in the first half.
Lacy maintains a 12.17 goals against average and a .385 goal save percentage.
Senior goalkeeper and co-captain Anna Raymond replaced Lacy, and in 29:40 of play made three saves and allowed five goals.
Sophomore goalkeeper Taylor Danson spent less than 10 minutes in net, giving her time to make two saves and allow three goals.
In the 2017 season, the Terriers established dominance against Lafayette. The two teams' regular season meeting ended in a 20-16 win for BU, its highest scoring game since 2013.
The two teams met again during the 2017 Patriot League semifinals at Nickerson Field, where the Terriers held the Leopards to a decisive 14-7 victory.
Lafayette hasn't been held to single digits since.
"I just think every year is a new year," Robertshaw said. "Yes, looking back, historically we've played well against Lafayette and we've had some good outcomes. We want to take that confidence moving forward, but this is a new Lafayette team and a new BU team."