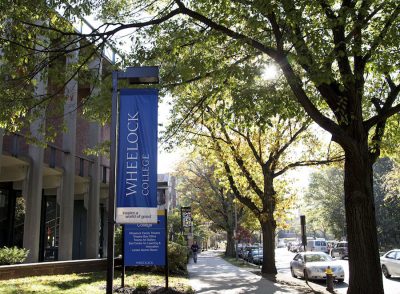 Starting in the fall of 2018, Wheelock College students will transition into the Boston University community as part of a merger announced in in October. In order to make the transition process go smoothly, BU and Wheelock faculty members are providing specialized academic advising to transitioning Wheelock students.
Advising is already underway in order to prepare students for class registration in April, BU Associate Vice President for Enrollment and Student Administration Denise Mooney wrote in an email.
The majority of students at Wheelock study education and will, therefore, transfer into the School of Education. SED Associate Dean for Academic Affairs Donna Lehr, SED Dean ad interim Catherine O'Connor and SED Director of Graduate Student Services Katharine Nelson explained the advising process for these students in an email to The Daily Free Press.
The advising is geared toward helping Wheelock students figure out how to fulfill the requirements for their degree within the framework of BU's upcoming education college — the Wheelock College of Education and Human Development.
Some requirements will be fulfilled by former Wheelock courses that are being brought into the BU curriculum, while others will be fulfilled by existing BU courses that have been deemed comparable by Wheelock program directors, they wrote.
The advising is being led by BU program directors but coordinated alongside Wheelock faculty program directors who will be joining the BU community in the fall.
Mooney wrote that some BU schools currently have a single advising contact for Wheelock students, while others, like SED, have advisors from multiple programs available to help students.
Arvin Hedayaty, a Wheelock junior transitioning to the College of Arts and Sciences next year, said he found the advising process helpful in answering his questions about how to finish his degree.
"I'll probably have more questions once class registration begins, but right now, it's been somewhat of a seamless transition," Hedayaty said. "Of course, there will be bumps in the road with any sort of merger like this, but so far it has been pretty good."
Mooney wrote that in addition to helping Wheelock students determine which courses they'll have to take at BU, the special advising will hopefully help acclimate them to the BU community as well.
"This transition represents a major change for these students," Mooney wrote, "so the meetings are also an opportunity for them to connect with, and be welcomed by, helpful and knowledgeable staff and faculty who can answer questions or connect them with other BU resources as needed."
Wheelock junior Brendan Mulholland, who will be transitioning into SED, wrote in a Facebook message that BU has been helpful in explaining its non-academic resources as well.
"There have been open houses and information sessions about majors, housing, and financial aid that have been very helpful." Mulholland wrote. "… The faculty and administration that I have talked to have been extremely helpful and understanding for the transition to Boston University."
Mulholland added that though the merger started off uneasily for him, many of its issues seem to have been resolved.
"There was some miscommunication and mixed messages from both schools in the beginning, but everything appears to be clear and focused at this point," Mulholland wrote.
Wheelock junior Orianna Natsis wrote in a Facebook message that because of the merger, she will not be able to pursue a double major in counseling psychology and political science as she planned.
"Going into the advising meeting, I'm hopeful, but hesitant," Natsis wrote. "After all, there are still so many 'I don't know' and 'that hasn't been determined' responses. In that regard, I am frustrated, because it will be my final year, and I will, essentially, be a freshman all over again."
Natsis wrote that though there are still many uncertainties regarding her transition to BU, she is ultimately excited for the merger.
"There's no denying that Boston University has resources and opportunities that Wheelock just does not have access to," Natsis wrote. "BU is a larger institution, and while that isn't what a lot of Wheelock students signed up for, I think that the transitioning students should try to utilize those resources while they can."