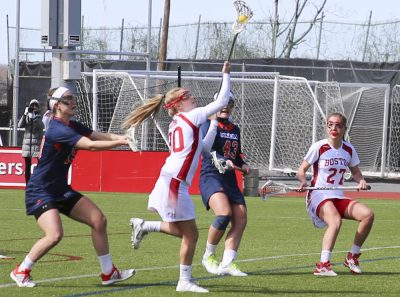 While senior attack Avery Donahoe currently leads the Boston University women's lacrosse team in goals and is a close second for points, her transition to NCAA play did not come easily when she first joined the team. The Alexandria, Virginia, native put up only four goals and four assists in 13 games her freshman campaign.
Now eight games into the 2018 season, Donahoe has notched 20 goals, having scored in all but two of the Terriers' matchups so far.
"I've been playing with [Donahoe] for four years, and it's so great watching her get more confident and fill that leadership role more," senior midfielder Caroline English said. "I love being on the field with her, celebrating with her."
English also highlighted another hidden, award-winning talent of Donahoe's that decorates the Terrier locker room: her artistic ability.
In her senior year at St. Stephen's and St. Agnes School, Donahoe earned a silver medal in the national 2014 Scholastic Art & Writing Awards for her drawing, "Afternoon Light."
To BU head coach Liz Robertshaw, Donahoe's art serves as another tangible marker of her developed confidence and how that translates to her leadership position.
"She knows what she's good at — she's an amazing artist — and she showcases that," Robertshaw said. "She can also relate to the other girls on the team. She's been in the position where she's been a little less self-confident, she had to fight for her starting spot and the things she's gotten. It hasn't just been handed to her."
It was this relatability and positivity, Robertshaw said, that motivated the team to elect Donahoe as one of its co-captains, alongside senior defender Maria Guerra, this year.
Before becoming a Terrier, Donahoe played on the St. Stephen's and St. Agnes varsity lacrosse team for three years. There she helped the team earn two state titles and an Independent School League AA championship.
As a junior, she also served on the Under Armour Underclassmen Washington, D.C. team and the Potomac Team at the U.S. Lacrosse National Tournament, where the team won the divisional championship.
"When we watched her play in her sophomore and junior year [of high school], we just thought she saw the field so well," Robertshaw said. "She could hit great feeds, she was really aggressive from behind the cage, the X position, and that is the kind of play we really recruit and want in our program."
In joining the BU team, Donahoe built upon a legacy in her family; her father, William Donahoe, had also played lacrosse at Hofstra University.
Still, Donahoe needed to find her own way to develop into an NCAA-level athlete.
After earning two assists in her collegiate debut, Donahoe was held pointless for eight games before scoring her first collegiate goal against Lafayette College.
She put up her first multi-goal game in the Terriers' following contest against Lehigh University, only to once again go without a point for three of the last six games of the season she saw the field for.
"It really took until my sophomore year [for my play to develop]," said Donahoe. "I decided that if I'm going to be here, playing and living this lifestyle for two more years, I really have to make the most of it."
Along with increased dedication to offseason training, Donahoe emphasized the importance of building confidence as well.
Donahoe said she believes that once she stopped allowing opposing players and coaches to "get in her head," she was better able to focus on her play. This was also something noted by the rest of her team.
"I am really impressed with how she's matured as an individual and how much self-confidence I've seen her gain in her time here," Robertshaw said.
Donahoe's sophomore year did see improvement. In the 17 games she played, she started in 13, and her total production jumped from eight points in the previous year to 22.
The following 2017 season proved to be an ever bigger breakout for Donahoe as she played in every game.
In BU's season opener against crosstown rival Boston College, Donahoe earned a hat trick and an assist.
To prove that it wasn't an outlier, she put up another four-point afternoon in the next game against the University of Massachusetts Lowell.
After amassing 12 points in the first four games of the season, Donahoe fell into a three-game pointless streak.
Donahoe then went on to have multipoint nights in eight of the remaining 11 games, including six more hat tricks and earning the title of Patriot League Attacker of the Week after a six-goal, one-assist afternoon against Lafayette on April 8, 2017.
"I'm impressed by it," Robertshaw said of Donahoe's uptick in scoring. "It shows that if you put in the work, your game will improve. Since she was a freshman, she's put in hours of working on her skill, and because of that, you see her game get better and better."
The 5-foot-3 attack ended the 2017 season with 42 points, a number she's on pace to beat this year with an average of 2.5 goals per game.
Now in her final year as a Terrier, Donahoe recently put up her second six-goal game of the season in the Terriers' first conference win against Lafayette, which earned her an honorary mention with the March 26 Patriot League Players of the Week.
"It's just really exciting getting to lead the team and be there for my teammates," Donahoe said. "I have so much passion for this team and for this season, so it's really awesome to be in this role and be able to exude that passion every single day, and watch everyone get stronger as the season goes through."