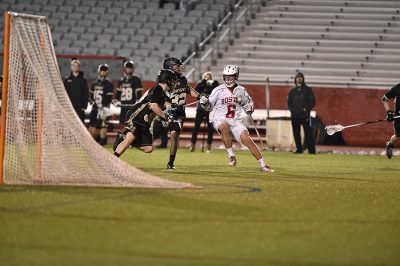 After making the playoffs for the first time in program history last season, the Boston University men's lacrosse team entered the 2018 season with high expectations.
The Terriers (5-5, 1-3 Patriot League) have struggled in the beginning of the year — falling in their first three conference matchups — but there have been some promising signs as of late.
And with every game, there has been another point for senior attack Jack Wilson.
"Jack's a great player and came to BU to kind of help us build this program," BU head coach Ryan Polley said. "I think the fact that he's been able to be as consistent as he's been and [be] a really productive scorer for us has really helped us build the program."
The Manlius, New York native has scored at least one point in every game of his collegiate career except for one and is currently is riding a 53-game point streak.
In the Terriers' 12-8 win Saturday afternoon at Lafayette College, he became the first player in program history to record 100 career goals.
Wilson is also BU's all-time leader in assists with 154, and was named to the Tewaaraton Award watch list for this season.
Wilson's 22 goals and 30 points this season are good for second and third on the team, respectively.
"He's practices every single day [and] practices hard," Polley said. "That can't be understated [with] just the physicality of the sport … He's a great player who understands scoring and put himself in position to score goals and make his teammates around him better."
Terriers starting games strong
During the first 10 games of the season, the Terriers have not trailed any opponent going into the second quarter.
"I just think our guys are doing a good job preparing during the week and being ready to play," Polley said. "We're getting off to some good starts. Our offense has been efficient [and] I think our defense is getting better on a week-to-week basis."
BU has outscored its opponents 32-28 during the opening frame of 59 shots on goal. Terrier goalkeepers have made 26 saves during the first period.
However, BU is outscored 110-115 in total, including being outscored 26-36 in the fourth period.
"The biggest thing for us is we have to play 60 minutes," Polley said. "I think we're getting off to good starts and teams are making adjustments. As a coaching staff and as players, we need to adjust [to] what they're doing and continue to execute our game plan."
Freshman attack Chris Gray named Patriot League Rookie of the Week
Sometimes it takes freshmen a bit of time to get acclimated to the college game, but this has not been the case for Gray in his first season with BU.
The Wading River, New York native's 46 points and 28 assists lead not only the Terriers, but also all NCAA freshmen.
"Chris is a special talent, he's just a great player," Polley said. "We kind of recruited Chris to come in and be a scorer, and score more goals than assists and to get people involved. Chris has really transformed his game to be a threat as a scorer or as a passer."
For his performance last week, Gray was named the Patriot League Rookie of the Week.
Last Tuesday, in BU's 19-18 loss in overtime to Harvard University, Gray set new single-game program highs in assists (eight) and points (10). The eight assists tied the single-game NCAA high for the 2018 season.
He followed up that performance four days later against Lafayette (2-8, 0-5 Patriot League), putting up five points for the sixth time this season.
He has put up multiple points in nine out of the 10 games this season, and has not been held pointless once this year.
"He's just so unselfish," Polley said. "Right now, for us, he's our best offensive player."