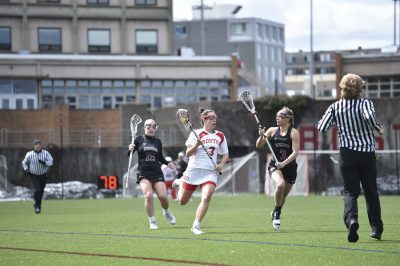 The Boston University women's lacrosse team will look to get back to .500 within the Patriot League during its Saturday afternoon game against No. 7 Loyola University Maryland, the opening matchup of BU's third annual Lax-A-Palooza.
Of the Terriers' (3-5, 1-2 Patriot League) eight games so far, only two have been on Nickerson Field and have ended in losses.
BU's most recent 12-8 loss to Colgate University Wednesday night ended its two-game road series on a sour note, after having started with the team picking up its first Patriot League win against Lafayette College.
BU played a tight first half against the Raiders (7-3, 2-1 Patriot League), holding the score to 4-4 going into half time.
While the Terriers were managing to generate scoring chances, they were unable to take advantage — only converting eight of their 36 shots.
BU head coach Liz Robertshaw said her team will look to improve this going forward.
"Offensively, we just need more people putting points on the board," Robertshaw said. "Our leading point-scorer [Wednesday] was Kailey [Conry] and she was in a double team and she was getting beat up all day."
The defense held steady, with senior defender and co-captain Maria Guerra going on to match a career-high five ground balls and four forced turnovers.
Senior goalkeeper Christine Laible made 11 stops, the fifth time this season that she cracked double digits in saves.
However, in the second half, penalties began to pile up and severely undercut the Terriers' play.
The Raiders were able to convert a man advantage into a four-goal scoring streak with less than 10 minutes left in the matchup.
Before the yellow card was called against Guerra, which led to Colgate's two minute man-up opportunity, the score was knotted at 6-6.
When Guerra returned, both teams scored twice more, and BU's point leader sophomore attack Kailey Conry notched her second hat trick of the season.
"We need to limit our fouling," Robertshaw said. "As we saw, four goals in a two-minute span can really hurt you. Loyola is a dynamic team. They're very stick-savy. They take a lot of shots, and that's something we need to look to limit."
In a quick turnaround, the Terriers will face a tough Loyola (7-2, 3-0 Patriot League) team.
The Greyhounds' two losses of the season may have come while the team was on foreign turf at the beginning of the year, but Loyola has gone undefeated since and is currently in the midst of a seven-game winning streak.
The Greyhounds have also averaged a league-best 16 goals per game this season.
Loyola's most recent victory came in a 22-3 thrashing of American University, a contest in which 12 different Greyhounds found the back of the net.
"A sense of urgency," Robertshaw said when asked about what her team needs to bring into Saturday's contest. "It can't be reactive and fearful, it's got to be urgent [and] at the same time, aggressive and poised."
Leading the attack was freshman midfielder Bridget Ballard, who tallied five goals.
Junior attack Hannah Powers — who leads Loyola in points with 34 — was one of four players to earn four points on the night with one goal and three assists.
Greyhound record holder for single-game and singe season draw controls, junior midfielder Taylor VanThof, maintained her dominance and picked up 16 wins at the faceoff X in addition to two goals.
On defense, senior defender Madison Fahey was named the Patriot League Defensive Player of the Week for the week of March 26 after picking up two ground balls and causing two turnovers in Loyola's 18-5 victory over Lehigh University on March 24.
Saturday will be the two teams' first meeting since the Terriers' 19-14 season-ending loss to the Greyhounds during the 2017 Patriot League semifinals.
"It's not about a rank, it's who wants it more," Robertshaw said. "You just can't get caught up in rankings. You just have to lock in and play your game. If our team can focus on the game plan that's put forward and they can focus on each other, we can have a good day."
Nicholas Miata contributed to the reporting of this article.