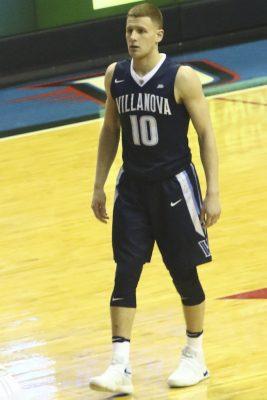 After watching Monday night's championship blowout between the University of Michigan and Villanova University, I was left feeling one way: disappointed. The Wildcats' 79-62 victory acted as a prime example of how lackluster the 2018 men's NCAA Final Four was as a whole.
In all three games, the winning team won by an average of 15 points. While the miraculous run of precious Sister Jean's Ramblers of the Loyola University Chicago warmed our hearts, and the dominant final performance from Villanova's Donte DiVincenzo caught everyone's attention like bait on a hook, most fans would agree that all three Final Four games were extremely subpar.
I understand that disappointing finishes are just an inevitable part of sports. Fans who expect nothing but climactic excitement every single day should stick to wrestling. In basketball, not every game can boast a blood-pulsing ending.
Unless we're talking about the 2018 NCAA Women's Final Four.
Two of the three Final Four games on the women's side ended it buzzer-beater fashion — thanks to the University of Notre Dame's Arike Ogunbowale — while the other matchup went into overtime.
For the first time since I started watching college basketball, I can honestly say that I enjoyed watching the women's Final Four much more than the men's.
And the thrill of replaying Ogunbowale's Kobe Bryant-like game-winners over and over again in my head made me ponder the obvious polarity between both of the Final Fours.
Is there more to it than just the, "Well, that's how some games go" ideology? What about the women's game made it so much more fun to watch? I have a hypothesis.
In the NCAA, the men's side plays two 20-minute halves. Since 2015, the women's side — along with the Women's National Basketball Association and American high school basketball leagues — plays with four 10-minute quarters.
Ask any diehard college basketball fan, and he or she will have an opinion on the halves versus quarters debate. The argument is real and it is heated.
Many fail to recognize that whether a game is played with halves or quarters can have serious effects on the actual game play and performance of the players.
Basketball is a game of runs. In a 20-minute block, a team has a whole lot of time to go on a run, and keep it going strong. Subsequently, the opposing players have to stop the bleeding and dig themselves out of — what is now quite possibly — a large deficit.
Although it might not seem like a big deal initially, having a quarter break in there helps the cold team get its bearings straight. Aside from just an extra talk with the coach and a chance for players to catch their breath, a "bad quarter" finally coming to an end is a huge boost mentally.
Growing up playing hoops, you wouldn't believe how many times I heard something along the lines of, "Put that quarter behind us and move on." It's a heck of a lot easier to recover from a poor quarter than it is from a poor half.
On Monday, Michigan was useless in the second half, and were the victims of a 14-3 run by Villanova within the first six minutes of play after intermission.
Who knows, maybe a quarter break was what the Wolverines needed mentally to turn things around. But instead Michigan couldn't catch its footing and was unable to climb back.
The 20-minute half also disrupts the flow of the game in an awkward way, specifically when it comes to fouls.
Unlike the women's game, where a team's foul count resets at the end of each quarter, men's teams are left with the burden of their committed fouls for the entire half.
Men's teams often reach the maximum foul limit — seven fouls committed by a team in a half — pretty darn early. As a result, opposing players go to the free throw line every single time they draw a foul, even if they weren't in a shooting motion.
Hypothetically, if a team fouls their opponent seven times in the first five minutes of a half, the next 15 minutes can quite easily be nothing but free throws. This draws some men's games out past the point of boredom.
However more importantly, all this free throw shooting by one team can severely hinder the other team's ability to get some sort of momentum started. This choppy style of basketball is much less common on the women's side, largely because fouls reset more often throughout a game.
So hey, maybe I'm just reaching for something.
Of course there were exhilarating games in this year's March Madness and even a buzzer-beater in the 2016 men's championship, let's not forget.
Villanova's dominant victory on Monday could very well have come just because the Wildcats made up a better basketball team. And the jaw-dropping finishes in the women's Final Four may have just all occured out of coincidence.
But if the NCAA continues to see dramatic blowouts in important men's games in the future, it would not be a bad idea to consider implementing some new rules to help teams combat their opponents' deadly runs.
Maybe the men could learn a thing or two from the women.