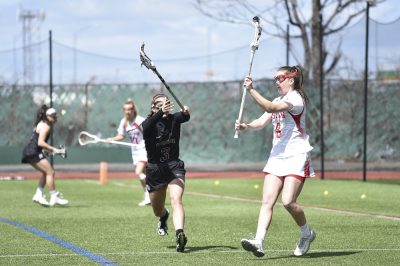 Boston University's women's lacrosse sophomore attack Kailey Conry started playing the sport for the first time in sixth grade. Eight years later, the Needham native is wearing a scarlet and white jersey and emerging as one of the Patriot League's most talented players.
The Terriers (9-6, 5-3 Patriot League) recently clinched a spot in the 2018 Patriot League tournament after their 9-8 victory over the United States Military Academy.
Conry's offensive production all season has played a large part in securing her team's fifth consecutive trip to the postseason tournament.
"Once I picked [lacrosse] up, I never wanted to put it down," Conry said. "It kind of clicked right away."
Conry credited her parents for encouraging her to remain active and play a wide variety of sports growing up, which included a four-year starting career in field hockey.
However, lacrosse runs deep in her family, as both of her parents played. Conry's mother, Kate, is in the Boston College Athletic Hall of Fame for her contributions to both the lacrosse and soccer teams.
During her time in high school, Conry enjoyed success as her team won four straight Bay State Conference Championships. She also set a record at Needham High School with 473 points, including 244 assists.
Her acute vision of the field was evident even in high school, and BU head coach Liz Robertshaw explained that this was one of the reasons why the program recruited Conry.
"I just saw a player who read the game very well and could see her teammates open before they even knew they were open," Robertshaw said. "I felt like she had this really neat way of seeing the game and being pretty creative, and I felt like that was something that I wanted to work with."
Conry immediately broke out on the scene in her freshman campaign.
The attack notched three assists in her first career start and went on to set a new single-season record for assists with 54. In addition, she led the team in points with 68.
She recalls being the quiet one on the team, but explained that she has taken on a new role.
"I think I've developed so much as a player and even more so as a person," Conry said. "I think just my voice has been the most improvement I've seen. I used to be very shy and very quiet on the field, and now I'm taking more of a vocal leadership role."
This season, Conry avoided a "sophomore slump" and improved on her already stellar rookie campaign. She has collected an assist in every game so far this season and scored in all but four.
Her most highlight-worthy matchup came on April 4 during BU's 20-16 victory against Harvard University, where Conry contributed five goals and eight assists for a total of 13 points — breaking the program's record.
Conry explained that the other Terriers are the ones on the field that allow her to be successful and remain consistent.
"It's my teammates," Conry said. "You can't have an assist unless your teammate puts it away. My relationship with my teammates has allowed for that, and just being dedicated to being my best every day and doing what I need to be doing."
With one game remaining in the 2018 regular season, she currently has 41 assists and averages a Patriot League-best 2.73 assists per game.
One of those teammates that Conry credits for her success, freshman attack Ava Barry, said she has seen Conry develop into more of a leader during her first season with BU.
"She sets a great example for a lot of the players on the team, especially our attack because it's a lot of younger players right now," Barry said. "Kailey's someone they look to for how to play on the field and that confidence she has."
After making 15 starts last season, Conry has started in every game so far this season, and continues to be a key part of Robertshaw's starting lineup.
Since senior attack and co-captain Avery Donahoe was sidelined due to an injury on April 11th against the University of New Hampshire, Conry has made her presence on the field known even more.
In the three games since, she has been a key factor in the Terrier offense, often setting up shop behind the net, accumulating 10 points and scanning the field in front of her for open teammates.
Conry currently leads the team yet again in points with 66 and has increased her goal total from 14 last season to 25 this year.
Robertshaw said she has noticed improvements in Conry's game, and stated that the experience gained from freshman to sophomore year has helped her tremendously.
"I'm seeing her be a little bit more dynamic," Robertshaw said. "When she came here, she was a lot more feed-heavy, but she's become a dodger. It's been fun to see her elevation as an attacker. I've also seen her increased game knowledge. I think there's some games that you're really seeing her able to pick apart defenses."
Two games that Robertshaw noted specifically were BU's games against Harvard (5-9) and UNH (6-9).
Against the Wildcats, Conry dished out two assists in the 16-13 victory.
As the Terriers prepare for postseason play, they will certainly turn to Conry to lead them in an attempt to reach the Patriot League tournament championship for the first time since joining the league in 2014.
With another full season almost under her belt, Conry said she is excited about the upcoming tournament play and her developing career as a Terrier.
"We had a tough start to the season, but we learned from the mistakes we made, took it on the chin and decided we weren't going to let that happen with the rest of our season," Conry said. "We went to work and you can see the outcome."