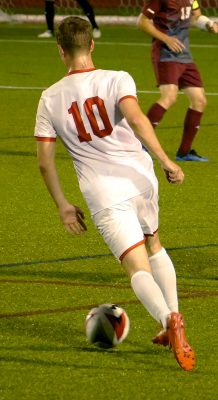 The Boston University men's soccer team picked up its first win of the season against the University of Massachusetts Amherst Friday. Now, the Terriers (1-2-1) are traveling to Hanover, New Hampshire for a Tuesday-night match against Dartmouth College.
Last season, the Big Green (0-3) ended their season with a 12-3-1 record, earning the team its fourth straight Ivy League title.
Dartmouth made a push into the NCAA tournament, only to fall short of the Sweet Sixteen after a loss to the University of New Hampshire in a match that went to a penalty kick shootout.
The Big Green was then voted as top contenders to continue their title streak this season by media members during the preseason.
So far, however, Dartmouth has been shutout in each of its games this season.
BU head coach Neil Roberts spoke to a difficult start start of the season for the Big Green.
"They started out on the road against a tough lineup," Roberts said. "Two ranked opponents, and then the road to UConn isn't easy, either."
The team's season started with the Adidas/IU Credit Union Classic in Bloomington, Indiana, where it first faced off against No. 6 Indiana University.
Indiana (4-1), who fell to Stanford University the NCAA Championship game last season, handed Dartmouth its most decisive loss of the season with a score of 0-3.
Throughout the game, the Big Green got off only two shots, neither of which were on goal.
The game against the No. 24 University of Notre Dame resulted in a slightly improved record of 0-2 with five shots, but still failed to shoot on the target.
It was at Notre Dame (3-0-1) that the team faced its former head coach Chad Riley, who previously led Dartmouth for five years.
The Big Green are now led by head coach Adegboyega "Bo" Oshoniyi, the 11th in over more than a century.
"Bo is terrific coach, has coached at a high level and [has] had success there," Roberts said, referencing Oshoniyi's experience coaching the East Tennessee State University men's soccer team to back-to-back conference titles. "I believe he can lead Dartmouth well."
Dartmouth had its closest game of the season against the University of Connecticut and allowed only one goal.
It also got its first shots on goal for the season but was outpaced 3-8 by UConn (3-2).
Two Big Green goalkeepers, junior Henry Stusnick and sophomore Christopher Palacios, have played through starts this season.
Palacios has started in two games this season and has a save percentage of 0.692.
As a freshman in 2017, he started in 15 games. Ten shutouts put his goals-against average under one per game while maintaining a .775 save percentage.
Dartmouth has failed to beat BU in the teams' last six meetings and most recently gave up another shutout in 2016.
"It's going to be [the Big Green's] first home game, so they're going to be excited and ready to go," Roberts said. "We're going to have to be ready for that."
The Terriers earned their first win against UMass (2-2-2) Sept. 7 with a 3-2 score after getting shutout in both of their losses so far this season.
Two of the goals came from junior forward Matt McDonnell, who also put together a hat trick against Boston College.
While Roberts said he is happy about the offensive production, he still believes the team has more work to do.
"Getting three goals against [UMass] is not easy, and I think we should be happy about that," Roberts said. "We think that first goal is something we wish we could have back, so we definitely have some things defensively we need to tighten up."