By Avery Carlisle and Minali Prasad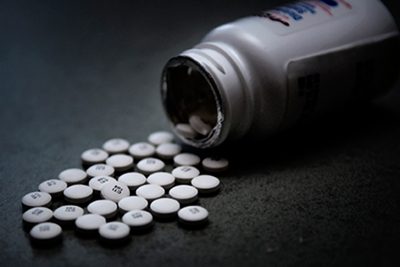 Massachusetts leads the nation in decreasing opioid prescriptions, as the nation fights the ongoing opioid crisis. Massachusetts General Hospital continues this offensive, in part by holding a public panel Friday to discuss treatment for opioid addiction in emergency departments.
Opioid overdose deaths in Massachusetts declined within the first few months of 2018, according to the Department of Public Health. The panel, titled "Emergency Department Based Treatment for Opioid Addiction," was held at the hospital's Maxwell and Eleanor Blum Patient and Family Learning Center.
Alister Martin, a resident physician for MGH and Harvard Affiliated Emergency Medicine Residency, spoke on the panel alongside Dawn Williamson, an addiction specialist in MGH's Emergency Department.
Martin discussed three major challenges in treating opioid addiction in emergency departments: federal law, lack of pre-existing protocol and difficulties changing the behavior of physicians.
Emergency departments' first challenge is working with the requirements of the Drug Addiction Treatment Act of 2000. DATA 2000 states that in order to prescribe buprenorphine, a medication used to treat opioid addiction, physicians must take an eight-hour course and then obtain a waiver.
Martin reported MGH went from having one of their 41 attending physicians waivered to 38 of 41, and he said most hospitals across the United States only have one or two waivered doctors.
The second challenge centers around the lack of protocols regarding buprenorphine in emergency departments nationwide. Martin said protocol for the drug had to solve two issues: the pharmacy might not have the medication in stock and the pharmacy might not be able to give it to the patient.
Martin said that MGH's new protocol, encapsulated in the hospital's #GetWaivered program, makes it easier to get buprenorphine to addicts.
"The patient actually gets two days of this medication in hand, in the emergency department, right there, and they're able to begin their recovery journey," Martin said in an interview. "Everyone gets follow-up the next day with an addiction medicine specialist."
Emergency departments must also address the ingrained mindsets of doctors as they work to change how physicians treat the addiction, according to Martin. MGH has partnered with ideas42, a nonprofit behavioral design lab.
The two partners have a grant with the Laura and John Arnold Foundation, which they will use to study how to shift behavior in the context of opioid addiction treatment, according to Martin.
He said he believes that one of the most effective ways they can change behavior is through storytelling.
"We brought patients to come and tell their stories about what life was like before being on the medication, the relapses, the overdoses, the stuttering and stopping of trying to get their life together," Martin said. "And then afterwards, being able to be stable, getting back into their communities, getting back into work, repairing relationships with their friends and family."
Martin explained that these stories enable doctors to see that "what they do matters, that when they have a patient in front of them, they actually can make a big difference in people's lives."
Elizabeth Powell, senior administrative manager of MGH's Substance Use Disorders Initiative, organized this event to demonstrate the power of positive stories about recovery from opioid addiction.
"We frequently run into frustrations of patients of providers of families that this is an illness that people don't get better from," Powell said in an interview. "Even though someone lives with the illness for the rest of their life, there are a variety of treatment options, and people do achieve remission from their disease and achieve recovery and go onto live healthy lives."
Ravjot Singh, a graduate student at the School of Public Health, said he believed increased access for physicians to buprenorphine would help treatment.
"Having more doctors who are able to prescribe buprenorphine would definitely make it easier for emergency doctors, who are often the first ones who see people coming in from an overdose," Singh said in an interview.
Martin said he believes that MGH's new focus on evidence-based treatment will help to change the mindsets of doctors.
"By nature of the work that we do in emergency departments," Martin said, "you don't see your successes."
He said he believes this makes emergency room doctors nihilistic. However, Martin said he thinks there is hope.
"When patients are started on effective treatment, the vast majority of them get better," Martin said. "We can all expose ourselves to the stories of patients who have gotten better. … We can remember that what we do matters, and instances when we have patients in the ER, these are all reachable moments where we can actually change the trajectory of someone's life."