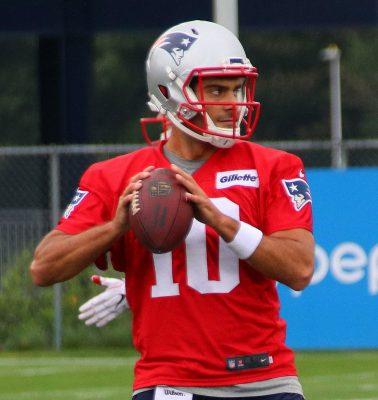 WILL
LeSean McCoy
The Buffalo Bills are bad. In fact, they may possess the worst offense in all of football. The combination of Nathan Peterman, who had a QBR of 0.9 last week, and Josh Allen, who clearly is not ready for NFL games, are all coach Sean McDermott has to lead his offense behind center.
Thankfully for McDermott, he does have the immensely talented LeSean McCoy as a reliable option. Unfortunately for the Bills and their loyal Mafia, they were blown out 47-3 last week by a should-be average Baltimore Ravens offense. Now with Allen at the helm, Buffalo needs to completely lean on McCoy for the near future.
While the team's Week 2 opponent in the Los Angeles Chargers contained Kareem Hunt to just 3.1 yards per carry, expect Shady to carry the rock early and very often. After just seven carries, I expect him to reach 16–20 touches as he will likely be the whole offense. The Chargers will indeed stack the box, but I expect the volume to lead to a touchdown and a RB2 fantasy day.
Prediction: 15 carries/65 yards/1 TD – 3 catches/15 yards
Jimmy Garoppolo
Ah, Jimmy G. — everyone's favorite former backup quarterback.
After a highly anticipated Week 1 start, Garoppolo suffered his first career loss as a starter to an elite Minnesota Vikings defense. The San Francisco 49er wasn't sharp at all, completing just 15 of 33 passes for 261 yards, one touchdown and three interceptions. Unfortunately, Jimmy missed some wide-open throws to promising tight end George Kittle, who also dropped a potential 80-yard touchdown pass.
Luckily for San Francisco, the team takes on Detroit in Week 2, who looked just horrendous in every facet of defense. Though the New York Jets' Sam Darnold's first play of the game was a pick-six against the Lions, he settled down and proceeded to exploit them up and down the field.
Though 49er wide receiver Marquise Goodwin is still questionable for the Week 2 tilt against Detroit, look for those throws to Kittle and Pierre Garcon to materialize into big plays and a pleasant stat line for Jimmy G.
Prediction: 270 yards/2 TDs/1 INT
WON'T
Chris Hogan
While I still think the former Penn State lacrosse star and current New England Patriots wide receiver will have a very productive year, Week 2 will not be the start of his upward trend. Hogan was stifled for just one catch and 11 yards on five targets. Hogan acted more as a decoy as Phillip Dorsett and Rob Gronkowski dominated the receiving game. Tom Brady will have no problem finding Hogan this year, just not in Week 2 against Jalen Ramsey, A.J. Bouye and the rest of the elite Jacksonville Jaguars' secondary.
Again, I love Hogan this year, but even a bench spot this week wouldn't be outlandish.
Prediction: 4 catches/45 yards/0 TDs
Matt Ryan
Again, another player who I like this year, but not in Week 2. Ryan looked off in the Atlanta Falcons' Week 1 match against a stout Philadelphia Eagles' defense, missing easy throws and looking jittery in the pocket when the pressure came. Julio Jones was in peak form, but an injury to Devonta Freeman really hampered the offense.  Luckily for the former Boston College Eagle, Freeman should be back for their Week 2 tilt against the Carolina Panthers. Unluckily, however, the Panthers feature a talented defense led by Luke Kuechly that will again have Ryan in fits.
Similar to Hogan, Ryan is going to have a really good season despite a very shaky opening performance. But stay away and browse the waiver wire for streamers if you currently find yourself with Matty Ice in your starting spot.
Prediction: 245 yards/2 TD/2 INT