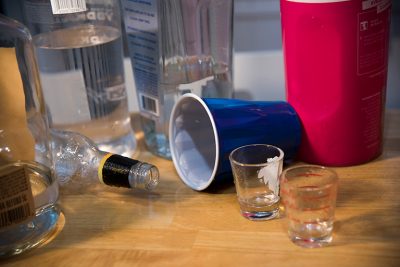 The North-American Interfraternity Conference (NIC) has banned all alcohol above 15 percent alcohol by volume from chapter houses and events.
Fraternities have one year to comply with the new decision, which was announced Sept. 4.
Alpha Epsilon Pi, Alpha Phi Alpha, Alpha Sigma Phi, Chi Phi, Delta Lambda Phi, Delta Tau Delta, Iota Nu Delta, Phi Iota Alpha, Phi Kappa Tau, Pi Kappa Alpha, Sigma Alpha Epsilon, Sigma Phi Epsilon and Zeta Beta Tau — all fraternities in which BU students are members — fall under the jurisdiction of the NIC and will be affected.
The decision joins a wave of new, anti-hazing laws across the country and is the latest in NIC's attempts to make fraternities safer for its members, according to a NIC press release. NIC has been implementing new health and safety initiatives over the last year, according to the organization's website, including a Good Samaritan policy that stresses the importance of calling 911 in the case of an emergency.
The conference has been in a "period of deep reflection" recently, NIC Chief Communications Officer Heather Kirk wrote in an email.
"We have piloted and assessed several measures on colleges campuses, as well as spoken with thousands of students about their experiences," Kirk wrote. "The No. 1 thing that came back in our research and interaction with students is that we must address hard-alcohol."
Though Kirk did not specifically discuss a connection between alcohol and hazing, she wrote that hard liquor is involved in many fraternity-related problems.
"It's a common denominator in many of the issues we see," Kirk wrote.
According to the National Institute on Alcohol Abuse and Alcoholism, approximately 1,825 college students between the ages of 18 and 24 die each year from sustaining alcohol-related injuries. Approximately 696,000 students of the same age range are assaulted each year by students who have been drinking, and 97,000 are sexually assaulted in alcohol-related situations.
Ian Porter, a sophomore in the College of General Studies and a fraternity member, said he has no issues with NIC's decision, citing safety reasons.
"Hard alcohol is really a whole other level from beer and wine, stuff like that," Porter said. "I think [the new ban is] probably out of a place of trying to keep people safe, you know?"
Porter said he also supports laws that prevent hazing, which he believes many organizations use as an excuse to "torture" pledges.
"I think hazing is pretty awful." Porter said.  "I would say that I think that [NIC's new regulations] are very good in that sense."
Bryant Liriano, a junior in the College of Arts and Sciences and secretary of BU's Phi Iota Alpha, said that Phi Iota Alpha members had not heard of the decision previously and were unsure how it would affect their fraternity.
"We're kind of not informed at all as [to] what it would mean for us," Liriano said. "… We don't understand how they would enforce it or how they plan to enforce it."
Phi Iota Alpha already does not serve alcohol at chapter events, Liriano said. As the organization is city-wide, there is no chapter house. Liriano said most BU members live in the Student Village, making it hard for the chapter house rule to apply to them.
"It really doesn't affect us to the extent that other fraternities might be affected," Liriano said, "but we understand why they would want to implement this rule."
CAS junior Brady Mokrzycki, a member of Alpha Sigma Phi, said he believes most campus fraternities already have precautions against alcohol in their bylaws for safety reasons.
"For a lot of the frats, it's …  kind of responding to a lot of the things in the news about people being unsafe and everything," Mokrzycki said. "You're really not supposed to have alcohol at fraternity events in the first place, especially with kids that are under 21, so [the NIC ban on hard liquor] doesn't really surprise me."
Mokrzycki said he believes the ban is likely meant to cover the remaining fraternities houses without current alcohol policies.
Liriano said he anticipates issues surrounding the implementation of the ban.
"It's a decision that I can see where they're coming from, but my concern is I don't see how it would be enforced," Liriano said. "Because you know people will have their parties, people will have their events, and you can't have someone monitoring them 24/7."