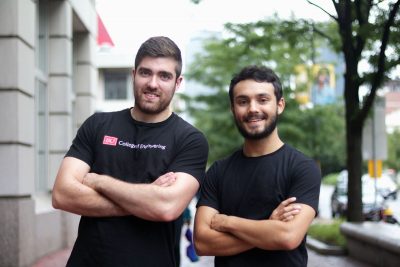 Junior Collin Wendel is making Boston University history as he works to create the first cryptocurrency and blockchain student organization on campus. When Wendel, a student in the Questrom School of Business, arrived on campus this fall, he was surprised to see that there still wasn't a club dedicated to one of the most popular internet trends.
Cryptocurrencies and blockchains are decentralized digital asset systems, a general term for the many different types of crypto such as bitcoin or litecoin. Wendel first became interested in digitized monetary systems when he read an article last year about blockchain technology.
He said he learned that assets like bitcoin could one day replace all currency, freeing up markets and allowing for more economic equality. Though he admits the idea is far-fetched, Wendel said it inspired him to do his own research. When he went looking for a crypto club to join himself, he found that none existed on campus.
Currently, Wendel is in the early stages of developing the student-run organization dedicated to "research, develop, analyze, and invest in various blockchain technologies and cryptocurrencies," according to a post he made in the BU Class of 2021 Facebook group.
Wendel said his passion for the technology and a hope to meet other like-minded people motivated him to post about the club to the community of students. His original post has since exploded with nearly 100 comments by BU students, many of whom posted their emails addresses in search of more information.
The possibilities with technologies that students could use to be involved in business and engineering opportunities may explain the crypto craze, Wendel explained.
"BU always prides itself in technological innovation," Wendel said. "In no means are we behind any schools that have already established organizations."
Wendel said interest in crypto development has extended beyond BU. He said he received a Facebook message from an engineering student at Stanford University who was interested in developing a blockchain community with BU.
For now, Wendel said he is focused on getting his club off the ground. He plans on holding biweekly meetings for all members, which would be organized by a governing executive board. The club would consist of two branches: one dedicated to research and development and the other to investment.
However, Wendel noted that the BU Student Activities Office still needs to confirm the club's existence and offer it a space for members to convene. He is also hoping that BU will fund either one or both of the club's branches.
While the club's focus is solid, Wendel's next steps are to finalize his executive board and send an application to SAO for confirmation. Once confirmed, Wendel plans to focus on educating members who may be unfamiliar with crypto technology.
"The crypto community lacks effective communication and education within the general public," Wendel said. "A lot of people don't know the technology or the potential it has and how it can shape the future."
While the crypto club is still in its early stages of organization, Wendel is waiting on an official name and leadership from faculty advisers. In the meantime, anyone in the BU community can apply for positions in the club on a rolling basis.
Prospective club vice president Javier Roberts, a junior in the College of Engineering, said he is looking for students who are excited about the future of blockchain and want to be a part of a fast-growing technological field. He added that any student, regardless of major, is welcome to apply.
Founding member Harrison Samuels, a junior in Questrom, has high hopes for the club's future.
"I'd really like to see it become a place where anyone can come and learn about all the interesting potential uses for blockchain," Samuels said, "while also learning to evaluate which projects in particular have the greatest potential for investment."
Roberts said the formation of the crypto club is part of a larger technological revolution across the country.
"We want everyone to know that cryptocurrency is not just a get-rich-quick fad that will die out in the next few years," Roberts said. "The technology has the potential to decentralize our finances and shake up world markets. Our club hopes to be a part of this revolution."