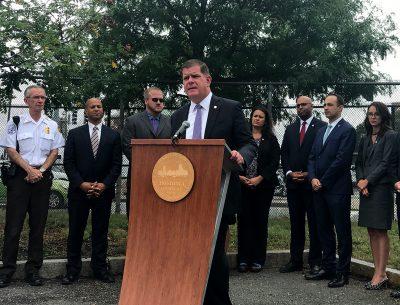 By Riley Villiers, Hannah Schoenbaum and Haley Lerner
The City of Boston has filed litigation against 13 opioid manufacturers, four pharmaceutical distributors and a New England doctor, Fathallah Mashali, for their alleged involvement in the misleading marketing and distributing of opioids, Mayor Martin Walsh announced at a press conference Thursday.
Walsh conducted the press conference along the "Methadone Mile" — a section of Massachusetts Avenue known for a variety of drug treatment centers, including Boston Medical Center.
And, in its wake, a high concentration of drug users.
"Methadone Mile," which has more recently been nicknamed "Recovery Mile" after all the work Boston has done to rehabilitate the area, has been a glaring symbol of the persistent opioid epidemic. It was there that Walsh decided to share the news of his litigation, which he said represents a step forward in the City's fight against the opioid crisis.
The press conference focused on the City's plans to expand recovery services and hold pharmaceutical companies accountable.
"All of these companies and the people behind these companies have played a major role in creating the substance abuse crisis that we're seeing today," Walsh said.
Walsh said these organizations have employed "misleading" and "dangerous" marketing methods in order to sell opioids, like failing to report suspicious orders and drug shipments that were "diverted into the black markets."
The City has spent an estimated $64 million on combating local opioid addiction over the last four years and is seeking $65 million in the lawsuit, according to Walsh. The goal of the litigation, he said, is not about money, but saving lives.
"The fact is, the pharmaceutical industry is still not doing enough to address the root cause of this issue," Walsh said. "City departments and taxpayers must shoulder a burden that they did not create and do not deserve."
This announcement came two days after the release of a new study by the Harvard Medical School and the RAND Corporation, which found that over 30 percent of outpatient opioid prescriptions in the U.S.may be written for no clear medical reason. In each of these cases, there was zero documentation of pain or a painful medical condition, the study reported.
Tisamarie Sherry, an author of the study and associate physician policy researcher at the RAND Corporation, wrote in an email that they found that opioid prescriptions were written at a resounding 809 million offices around the U.S. between 2006 and 2015.
"In these visits, it is unclear why the doctor chose to prescribe an opioid or whether opioid therapy was justified," Sherry wrote. "… This suggests that there is a need for doctors to more accurately document their justification for prescribing opioids so that we can identify and address problematic prescribing."
Sherry explained that the results of the study make a strong case for further research in the domain of addiction.
"… our findings do raise concerns about inappropriate prescribing, lax documentation practices, or a combination thereof," Sherry wrote. "… one of the main drivers of the epidemic historically has been over-prescription or inappropriate prescription of opioids."
In Boston alone, an average of 457 milligrams of oxycodone were distributed per resident — double the state average and almost three times the national average.
One affected resident was Jared Owen, a former opioid addict and current communications coordinator for the Massachusetts Organization for Addiction Recovery.
Owen was 14 years old when he was first prescribed painkillers.
After dropping a dumbbell on his big toe, Owen was prescribed 60 opioid pills with an additional refill. While he did not become addicted right away, Owen said he "fell in love" with the way the pills made him feel and that he spiraled into "an obsession that, years later, would lead to disaster."
After five grueling years of recovery, Owen said he wants the doctors, manufacturers and distributors responsible for advancing the opioid epidemic to be held accountable.
"There are men in these offices who have more blood on their hands than any other drug dealers in Massachusetts," he said. "They need to be held accountable for their crimes."
In addition to the City's litigation, Attorney General Maura Healey is partnering with officials in 40 states to develop innovative initiatives meant to counter the widespread opioid epidemic, according to Walsh. The goal, he explained, is to not only hold pharmaceutical companies accountable, but to also reduce the stigma around seeking treatment.
As a recovering alcoholic himself, Walsh concluded the press conference by urging those battling addiction to ask for help and remain hopeful.
"I certainly know how easily addiction can take hold," Walsh said. "That empty pit feeling in your heart and in your soul today, rather than curing it by drinking or taking drugs, put your hand out and talk to somebody."