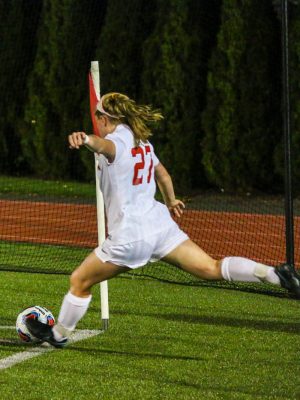 The Boston University women's soccer team went to double overtime for the fourth time this season and was unable to break its 1-1 tie against American University.
Despite the score, the Terriers (1-7-3, 0-0-1 Patriot League) outshot their opponents 23-8.
BU head coach Nancy Feldman emphasized the importance of completing the team's attempts.
"We have to score goals to end games in regulation," Feldman said. "We're not putting the ball away in the first 90 minutes when we have chances to."
The Eagles (5-1-3, 0-0-1 Patriot League) opened scoring a mere 58 seconds into the match off of a right-side penalty kick.
The goal brought American forward Yari Bradford to the top of the Patriot League's goal scorers with six goals on the season.
The Terriers' own top scorer, sophomore forward Anna Heilferty, tied the game in the eighth minute and fired off a season-best six shots off throughout the course of the game.
Her season total of three goals and 27 shots more than double BU's next most productive player in both categories.
"[Heilferty] is one of our attacking personalities, and she's certainly very dynamic," Feldman said. "It was a great goal from her today and a great response from the team after we got scored on a penalty kick after a questionable call."
After the early goal, the Terriers held American to a total of eight shots through the rest of the match and blanked the Eagles entirely during both overtime periods.
American goalkeeper Ryleigh Brown was forced to make a career-high total of 15 saves against BU.
Three of the 15 shots came from senior defender Chelsea Churchill, bringing her up to a total of 13 shots through the season.
Churchill is now second on the team in shots and tied for first in assists.
The match also saw the return of senior forward McKenna Doyle after leaving the game against the University of Connecticut after 25 minutes of play and missing the next three games due to injury.
Doyle celebrated her return with four shots on goal, three of which were on-goal.
In the Terriers' 2017 match against the Eagles, Doyle scored the game-winner in a 6-0 blowout.
BU will play its first home game since Sept. 6 against Lehigh University Saturday, another Patriot League match.
"We did create a lot of chances and locked them down really well," Feldman said. "Those are good signs. We competed really hard and won 50-50 balls, so we're doing the things that'll put us in a position to win."