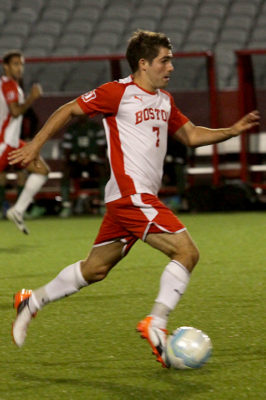 The Boston University men's soccer team has one last chance to pick up a win in the three-game series against Ivy League opponents during its Wednesday night match against Harvard University at Allston's Jordan Field.
So far in the road series, BU (1-3-2) forced a draw against Dartmouth College and dropped 0-1 against Princeton University.
While the Terriers have yet to lose back-to-back games, their one win of the season came Sept. 7 on Nickerson Field.
BU head coach Neil Roberts expressed the team's need for more consistency.
"We've got a conference game coming up Saturday [against American University], and we have to make sure we're back together," Roberts said. "We've got to figure out how to be consistent."
The Crimson (1-5) earned their one win of the season Sept. 3 against Providence College.
Senior midfielder Jack Miler headed in the game-winner off a corner from Paolo Belloni-Urso, the first goal of Miler's 23-game career at Harvard.
The game was also sophomore goalkeeper Matt Freese's first win with the Crimson.
Freese, who made his first career start against the Terriers in 2017, has started in three games this season resulting in a .750 save percentage.
Since then, Harvard has been on a four-game losing streak starting with two back-to-back shutouts.
Its opponents included three top-ranked opponents, including the No. 5 University of Denver.
Crimson captain Sam Brown broke his team's scoreless streak in the 77th minute of the Denver (6-0-1) match, but it was not enough to conquer the Pioneers' three-goal lead.
The No. 23 United States Air Force Academy challenged the team even further, ending with a score of 6-1.
Freshman forward Alfred Perez scored the first goal of his Harvard career after being the leading scorer of his birth year for the United States during his time on its U16 and U18 squads.
The Crimson have not scored more than once in a match since their 3-2, season-opening loss against the University at Albany.
Despite Harvard's record, Roberts warned against not taking the team seriously.
"They're struggling a little bit, but they're a good team," Roberts said. "They're dealing with a couple injuries right now, and hopefully they'll be back. [When considering how to win] it's mostly on us."
In the 2017 season, the Terriers defeated the Crimson 1-0.
BU's goal came from then-senior defender Adam Sheikali in the 44th minute after a free kick from current junior midfielder Satchel Cortet, his first of six points last season.
The win had been the third shutout win for BU against Harvard in the teams' last four meetings and sophomore goalkeeper William Bonnelyche's first career shutout with the Terriers.
Bonnelyche missed more than a month of competition last season due to injury.
This season, he has started three games so far with a record of 1-1-1.
Senior goalkeeper Mike Bernardi has started the previous two games, accumulating a .815 save percentage after a 14-save game against Princeton (3-3).
The loss against the Tigers was the Terriers' third time being shut out this season.
BU played without two of its top point producers in junior forward Matt McDonnell and sophomore midfielder Toti Knutsson.
However, Roberts focused on the responsibilities of assets on the field.
"[The loss against Princeton] wasn't really missing [McDonnell]," Roberts said. "We totally lost our midfield, which was disappointing. People are going to be in and out. It's a compact season, and we just need to deal with it."