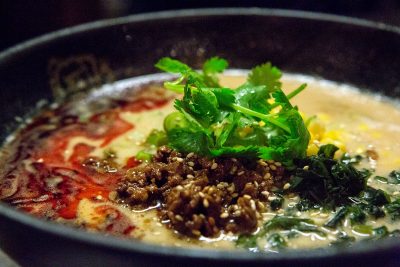 By: Estefania Ruiz, Martha Merrow, Sydney Wertheim and Shaney Sze
Ganko Ittetsu Ramen
Ganko Ittetsu is truly a hidden gem. As we ventured from the picturesque streets of Coolidge Corner and veered into a vintage arcade, we entered Ganko, a low-ceilinged restaurant filled with happy diners chatting around cozy bamboo tables.
This ramen restaurant appeared to stay close to its cultural roots with walls lined with Japanese characters and ornate drawings.
After asking the server for her recommendation, we were brought a steaming bowl of Tan Tan ramen, containing sesame sauce, spicy garlic oil, seasoned ground pork, pickled vegetables, wakame, cilantro, scallions, corn and sesame seeds.
Shocked by not only its generous size but by its interesting colors, we dug in and discovered the taste matched the satisfactory vibe of the restaurant's decor.
Ganko specializes in Sapporo-style ramen. While wolfing down our bowl, we watched the intricate cooking process unfold in the kitchen. The cooks mixed their tare sauce with caramelized vegetables in a wok before adding the broth. Upon further investigation, we found out that this extra step is what creates a richer, more aromatic flavor.
Ganko serves noodles from Nishiyama Seimen, one of the oldest and most respected Japanese noodle-making companies that custom-makes the silky noodle with resilient texture we were enjoying that night.
I dare say this was the most memorable of the four ramen places due to its warm, inviting ambiance, authentic decor and thick, tantalizing flavor, spicy aftertaste and artisanal noodles.
If you are looking for a sophisticated, yet lively dining experience and a steamy bowl of satisfying ramen (priced at a comfortable $13), Ganko Ittetsu should be at the top of your list.
Ganko Ittetsu, 318 Harvard St., Brookline
Grade: A+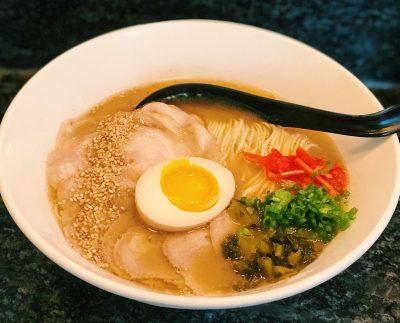 Oisa Ramen
Oisa Ramen is a fresh spot on the Boston foodie scene, but it already feels like home because chef and owner Moe Kuroki knows and loves her craft.
Originally from Fukuoka, Japan, Kuroki has lived in Boston for over 15 years. Over that time, she worked and studied the art of ramen with some of the top chefs in the city, including Ken Iwaoka of Ganko Ittetsu.
Eight months ago, her brainchild came to life as the classic Japanese dine-in joint: Oisa Ramen.
We ordered Tonkotsu for $14 and were served an amazing dish of homemade Tonkotsu broth, garlic oil, pork belly, sesame seeds, soy egg, scallion and pickled ginger. Kuroki nailed it, down to every detail. It was simple, easy and quick, just as Kuroki described the Japanese art of cooking and eating ramen.
The restaurant itself is cozy, with just nine seats at bars facing either the kitchen or window. Her regulars are local businessmen and women looking to grab their favorite comfort food. But, Kuroki believes the ramen scene in Boston is here to stay.
"People from all over love it because of its simplicity," Kuroki said. "Every culture has their own version of broth and noodles."
In its first year, Oisa has curated a community of regulars who have "found their teddy bear," meaning their favorite version of the Japanese dish, right here in Boston.
"It's not that you don't like other teddy bears," Kuroki said with a smile. "It's that you really love the one you have."
1 3/4 Broad St., Boston
Grade: A+ (for simple, delicious ramen, quick service, and cozy vibe)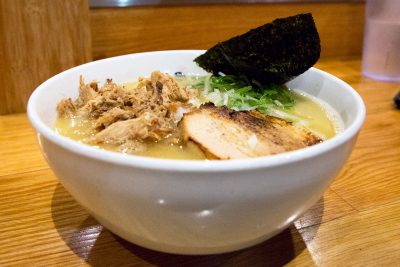 Totto Ramen
Brighton Avenue in Allston was bustling at 7:30 p.m. on a Sunday. We were seated at Totto Ramen, a Japanese noodle restaurant. Though the restaurant is a chain, the small, wooden quarters and young clientele boasted a uniquely Allston ambience.
We were seated immediately — an unlikely feat for many restaurants on the streets of Harvard, Brighton and Park Vale Avenues often saturated with college students.
We ordered the Paitan, Totto's signature ramen, which, at $11, was the cheapest bowl we tried. The broth, a house-made chicken paitan soup, was packed with a rich chicken flavor and was delicious, albeit salty.
Straight noodles and overflowing char siu, served both thickly cut and pulled, topped the homemade broth, while scallions and nori (some umami flavors) added balance to the ramen.
Other ramen bowls at Totto include the mega paitan, a deluxe version of the classic that doubles the amount of pork belly, and the spicy paitan, which throws rayu — Totto's spicy sesame oil — into the mix. Toppings are also available for an extra price, including a seasoned avocado, corn or a seasoned boiled egg.
Bring a group of friends, or go solo and sit at the bar that overlooks an open view of the kitchen.
Visitors 21+ can enjoy a cold Sapporo beer, and underage drinkers can order the popular Japanese soft drink Ramune in original, strawberry or lychee flavor. Totto is a cash only establishment.
Totto Ramen, 169 Brighton Ave., Boston
Grade: A (for the fast service, meat-heavy ramen and clean digs)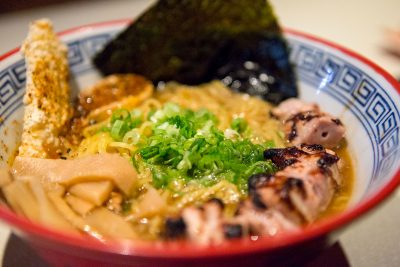 Hojoko
Tucked under the trendy studio-hotel The Verb, Hojoko is both a bar and a restaurant. Alternative, hip-hop soundwaves reverberated throughout the Japanese joint as other customers laughed over drinks, where, behind them, was the ramen bar itself.
Like other ramen places, the metallic, open kitchen provided a sense of transparency and a tasteful distraction. The walls of the restaurant were heavily decorated with graffiti and vinyl records.
Named one of the best bars in Boston this year by Boston Magazine, Hojoko definitely delivers with a casual, yet polished vibe. The colorful interior design is an inevitable conversation starter.
The $17 spicy miso ramen was made with a savory, 48-hour chicken broth, hatcho miso paste, spicy pork, corn tempura, menma and a classic soy egg. Rich but not overly heavy, the dish, like the restaurant itself, came with a sense of urban and urbane.
Though it's on the pricey side for a meal, Hojoko is at least worth a try. The unique and hip setting took us out of our senses, making us feel like we were back in time with its vintage ornaments, but at the same time, kept us in the loop with the modern informal spontaneity of the dive-y cocktail bar.
Open from 5 p.m. to 2 a.m. daily, Hojoko is situated right on Boylston Street, roughly a 15-minute walk from central campus and perfect for a late night ramen run with friends.
1271 Boylston Street, Boston
Grade: A- (trendy but pricey)