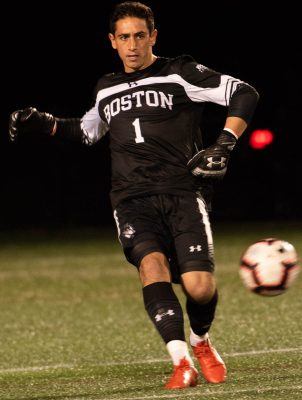 Two bright spots for the Boston University men's soccer team, senior goalkeeper Mike Bernardi and junior forward Matt McDonnell, both played with the National Premier Soccer League's Brooklyn Italians over the summer.
The season ran from early May to the Italians' playoff push in July, where the team dropped against the New York City Cosmos B in the conference finals.
After Bernardi backed the team's first conference win against American University, BU head coach Neil Roberts praised his play this season.
"[Bernardi] made some big saves," Roberts said. "It's good to get those points."
According to Bernardi, this was his fourth summer with the Italians after being sent there by his coach at St. John's University, making him the youngest player by 10 years, he joked.
Despite the NPSL's status as a semi-pro league, the league maintains fully amateur teams, allowing college players to participate without threatening their NCAA eligibility.
Before joining the Terriers (2-5-2, 1-0 Patriot League), Bernardi played four games with St. John's in 2016 after redshirting the previous season.
He spoke positively of his time with the summer team.
"This summer, we recruited a good team and were at a really high level," Bernardi said. "We ended up going to the regional finals, where we unfortunately lost on penalties to the Cosmos, and we beat a pro team in the U.S. Open Conference. Having [McDonnell] there was a great time."
Currently, Bernardi is leading the Patriot League in saves per game at a blistering 5.8 average over five games.
The native of Mahopac, New York, started in goal in BU's first Patriot League victory of the season after a series of warm-up matches against Ivy League opponents.
When facing down Princeton University, Bernardi made a league-high 14 saves.
Bernardi had started only one game in the season — opening night against the University of Rhode Island — before BU started its road series against Dartmouth College, with sophomore goalkeeper William Bonnelyche taking position between the pipes for three games.
Bonnelyche also started in the Terriers' most recent game, a 2-1 loss against Brown University where the goalkeeper made two saves.
"Will and I thankfully have a really good relationship," Bernardi said. "We're always pushing each other to do better and hoping the best for each other. Will's a really good goalie, and he's just going to get better with time."
McDonnell said the summer league's intense schedule along with experienced staff and teammates helped both players improve their game.
Of Bernardi, McDonnell stated that the goalkeeper was a leader in Brooklyn and that he's seen improvements due to their time there.
Most noticeably, the striker felt that his movement has improved and that finishing play feels more "natural."
McDonnell described a high level of training with the Italians where they played six days a week, complicated by a three-hour commute in from his hometown of Smithtown, New York.
"[It was] just a really high level of training," McDonnell said. "… The coaching staff was a very professional staff, so it was more of a professional approach of soccer compared to the college level, so it was definitely a step up and a nice step for me to take."
By the end of the NPSL season, McDonnell led the conference with an average of 1.5 goals per game.
Despite an injury keeping McDonnell out of the lineup since Sept. 11, he still leads the Patriot League in goals and points per game with six and an average of 2.40, respectively.
He is outpaced by one in the overall points category, despite the current leader, United States Military Academy forward Keenan O'Shea, having played three more games than him.
The Terriers return to conference play Saturday in a home game against Lehigh University, and McDonnell said he believed the team could be successful if they dedicated themselves to developing a winning culture and accepting their coaches' guidance.
"We wanted to get a winning culture," McDonnell said. "… I just think we need to keep believing in what the coaches are putting forth, keeping putting in work, and don't really falter in that mindset that we are a good and we can win games."
Grant Dowling contributed to the reporting of this article.