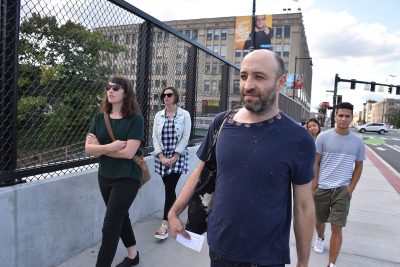 Todd Shalom led an audience through the steps of a performance art of his own invention: the participatory walk. Shalom guided the group down the Boston University campus in a series of "prompted actions" three separate times between Friday and Saturday.
The walk was organized as part of the "Under a Dismal Boston Skyline" exhibit, currently hosted at BU's Faye G., Jo, and James Stone Gallery.
Participants arrived in ones and twos to the gallery. Shalom said his favorite part of the walk was the found-poetry portion, where they used Mugar Library's display collection of 83,000 items in the Martin Luther King Jr. Reading Room in the Howard Gotlieb Archival Research Center.
The group transformed the texts into their own poetry and then congregated on a bench and recited their poetry to each other.
"I set the frame of giving these instructions, giving these prompts, but I want to make sure everyone has their own agency within those frames," Shalom said. "So I am the facilitator — not unlike a professor, it allows people to also co-author the work."
Shalom said because of the lack of direction, people had each approached the project in their own way, and the results were entirely unique. Words were fit together one by one, excerpts were cut and pasted into entirely new thoughts.
One portion of the walk involved observing the soundscape of Commonwealth Avenue. Another involved making pictographs. Thomas Zurfluh, 44, of Back Bay, said he had fun participating in Shalom's activities and walk.
"It was very playful," Zurfluh said.
One of the first stops of the walk took place at the new Joan and Edgar Booth Theatre building. Shalom commented that it was wonderful for theater to be given attention and funding he thought it deserved, yet he wished performance art shared some of that attention and funding.
He then said he instructed the participants to stand on the steps of the theater and strike the pose that displayed them at their most confident. He said some stood simply and sure against the winds, others crouched and others threw their hands in the air.
"I'd want people to get another sense of a space they already know, a new perspective on it," Shalom said. "I want people to feel safe feeling vulnerable. One of the key tenets of my work is that all of the decisions that are within our control have the potential to be creative ones. I really like to forefront that in my work."
The artist explained that he was inspired to do the participatory walk at BU after his undergraduate experience at the university. Shalom said he graduated from Questrom School of Business as a closeted queer man, who later in life became open about his sexuality and identity as an artist.
Lynne Cooney, artistic director of BU Art Galleries, said she helped curate "Under a Dismal Boston Skyline." She said Shalom's performance art complemented many of the other artists' work displayed in the exhibition, such as Mark Morrisroe and David Armstrong.
"The walk is really based on … coming out as queer and sort of finding his time here as an uncomfortable space that he needed to re-explore," Cooney said. "The narrative felt particular to our exhibition and some of the ideas that were thread in it."
Gabriel Sosa, who graduated from the College of Arts and Sciences in 2007 and lives in East Cambridge, said he is a friend and colleague to Shalom. He came to the event both as a friend and as an artist and curator himself.
Sosa said the participatory walk introduced interactive programming to the exhibition in the Stone Gallery.
"It is really important to have programming for exhibitions that go beyond an opening event," Sosa said. "We've all been to too many exhibitions where there's an opening, and then there's nothing happening. … The fact that there's other things going on, something interactive and something participatory, it adds another powerful dimension to the show."
Sophie Wiener contributed reporting to this article.