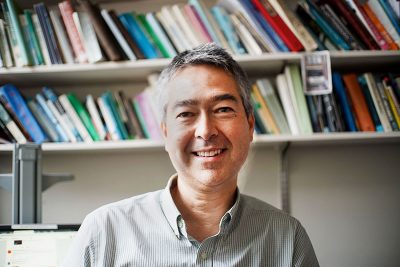 When the Merrimack Valley suffered a massive gas explosion in September, Boston University professor Nathan Phillips didn't hesitate to step in and help. Nearly two months into leading rehabilitation efforts, Phillips shows no signs of slowing down.
Phillips is the acting director of the Sustainable Neighborhood Lab, as well as a professor in the Department of Earth and Environment. For over seven years, he has been studying the safety and environmental concerns of gas infrastructure and advocating for policy solutions for the greater Boston area.
On Sept. 13, excessive pressure in natural gas lines owned by Columbia Gas caused a series of explosions in the Merrimack Valley towns of Lawrence, Andover and North Andover. According to the Massachusetts Emergency Management Agency, the explosions ignited fires in 60–80 homes and caused one fatality.
For Phillips, the tragedy was a massive culmination of the physical, scientific and social repercussions of gas failure that he had been studying for years. He said he was instantly mobilized to not only study the problem, but help.
In collaboration with local climate advocacy nonprofits, Phillips has raised over $14,000 through a GoFundMe page he started. As of Oct. 22, he has helped deliver 598 induction cooktops — which are electrically powered stove tops that cook more efficiently than gas ones and run without the risk of leaks, according to Phillips — to households still without heat or hot water.
When the Merrimack gas explosions happened, Phillips said he and his team arrived early and well prepared to help out. The National Guard arrived six days later and provided inefficient and dangerous hot plates to those in need, he said.
He added that the public sector, including utilities such as Columbia Gas, were not prepared for the crisis.
In addition, Phillips said the Merrimack accident is vastly misrepresented in media, as the crisis has been falsely portrayed as fully resolved after the restoration of electricity.
Many households are beginning to freeze without heating, Phillips explained. These residents are in need of basic supplies like jackets and blankets, but they feel frustrated and forgotten.
Zeyneb Magavi, research director at Home Energy Efficiency Team, a nonprofit that informs and advocates for positive environmental policy, met Phillips in 2015. At the time he was consulting for Mothers Out Front, a Cambridge advocacy group she works with to ensure a livable climate for future generations.
She described Phillips as an innovative, rigorous academic and a "rare egoless mentor."
Magavi said an enormous amount of work remains in rehabilitating the Merrimack Valley, especially among lower-income communities where housing is often out of code and not yet weatherized for the winter. The crisis has revealed a disturbing inequity within the region, she added.
Columbia Gas has provided hundreds of trailers for those who need temporary housing.
However, many residents in the area are undocumented immigrants who may be fearful of accepting or asking for help, both Magavi and Phillips said.
In the wake of the Merrimack tragedy, Phillips said he wants to get people thinking bigger about their communities' dependence on gas.
"If this traumatic event is not parlayed into lasting change and improvement, that would be crushing," Phillips said. "We can't just go back to normal status quo as if nothing happened — we need to learn from it."
He hopes that more citizens and leaders will begin to look toward the nearby Merrimack River as a cleaner alternative source for heat and energy.
Masha Vernik, a senior in the College of Arts and Sciences and resident advisor of BU's Earth House Living Learning Community, knows Phillips as her faculty advisor, mentor and collaborator in making BU a more sustainable community, she said.
Vernik said she first met Phillips through her work with DivestBU, a student group that organized with faculty to demand the university divest from fossil fuel interests.
In the beginning of the Merrimack crisis, Phillips invited Vernik to call residents to set up cooktop deliveries. Vernik is fluent in Spanish, so she was able to communicate with many who could not speak English, she said.
"Whenever I work with Nathan, I feel really inspired," Vernik said. "He has this sense that we can get it done — we just have to work hard and imagine the best possible reality."
Magavi said that Phillips often takes the train into Merrimack and then rides his bike into the communities to deliver cooktops and other supplies late into the night.
"I couldn't think of a person who could be more aptly called a hero than Nathan," Magavi said.