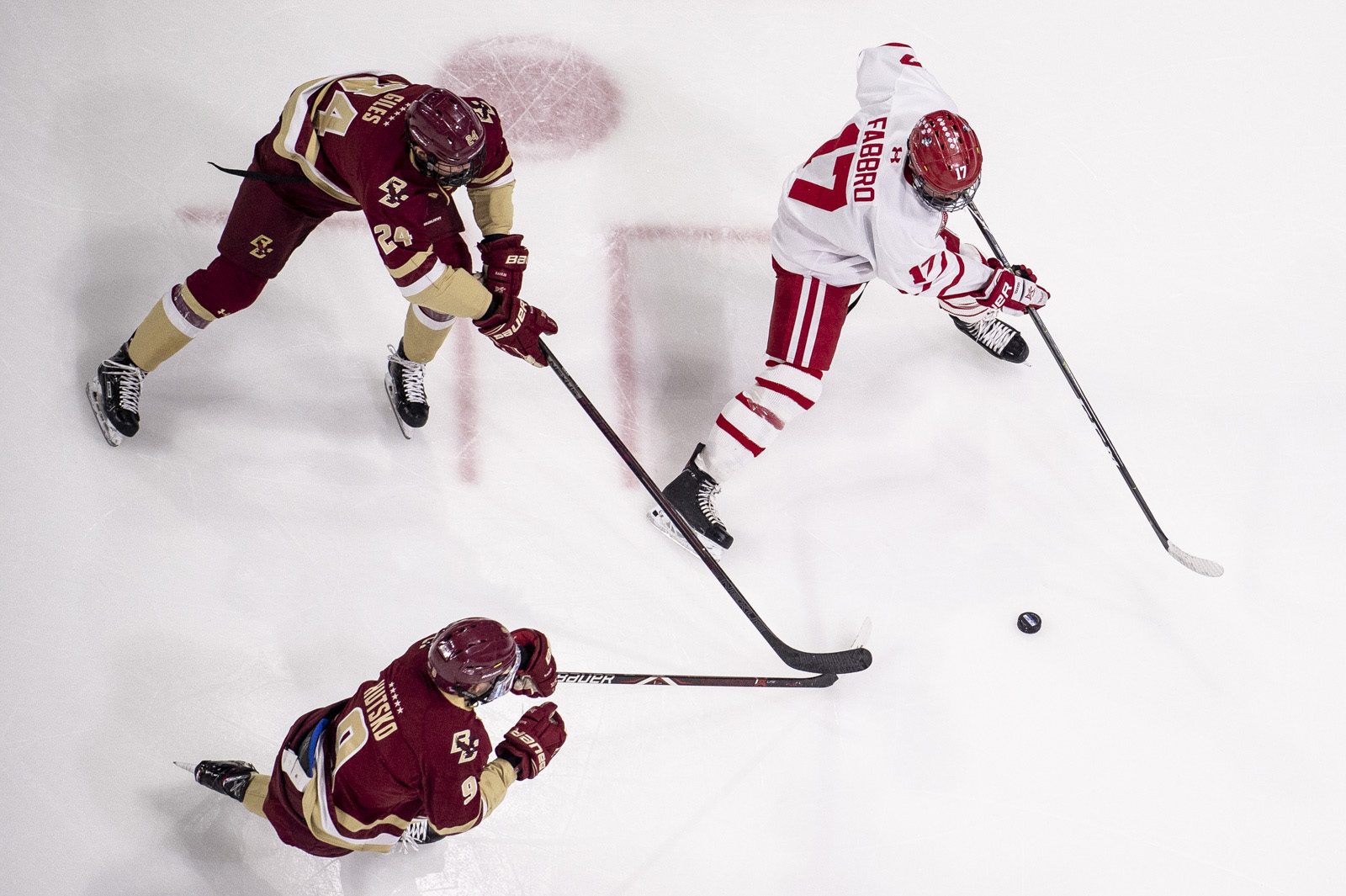 The Battle of Commonwealth Avenue returned to Agganis Arena this weekend as the Boston University men's hockey team hosted its end of the home-and-home series.
The Terriers (4-7-1, 4-4-1 Hockey East) could not overcome a two-goal period dominated by BC (4-6-1, 4-1-1 Hockey East) and fell 1-4 Friday.
With BU up 1-0 at 11:36 remaining in the second stanza, Eagles forward Jesper Mattila found sophomore forward Logan Hutsko in the right wing. Hutsko proceeded to fire a wrist shot that junior goaltender Jake Oettinger could not stop and tied the game at one goal a piece.       
"First face-off goal we had pretty good coverage, and [it] found a way in," BU head coach Albie O'Connell said. "It gave them a lot of life."
Hutsko said playing from behind has been commonplace for BC this season.
"We've trailed all season," Hutsko said. "… I think just getting that first goal on the board and tying the game, and knowing that it's anybody's ballgame now [helped] just kind of getting the monkey off everybody's back."
With the score tied at one with 17:10 to go in the second, Mattila won the face off in BU's zone. He slid the puck to junior forward David Cotton, who then found Hutsko available to fire a shot, giving BC a 2-1 lead.
"Their second goal I thought our coverage was OK," O'Connell said. "It wasn't great, [and] it wasn't bad. [Sophomore defenseman David] Farrance sagged a little. They got a shot, and it went in. So that's hockey."
Hutsko has scored nine points in his last six contests, while recording a point in all six of those games.
The Florida Panthers prospect said that playing with great linemates has helped his recent success.
"They just make the game easier," Hutsko said. "David Cotton and Julius are just great players. When you get to play with guys like that, it just kind of makes the game easier."
Despite having chances in the second period, the Terriers were unable to convert any into goals.
"We had some glorious chances in the second," O'Connell said. "At the end of it all, you can say, 'Oh, we had great chances,' [but] we didn't find a way to put puck in net."
Cotton entered the contest having scored 10 of BC's 21 goals while assisting on four others. The Carolina Hurricanes prospect extended his point streak to seven games.
The line of Cotton, Mattila and Hutsko have accounted for much of the Eagles' offense this season, something that BC head coach Jerry York said he does not think is sustainable.
"What's interesting if you look at our stats going into the game, we had 62 points on our team and 30 game from the one line," York said. "That's certainly a top line, but it's not a recipe for winning hockey. … They're very good together, but from my vantage point, we need to build other goal scorers here."
Although this is the first time since the 2007-08 season that the Terriers and the Eagles are facing off with both teams below .500, York said he understands how important the rivalry is between the two teams.
"This is an unbelievable rivalry," York said. "I think the teams are better than the records, I really do. … It's a long year, and there's chance to get better and improve. A lot of teams don't do that."