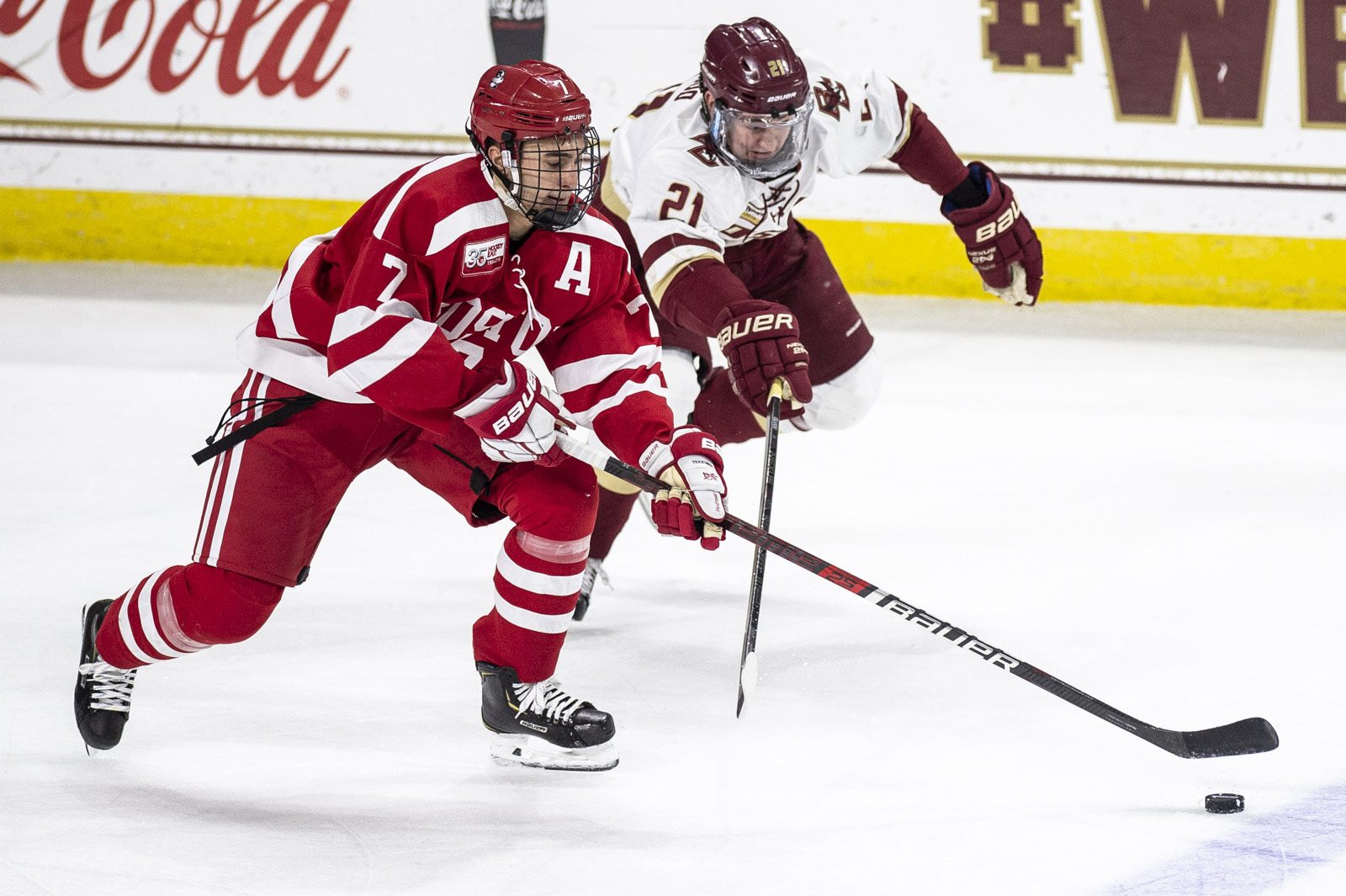 After dropping the first half of a home-and-home series against Boston College Friday night, the Boston University men's hockey team had a chance for revenge Saturday at Conte Forum.
However, neither the Terriers (4-7-2, 4-4-2 Hockey East) nor the Eagles (4-6-2, 4-1-2 Hockey East) managed to score, and for the first time in 279 meetings between the rivals, the game ended in a scoreless tie.
BU head coach Albie O'Connell said his team was concerned about how they were going to play Saturday in the wake of Friday's match and their recent trip to Belfast, Northern Ireland.
"Energy-wise guys played some minutes last night, and guys were pretty gassed today," O'Connell said. "I think the travel coming back from Ireland kind of caught up to us, and they were kind of more alert and a lot lot more sharp early."
In the first period, junior goaltender and assistant captain Jake Oettinger turned away all 16 shots that he faced. His counterpart in net, BC junior Joseph Woll, stopped all 10 of the Terriers' shots.
"For not a lot of goals, it was a entertaining game," O'Connell said. "There was some chances, especially from BC early on. They took the play to us in the first period."
Oettinger stopped 14 shots from the Eagles in the second stanza, and Woll rejected BU's five.
The Eagles had what was perhaps their best scoring play of the game with a little more than two minutes left in the the period.
Terrier freshman forward Joel Farabee fell down while trying to retrieve the puck from his team's zone. When Oettinger went to help out Farabee, Eagle junior forward David Cotton fired a shot that went over the crossbar.
" …Those are situations that you just kind of go or you don't — and I did, and then I tried to get back in the net as quick as I could," Oettinger said. "Luckily [it] caught a piece of my glove, so luckily it stayed out."
Saturday marked the sixth time in 12 games this season that Oettinger has recorded at least 30 saves.
The Terriers outshot the Eagles in the third period 10-9, and after none found the back of the net, the game went into overtime for the second time in the previous three BU-BC contests.
In overtime, Oettinger faced three shots and saved all three, while Woll blocked the only shot he faced.
BC head coach Jerry York said that the game's lack of goals was not due to a lack of scoring chances.
" …It's two of the premier goaltenders in the country, and they're going to be a factor in any game they play," York said. "When they play against each other, it's the same thing."
Junior defenseman and assistant captain Chad Krys said that Oettinger's strong performances, like Saturday's, make the Terriers more confident in their play.
"He's been doing that my whole career," Krys said. "That's something we know he's going to do, and we feel really comfortable with him in the net, so I'm not surprised [because] he comes up big like that a lot."
Oettinger now has 10 career shutouts —  three away from tying the Terriers' record, held by Jack Ferreira (1963-66) and John Curry (2003-07).
Overall, O'Connell said he is unhappy with the Terriers' recent lack of scoring.
"For us, it's frustrating we're not able to penetrate and put the puck by the goalie," O'Connell said. "We've had a tough time the past few games. The past three games we haven't scored a lot of goals."