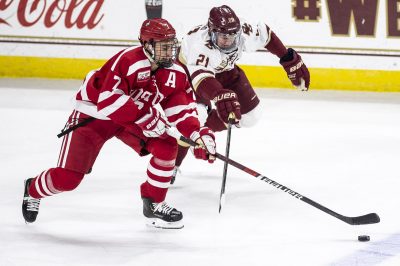 After a weekend that featured their second greatest offensive output of the season thus far, the Boston University men's hockey team will play against Dartmouth to conclude 2018.
In last weekend's home-and-home set against UMass Lowell (8-7-1, 4-4-1 Hockey East), the Terriers (5-8-2, 5-5-2 Hockey East) split the series with the River Hawks, with both teams picking up their respective wins in enemy territory.
After the Terriers fell 5-3 on home ice last Friday, they responded in Lowell Saturday with an offense headlined by five goals over UMass Lowell's two.
Two of BU's goals came from sophomore forward  Shane Bowers, bringing him level with junior forward Patrick Curry at second on the team leaderboard, each with five goals. However, the Terriers will be without the services of Bowers against Dartmouth (4-5-1, 4-2-1 ECAC), as he joins the Canadian junior national team for the 2019 IIHF World Junior Championship.
Bowers will not be the only Terrier absent for this Friday's contest, as junior defender Chad Krys remains unavailable due to injury, which is expected to keep the junior out of the lineup until the start of the second semester.
"We're going to have to have guys step up and play well," said BU head coach Albie O'Connell in response to being without Bowers and Krys."It's a good opportunity for guys to step up and show us what they can do."
Terriers senior co-captain Bobo Carpenter and junior co-captain Dante Fabbro will play without their two teammates against The Big Green. Carpenter holds the team lead in goals with nine, including three last weekend against UMass Lowell. Meanwhile, Fabbro leads the Terriers in points with 13, comprised of three goals and ten assists.
Between the pipes for the Terriers will likely be junior goalie Jake Oettinger, who holds a .920 save percentage and 2.70 goals-against average this season. On the other end of the ice, junior goalie Adrian Clark is expected to get the start in net for the Big Green. Clark has saved 91.1 percent of the shots he has faced and allows an average of 2.58 goals per game this season.
Leading the Dartmouth attack will be junior forward Will Graber, who leads his team with nine points and six assists. Freshman forward Drew O'Connor and sophomore forward Quin Foreman lead the team in goals with five each. O'Connor holds the edge in points with eight compared to Foreman's seven.
Dartmouth has always been a challenge for the Terriers. The Big Green have defeated BU in three straight meetings. Dartmouth is one of only four teams in the nation who currently holds a win streak against the Terriers.
These two clubs have not squared off since 2014, meaning that no player on either squad has ever participated in a matchup between the two programs. However, previous defeats at the hands of the Big Green are still fresh in O'Connell's mind, as the first-year head coach looks to turn the tides in his first managerial meeting with the Ivy League side.
"They ended up physically man-handling us up there a few years back," O'Connell said.
This game will be the only fixture of the weekend for either team, making the full two points that much more crucial, especially as the last regular season contest of the calendar year. For O'Connell and the Terriers though, it's business as usual ahead of this non-conference clash.
"We're just taking it as another game," O'Connell said.