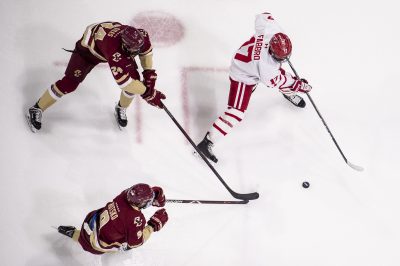 Following their first loss of 2019, the Boston University men's hockey team will look to return to winning ways against Merrimack College in a late afternoon clash Monday.
The Warriors (7-16-1, 4-10 Hockey East) topped the Terriers (8-9-3, 7-5-2 Hockey East) by a score of 4-0 in the teams' first meeting of the season in October 2018, defending home ice with a dominant effort on both ends.
Forwards Michael Babcock and Logan Coomes scored early for Merrimack, and defenseman Johnathan Kovacevic and forward Laine McKay added insurance late. Goaltender Craig Pantano had 34 saves in the shut-out while BU junior netminders Jake Oettinger and Max Prawdzik came up with 24 saves collectively.
It was the first time the Terriers were held goalless by the Warriors in the team's history, and the third defeat in BU's 0-4 start to competitive play this season.
BU found life following their fourth loss, posting a tie and three wins in their next four matches. Conversely, Merrimack lost the two contests following their October victory against BU — both against the now Hockey East-leading University of Massachusetts.
In BU's most recent fixture, the team fell 4-3 to Quinnipiac University via a last-second goal from former Terrier Brandon Fortunado.
BU came back from behind multiple times in the contest, overcoming a two-goal deficit in the first period then leveling the game again in the third after the Bobcats regained a one-goal advantage.
BU's loss was their first of the new year, having tied and won twice in 2019 ahead of the Quinnipiac bout.
BU head coach Albie O'Connell said that while he did recognize his team's resilience against the Bobcats, he knows the Terriers can do better.
"We really got out-competed in those first two periods," the first-year manager said. "[There is] a lack of competitive spirit at times."
After winning three consecutive games over Northeastern, Michigan and Connecticut, Merrimack also dropped their last contest with a 5-0 thumping against the University of New Hampshire on Jan. 18.
The Warriors' struggles in that game did not come from a lack of opportunities, as Merrimack tallied 25 shots in comparison to UNH's 20 and had the benefit of five Wildcat penalties.
Providing offensive spark for the Warriors will be forward Tyler Irving, who has a team-leading 16 points. BU's points leader, junior defenseman Dante Fabbro, has 18 this season.
Forward Chase Gresock leads Merrimack in goals with six, while BU senior forward Bobo Carpenter has 10 — the only Terrier with a double-digit goal total thus far. Netminders Pantano and Oettinger carry save percentages of .896 and .923, respectively.
Merrimack has entered a stretch of Hockey East clashes that will close out their season and currently sits at 1-1 since this run of divisional games began on Jan. 12.  
As for BU, the Terriers will take a break from conference play to host a weekend series with Arizona State following the Merrimack game, before finishing the season with the Beanpot in early February and Hockey East matchups the rest of the way.
BU versus Merrimack can be viewed on NESN and TSN, or listened to on GoTerriers.com. Puck drop is at 4 p.m., and The Boston Hockey Blog will have minute-by-minute coverage of the game through our live blog.