As fresh faced first-years are forcing smiles across campus and as tearful parents snap pictures of their child's first day of college, the Boston University Parents Program is busy preparing a new wave of parents to become Terrier moms and dads.
Parents Program is organized by the Dean of Students' Office. According to its website, the Parents Program aims to familiarize student parents and family members with the college life at Boston University and provide useful resources they can turn to.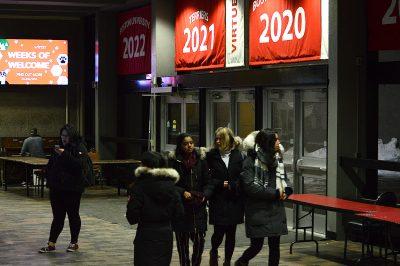 Robin Karp, chairman of parent outreach on the Parents Leadership Council, said her experience as a BU parent herself has helped her work with the program.
"What I enjoy is being able to assist parent-to-parent through the experience I have gained over the past six-and-a-half years," Karp said. "I am not a staff member. I have nothing to try to sell."
Karp is a parent of two BU graduates — her son graduated from the Questrom School of Business in 2016, and her daughter graduated from the College of Communication last spring.
In 2016, Karp said she told Assistant Dean of Students Daryl DeLuca that she was an "empty nester," and he invited her to join the parent leadership council.
The Parents Program has created a number of resources for parents, as well. This includes a packing suggestion list and a "BU Glossary" to translate "Terrier Lingo" such as Allston and FYSOP.
Karp said these and other resources were created to provide comfort to parents.
"When a student is crying and saying, 'I can't get better than a B minus on a paper,' the parent program will inform parents that there are resources online," Karp said. "Instead of just asking about what you have for lunch today, it gives you more to talk about with your children."
Parents Program Associate Director Christy Loring said the program holds several events throughout the year at orientations and family weekends to build a sense of community.
The program offers "Parent Pit Stops" — sessions where 15 parents who are involved with the university "on a deeper level" answer questions and share their experiences with BU, Loring said.
A "Pit Stop" was held most recently on Jan. 19, three days before the start of the spring semester.
Loring said the programs plays an important role in helping parents navigate BU.
"I don't encourage them to take on the problems of their students," she said. "We just give them the tools to solve their problems, which goes along with [the] university's philosophy."
Luxmi Chansrichawla is an international parent from Bangkok, Thailand. As a member of the BU Parent Leadership Council, she said she has organized BU summer send-offs for international students in Bangkok for the past four years.
Chansrichawla said the program was first recommended to her as a "a great platform to know other parents."
"I personally think as a parent, it is very informative. Your children have grown, and you don't know who to speak to," she said. "Here it is so warm, and you can get all the answers and reach out to other parents."
Karp recommended that parents read and subscribe to BU Today to get familiar with the school's events and people. Similarly, she suggested that parents get to know their children's friends.
"I know all of my kid's friends, and we have become friends," Chansrichawla said. " It's great to know what's going on."