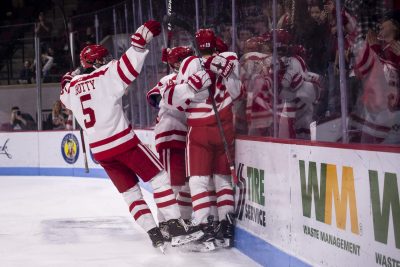 Syllabus week is over, and Boston University students are back on campus and heading to the stands. Here's an update on what is happening in the realm of BU Athletics.
Skating with Sun Devils
BU men's hockey did not waste any time providing students with an action-packed weekend series. No. 17/15 Arizona State University flew in from the desert to play Friday and Saturday night. Friday's game saw the Terriers come out with a win, with senior captain Bobo Carpenter tallying with his 100th point as a Terrier.
Saturday's game featured freshman goalie Vinnie Purpura making his Terrier debut, in place of junior goalie Jake Oettinger, who got rest after appearing in every game leading up to Saturday. The Terriers could not generate any offense against the Sun Devils, and fell by a score of 0-3.

Sun Devil forward Johnny Walker — an Arizona, not Scotland native — scored two goals against BU that night.
Wild weekend for women's hockey
BU women's hockey came into this weekend riding a five-game winning streak and are currently third place in Hockey East. They played a home-and-home series against Merrimack College. Friday's game was played at BU and Saturday's game at Merrimack.
On Friday, BU put up quite the show for the Walter Brown Arena crowd. After coming into the second period down 0-1, they put up a barrage of goals in the second period and scored one pair of goals within 52 seconds of each other.
The Terriers went on to win this game by a score of 6-3.
On Saturday, the Terriers left North Andover with a 3-3 tie. Down 2-3 and with 1:03 remaining in regulation, junior redshirt tri-captain Sammy Davis tied the game up.
Overtime found the Terriers at a disadvantage with a Merrimack power play, but they held onto the tie and left North Andover with a point.
The women's hockey beanpot begins Feb. 5, one day after the men's beanpot begins, and they play Northeastern University at Harvard.
Women's, men's basketball on the road
Both BU men's and women's basketball came into this weekend on three-game losing streaks.  Only one team managed to reverse their fortune.
A second half comeback fell short for men's basketball in a game against Lehigh University Saturday, losing by a score of 94-78. Junior forward Max Mahoney, who leads the team in points scored, was held to two points at the first half.
Women's basketball broke their three-game losing streak against the United States Naval Academy Saturday with a 49-35 win. Sophomore guard Katie Nelson put up 23 points in what was a low-scoring game compared to other games that the team has played.
Lacrosse season is coming
Tired of hearing about hockey and basketball? You'll be seeing men's and women's lacrosse articles soon from The Daily Free Press. The men's lacrosse season begins Feb. 3, and the women's lacrosse season begins Feb. 9.
Tennis teams in action
BU men's and women's tennis recently got into action this semester.
Women's tennis was on the road at Miami University Saturday. They fell 2-5, but managed to win all of their double sets.
Freshman Shelly Yaloz and sophomore Emily Kim won their set 6-3, senior Sabrina Faybyshev and sophomore Lily Burchell won their set 6-4 and sophomore Katya Martens and senior Remi Ramos won their set 6-1.
The team then came back to Boston to play Providence College, where they collected a 6-1 win. Again, all three groups of BU doubles — Yaloz and Kim, Faybyshev and Burchell, Martens and Ramos — picked up series wins.
Men's tennis squared up against Siena College Sunday morning, where they got a clean 7-0 sweep.
Highlighting the doubles victories were sophomore Owen Lu and freshman Max Hartenstein grabbing a 6-1 set win, and freshman Max Stehling and sophomore Pete Siozios picking up a 6-2 set win.