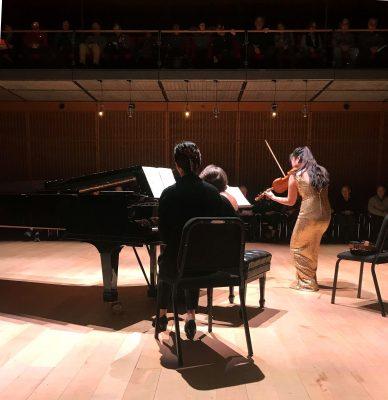 "Korea's hottest violin prodigy" made her Boston debut Sunday with a performance at the Isabella Stewart Gardner Museum.
As part of the Weekend Concert Series at the museum, 18-year-old SooBeen Lee performed four pieces in the museum's Calderwood Hall, including Ludwig van Beethoven's Violin Sonata No. 8 in G Major, Camille Saint-Saëns's Violin Sonata No. 1 in D minor, Béla Bartók's Rhapsody No. 1 and Leonard Bernstein's Violin Sonata.
The young prodigy has been building an international reputation for years. She began studying violin at the age of four, and when she was 8 years old she won the Korean Chamber Orchestra's national competition.
Prior to performing in Boston, Lee has made a name for herself performing professionally in venues across the world. This year she will play at the Kennedy Center in Washington, D.C., in March and at Lincoln Center's Alice Tully Hall in New York City in May.
Lee has played as a soloist with every major Korean orchestra and performed for the Secretary General of the United Nations and the King and Queen of Malaysia, according to Young Concert Artists, Inc.
She also won First Prize at the 2013 Moscow International Violin Competition and at the 2014 Young Concert Artists International Auditions.
Although Lee began studying violin at a young age, she has been surrounded by music her whole life, she said. Her three older siblings all studied music, which inspired her to do the same.
"I always wanted to do everything they [did], so I guess that's why I started to play the violin," Lee said.
Additionally, Lee's presence on social media has helped her gain recognition. Lee has more than 6,500 followers on YouTube, and some videos of her performances have garnered hundreds of thousands of views.
YouTube has impacted Lee and her career in other ways. Lee studies at the New England Conservatory under the direction of Miriam Fried, a renowned violinist whom Lee said she discovered on YouTube.
Lee said Fried is the reason she decided to study at the New England Conservatory.
"One time I watched [Fried] playing on YouTube, and I wanted to study with her as soon as I finished watching that video," Lee said. "And I am really happy with my decision now."
Multiple audience members at Lee's performance last weekend said they had heard of Lee because of YouTube, including Harvard University student Sylvie Sheng and Northeastern University student Tim Bilodeau.
"I love going to concerts," Bilodeau said. "I've actually never seen the exhibits [at the museum], but I've been to two concerts here now."
Bilodeau said he believes young performers such as Lee should be encouraged to perform in showcases like the Gardner's Weekend Concert Series.
"I think if you have something that you want to share, especially if people want to see it, why not? It doesn't matter how old you are," he said.
Sheng said the Weekend Concert Series provides a platform to support young performers like Lee.
"They need to have more publicity, and I think it's important that we give them support to get more fame, and so [the audience] can learn more about their techniques and personalities," Sheng said.
Overall, Lee said it is her love for playing the violin that has enabled her success.
"How much I enjoy practicing and playing music is the most important thing," Lee said. "I've never thought of it as boring, and I never get tired of it, so that's why I could get to where I am today."