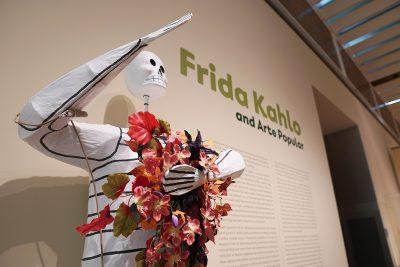 A young, dark haired woman is depicted in front of a black and yellow-leafed background. A monkey and a black cat perch upon each of her shoulders, and thorny branches hang from her bleeding neck like an intricate necklace.
A single hummingbird hangs from the branches at her chest. Her expression is solemn despite the pain. The portrait's viewers look upon Frida Kahlo's face.
Since Kahlo painted "Self-Portrait with Thorn Necklace and Hummingbird" in 1940, the painting has traveled from Austin, Texas, to Quebec City, Quebec, to Rome and elsewhere around the world. Now, Boston residents can see Kahlo's portrait within the city's boundaries at the Museum of Fine Arts as it hosts an exhibition titled "Frida Kahlo and Arte Popular."
This is the MFA's first exhibition on Frida Kahlo.
"Frida Kahlo and Arte Popular" debuted to the public Thursday and will remain open until June 16. The exhibition focuses on Kahlo's cultural engagements with "arte popular," or traditional Mexican folk art. It showcases objects of cultural significance from the artist's collection, ranging from textiles and ceramics to children's toys.
According to the exhibit's website, Kahlo drew on Mexican national culture and the significance of folk art after the Mexican Revolution to create her paintings.
Layla Bermeo, a curator of the Kahlo exhibition and assistant curator of American paintings in the Art of the Americas department, said she thinks the exhibit's inclusion of basic questions and breakdowns of Kahlo's inspiration and surroundings is radical. Bermeo said because Kahlo is such an iconic figure, she is often "wrapped up in myth."
According to Bermeo, there are only about a dozen Frida Kahlo paintings in public collections across the United States.
"We are fortunate to be able to offer our visitors the rare experience of really standing in front of one, and being able to look closely at it," she said.
The MFA worked closely with the San Antonio Museum of Art on the exhibition. Bermeo said the Texan museum has close to 3,000 arte popular objects, many of which are identical to what Kahlo owned.
The MFA's exhibit is split into five sections, each a reflection of the ways in which Kahlo was both engaged and influenced by Mexican culture and society. The sections are titled "Art of the People," "Aesthetics of Childhood" and "Invented Traditions," among others.
Bermeo said she hopes visitors will leave the exhibit with a deeper understanding of the ways that Kahlo created her paintings.
"She is someone who is engaged with other forms of art, … someone who is politically engaged," Bermeo said. "I hope that [visitors] will also be able to learn something about Kahlo's professional milestones."
"Self-Portrait with Thorn Necklace and Hummingbird" hung on a muted mustard yellow wall in the same gallery as "Dos Mujeres (Salvadora y Herminia)," a 1928 painting that depicts two Mexican women against a leafy backdrop.
Bermeo said during the press preview tour that these works compliment one another as visitors can observe the details on Kahlo's face in her self-portrait, down to her carefully shaded neck, and see how the artist's skills have vastly improved over her career.
Ana-María Reyes, an assistant professor of Latin American Art at Boston University, said "Dos Mujeres" is an important piece because of its political message. Kahlo painted the women as if they were trapped, reflecting the immobility of their social status, Reyes said.
"[Kahlo] dignifies but mobilizes [the women] in the landscape — in a way that is claustrophobic and problematic," Reyes said.
This portrayal is a powerful political statement, Reyes said, as well as a critique of Indigenism, an art movement in the 1920s during which artists rejected the overwhelming influence of European art to create pre-Columbian works, according to the website of the British art museum Tate.
The Kahlo exhibition includes work by other female artists also inspired by arte popular, such as Mexican painter María Izquierdo and artist Rosa Rolanda, who was of Mexican descent. Bermeo said the MFA included these artists to demonstrate that Kahlo was part of a bigger artistic movement happening across Mexico.
Though Kahlo passed away more than 60 years ago, Reyes said that she captured the intricacy and complexity of Latin American art profoundly. In addition, though she lived in a time of political and cultural unrest in her country, Reyes said Kahlo continued bravely with her work.
"[Kahlo] is really an important figure to drawing Latin Art into the museum" Reyes said, "and for outlining a trajectory of feminist art much earlier than most people think."