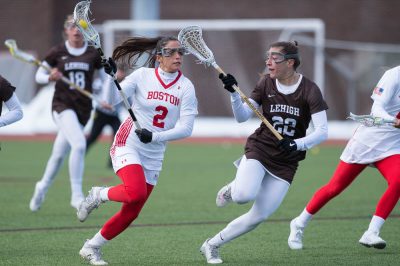 Despite a goal from senior midfielder Kaitlin Belval near the end of regulation that gave the Terriers a shot in overtime, Boston University women's lacrosse (3-3, 0-0 Patriot League) fell by a score of 8-9 in double overtime against Harvard University (3-2, 0-1 Ivy League) Wednesday. Crimson Madison Conklin got the game-winning goal in double overtime.
After losing against the University of Southern California (4-1, 0-0 PAC12) on Sunday, BU has now dropped their second straight game.
"We knew it was going to be a tough game, and we knew we need to be able to execute," said BU head coach Lauren Morton. "Coming off of their Cornell game, [the Crimson] were a hungry team."
Wasting very little time in the first half, the Terriers jumped out to an early 2-0 lead with a free position goal from Belval and a goal from freshman attack Hannah Kenneally.
Harvard would then go on a four-point run that lasted a little over eight minutes. Highlighting this run were two goals by Crimson midfielder Katie Muldoon that were 3:17 apart from each other. At the 13:07 mark, Harvard held a 4-2 lead.
The first half would conclude with the score from Cambridge being 4-5 in favor of the home team.
As soon as both teams came out after halftime, it would be BU that would stop Harvard from pulling away with the game. With a player advantage, senior midfielder Kelly Mathews would tally a goal to tie the game at five apiece.
The game would not see scoring for the next 15 minutes. At the 14:44 mark, Harvard broke the silence with a goal from Crimson attack Keeley MacAfee. That goal was her 12th of the season, which leads the team.
Harvard would get another goal to jump in front 7-5, but it was not until there were four minutes remaining in regulation that both teams fought to come out on top.
A free-position goal from Mathews and a goal one minute and three seconds later from sophomore attack Bridget McCarthy got the game tied up again at seven apiece.
With 47 seconds left in regulation, Crimson attack Hannah Keating gave Harvard an 8-7 lead. The Crimson could not keep this lead within the remaining 47 seconds, as Belval would give the Terriers another life with a man-up goal with 13 seconds remaining.
Both teams played hard in the first overtime, but neither team would be able to score. All shots that were attempted in during the first overtime were wide of the net.
The second overtime would be enough to decide a winner of the game. After missing a free-position shot earlier in the second overtime, Conklin would defeat freshman goalkeeper Kennady Smith and give Harvard the 8-7 win.
Despite not winning the game, Morton said she believed Smith played well. Smith tallied 14 saves on the afternoon, the best of her young career.
"I think Kennady had an awesome game," Morton said.
While Morton is happy to see Smith perform well, she said, she believes the team could have played better to prevent dropping their second straight game.
"We had too many turnover and self-errors," Morton said. "I think we could have played better and taken better care of the ball to have a different outcome."
BU will next travel South to play Temple University Tuesday afternoon. The Owls (2-4, 0-0 AAC) will play the University of Maryland, Baltimore (2-3, 0-0 AAC) Saturday before facing the Terriers.
Morton said she believes her team will be able to focus on one key issue — taking care of the ball — during the game at Temple.
"Our opportunity to play Temple is certainly to get back into focusing on what we do," Morton said. "I think we need to get back into taking care of the ball and finishing our shots, as well as some really basic things that we can easily control."