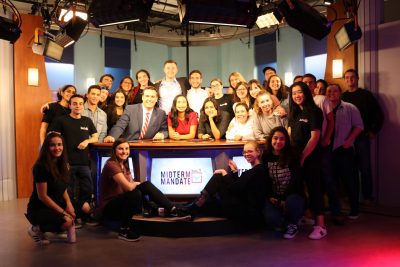 Boston University's BUTV10 won three 2019 New England Student Production Awards, including best newscast for their coverage of the 2018 midterm elections.
The awards, given by the National Academy of Television Arts and Sciences, also included best sports program for "Offsides," and best live sports event for coverage of BU basketball. The election coverage, titled "Midterm Mandate," was broadcast live from the College of Communication and included reports from student journalists across the country.
BUTV10's bilingual news show, "Amber," received an honorable mention in the Arts and Entertainment and Cultural Affairs category. NATAS released the list of nominees and winners for the 2019 awards on April 24.
Thomas Nitti, BUTV10's general manager, said it felt great to be recognized with the awards.
"I just feel a lot of pride in our membership and in all the hard work that everyone puts forward," said Nitti, a junior in the COM. "It was very gratifying to, you know, see that finally get recognized."
BUTV10, which is a student-run news station, had to submit an application to compete for the NATAS award, Nitti said. The station competed against multiple colleges and universities in New England.
"Every year, we try our best to keep raising the bar," Nitti said. "I think that these awards are really a testament to the effort and talent of our members that they put in every day to make these shows as good as they are."
Marissa Dianas, director of "Midterm Mandate" and a senior in COM, said the program was in pre-production for roughly six months and had a team of about 60 students. Dianas also had producer and director credits for BUTV10's other two winning productions.
Dianas said the students put in long hours rehearsing in COM, sometimes staying until around 1 a.m.
"It was definitely a lot of work," Dianas said. "The award is just reinforcement that all the hard work we put in paid off."
Nitti said the news station had its highest viewership figures ever during "Midterm Mandate." Students coordinated with alumni at major networks, and at the show's peak, it had 2,000 live viewers, according to Nitti.
"This was our most ambitious election coverage yet," Nitti said. "It was really an incredible production that took immense time and effort to, you know, create and put forward."
Matt Singer, a junior in COM who has worked with BUTV10 in the past, said he thinks it is impressive the program won these awards.
"It's a pretty cool thing for a school to have an acclaimed program like that," Singer said. "I think it's a really good program. I think it's nice because when I was there, everyone got involved, and it's a nice, … small community for everyone to kind of have a fun time."
Sophie Koh, a sophomore in the College of General Studies, said she thinks BUTV10 does a lot of good work.
"It's a really cool organization, I think they have a lot of cool programs," Koh said. "I think it's a good way to spread information and bring people together."
Nyah Jordan contributed reporting.