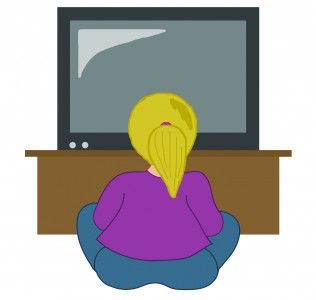 "Turn off the TV!"
We've all heard this classic parental command, and we've all been annoyed as children. However, a new study published in the May issue of Pediatrics shows that it is indeed important to turn the tube off from time to time for your health.
Researchers from Massachusetts General Hospital and the Harvard School of Public Health have found that a higher amount of television viewing can decrease the amount of sleep that children get.
"Many children watch many hours of television or other screen media daily, so over the course of a week, that can really add up to a substantial sleep debt, and the reason that's important is that as little as 20 minutes of increased sleep in experimental studies improved academic performance and attention," said Elizabeth Cespedes, lead author of the study.
The mothers of over 1,800 children, six months to eight years of age, were asked a variety of questions related to sleep and television exposure over a period of several years. The researchers found that for every additional hour of TV viewing, a child lost seven minutes of sleep per day.
Researchers also found that children with a TV in their bedrooms decreased their average sleep duration by half an hour per day.
"Many people don't know, but screen media computers and especially televisions emit blue light which, when you're in close proximity to that, actually depresses melatonin production and can lead to a delayed circadian rhythm," Cespedes said.
As a preventative measure, Cespedes suggests that parents follow the American Academy of Pediatrics's recommendation of setting two hours of screen time per day for children between the ages of six months and seven years. Other strategies are simply to remove TVs from bedrooms and to turn off the TV during meals.
However, according to Boston University School of Public Health professor Sophie Godley, the process of reducing TV exposure is a tough task in many households.
"It's all well and good to say if we want to decrease screen time, but I think we also need to look at the concepts in which that's happening — sometimes parents put small children under screens because that's the only way they'll get a break, or that's the only way they still can get dinner ready," she said.
Godley notes that the next steps should be offering "healthy options" to parents on how they should manage screen time use among their children.
"When families are stressed and when families don't have the resources they need from the city or from other institutions, then sometimes you can rely on TV or rely on screens, so it's always important to put this in contact and make sure that people have healthy options for how they spend their recreational time and how their children spend their recreational time," she said.
Furthermore, Cespedes said while her team's study focused on children, added screen time affects sleep for all individuals, especially college students, who are always looking at a screen and don't get much sleep to begin with.
"College students probably consume a lot more screen media than the little kids in our study who are only watching about an hour-and-a-half a day," she said. "That's the time in your life where you're probably more sleep deprived than other times."
Godley said biological differences between children and adults dictate that excessive screen time is more harmful for children than for college students.
"The difference is that children are more vulnerable because their bodies are still developing and growing," she said. "… So the lack of sleep or an impact on missing sleep — sleep deprivation — is going to hurt them more than it would hurt an adult."