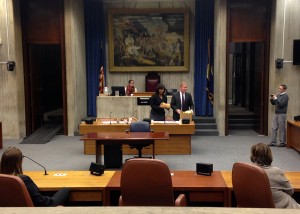 Boston City Council gathered Monday at City Hall to address unavailability of healthy food options for low-income residents of Boston, who frequent food banks and rely on free meals at Boston Public Schools.
City councilors deliberated food insecurity and its impacts on public schools, health care and local food pantries in a hearing spearheaded by the Committee for Healthy Women, Families and Communities. Food distributed throughout Boston neighborhoods has decreased in health value, according to those who testified at the hearing who demanded the City make healthier options more available.
City Councilor and Chairwoman for the Committee on Women & Healthy Communities Ayanna Pressley led the meeting and said she recognized the importance of food insecurity among Boston residents.
"Food is among the most basic rights we have as human beings," she said. "There is simply no excuse for letting our neighbors go hungry. The food being provided by pantries is unhealthy."
The City's need to take action on the issue of food insecurity is increasing with the growing nation, said Councilor Matt O'Malley, who said wage increases have not met the needs of living costs.
Food insecurity is a pediatric issue despite all the programs working to prevent it, said Deborah Frank, founder of Children's Health Watch and principle investigator at Boston Medical Center.
Not only are children dealing with the detrimental effects of food insecurity in Boston, Frank said, but mothers are twice as likely to be sick and three times as likely to be depressed if they do not have proper access to food.
Boston Public Health Commission Project Manager Maura Ackerman said food insecurity is an indication that other basic needs are not being met, and healthier foods are being brought to residents through the use of the Supplemental Nutrition Assistance Program (SNAP) at food markets and community gardens.
"We need to ensure that Boston residents are receiving the benefits they are entitled to," she said. "There is a strong need for equal funding and more support for farmer's markets through programs such as SNAP."
Catherine D'Amato, board director for the Greater Boston Food Bank, said food supply is not equally dispersed due to cost and disparities among neighborhoods.
"By the time food gets to Boston, it's much more expensive," she said. "However, we are committed to providing one meal a day. There is enough food coming in for us to issue one meal a day. It's just not distributed evenly."
The food supply is inadequate in the Allston, Brighton, Fenway-Kenmore, Mission Hill, East Boston and West Roxbury neighborhoods, D'Amato said.
Representatives from Lovin' Spoonfuls Food Rescue stressed the importance of reducing food waste and taking progressive action toward solving the issue of food insecurity.
Lauren Palumbo, chief operating officer for Lovin' Spoonfuls, said the most important issue tackled at the hearing was collaboration and forward thinking in terms of food insecurity.
"We tend to operate in our own little world sometimes," she said. "Whenever we can, we communicate with agencies and make sure we're all working to serve the public. We're addressing the same problems at different levels."
The next step is to get all ideas on paper and cement partnerships among organizations, said Lovin' Spoonfuls Founder and Executive Director Ashley Stanley.
"We heard both councilors talk about what the city is willing and able to do," she said. "There's nothing stopping us. Hunger and food insecurity is the most solvable problem we have in this country. We are in a city that sounds like it is willing to do something about it."
Fair Foods, Inc. Distribution Manager Jason Cammarata brought a box of fruits and vegetables to the hearing to show what foods are provided in a Fair Foods, Inc. The Two Dollar-A-Bags programs distributes fresh vegetables and fruits to Boston families in need. Each bag costs only a $2 donation.
"A picture's worth a thousand words, so we wanted to show you the food we bring to different neighborhoods," he said. "We serve people with dignity. We don't ask names and don't ask for ID. We simply ensure they have healthy food to live."