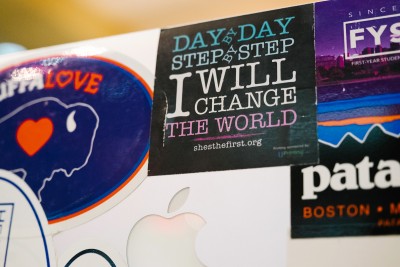 The Boston University chapter of She's the First, an international organization dedicated to promoting women's education in low-income countries through scholarships for secondary and higher education, is working to bring this mission to campus.
The organization established itself at BU in January 2015 and was finally approved by the Student Activities Office in the fall 2015 semester, BU She's the First President Bekah Heath wrote in an email.
BU's She's the First focuses on educating women who have not had the privilege of a proper education, Heath, a senior in the College of Arts and Sciences, said.
"We've chosen to focus our efforts on girls, since statistically, they've faced greater disadvantages," she said. "Girls who are educated are, in the long run, likely to marry later, bear fewer children, educate their own children and be less vulnerable to sexual abuse."
The chapter's members are passionate about the group's cause, Heath said, and look forward to engaging more students to participate in their cause.
"We work to ensure that everyone in our group is a respected member with passion for our goals," she said. "The student body should expect us to be making a difference on campus and creating new and exciting events throughout the coming semesters and years."
Heath said she believes this organization can contribute positively to the BU community by bringing awareness to the cause and giving students the opportunity to learn more.
For students looking to support the cause and join the club, "you can get involved on any level that feels comfortable for you … We are always looking for donations … and all the proceeds go directly to the girls we sponsor," Heath said.
The group currently aims to raise $600 in donations and plans to table a bake sale at the George Sherman Union to help them achieve it.
Heath said she hopes the club can join the efforts of other similar groups in furthering their missions among students.
"We hope to work with other groups that have similar interests and goals," she said. "We hope to create a passion on campus for equality, education and empowerment."
Neal Leavitt, a lecturer in the College of General Studies, focuses his expertise in human rights and moral philosophy. Leavitt said clubs like these are crucial players in raising awareness of issues that are not discussed in major media outlets.
"One of the first steps towards reaching equality for the genders, no matter the nation or culture, is educating women," he said. "It has been denied to women for so long and has been used as a tool in their oppression, so providing them with the opportunity to learn can help them in so many ways."
Leavitt said he believes BU's She's the First will help raise awareness among BU students of the bigger, global issues not seen in the United States.
Several students said they are in full support of the new organization and expressed their interest in learning more about the cause behind the club.
Kelly Griswold, a sophomore in CAS, said the purpose of the club seems very important and hopefully more people will get informed.
"It sounds like a great way to raise awareness about education inequality," she said, "[which is] something I don't know much about, and to ultimately help change it."
Lauren Backus, a junior in the College of Communication, said supporting universal rights to education is important to improving society for current and future generations.
"Things we are passionate about, if we are women or men, can make us more aware of the world around us," she said. "Education allows everyone to not just have a brighter future for themselves, but for the generation as a whole"
Ryan Cuthbert, also a sophomore in CAS, said the group's presence on campus presents a good opportunity for students to get involved for change.
"Youth are particularly important in enacting change because they are the upcoming generation that will soon be passing their own legislation," he said. "They are usually the ones who go out and organize protests or marches or whatever you need to enact change on higher up stages."