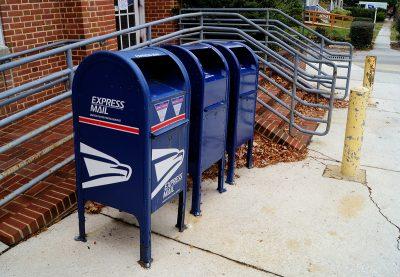 The United States Postal Service plans to open a new location at 512 Park Drive in Boston University's South Campus, USPS officials say, which will replace a post office in Kenmore Square that closed in June due to construction.
Kurtis Bullard, a USPS real estate specialist, said the office on Deerfield Street in Kenmore Square, which was the only post office on campus, was forced to close after the USPS's lease was terminated when real estate firm Related Beal began to redevelop the property.
Bullard said the prospective space would house the retail section of the branch.
"We've been working with the landlord for the past couple of months, working out the details of how the space will work, but I feel pretty confident that we'll have a lease soon," Bullard said.
Bullard added that the delivery location is proving to be a bigger issue because it's difficult to find a building with a parking lot in the area.
"At this point, we're actively engaged in the market," Bullard said. "We have our national real estate provider that is working with us."
Steve Doherty, a USPS communications specialist, said USPS is working hard to find new spaces for the delivery portion of the branch, but there is no specific deadline for when they will have the locations found and ready.
"As soon as we can find [an office location] that's suitable, we'll look into it and start working on it to make it ready," Doherty said.
Doherty said the reason USPS didn't find a new location sooner was because the notice from Related Beal came so quickly. This affected the reallocation of resources for the Kenmore office.
"We had to put in some stock gap measures where we temporarily moved the post office box customers over to Mass. Ave. and the letter carriers are actually working out of the Port Place facility on Dorchester Ave. temporarily, until we can find something in that neighborhood," Doherty said. "Then, we'll put everybody back in place."
Bullard said that because USPS leases instead of purchasing spaces currently, there is an added layer of complexity to the search.
"We have to find a landlord that's willing to do business with us," Bullard said.
Bullard said she is hopeful the location search will reach its end soon.
"We're gonna try to move forward so that we can get everything set up and try to be open for business," Bullard said. "That's the key goal here."
On BU campus there is a FedEx and an Amazon Hub Locker location, so options for returning packages or sending letters are nearby. 
Until the new post office location opens, postage stamps must be purchased digitally from USPS and sent to a student's mailing address, or an individual can go to an off-campus post office.
Helen Kitrosser, a junior in the Sargent College of Health and Rehabilitation, said her BU organization, Camp Kesem, was greatly affected by the office shutdown because the group relies heavily on having a PO box.
"[The closure] makes it harder on the other people in my club to go to a PO box to pick the stuff up that we need that helps the organization run," Kitrosser said.
Kitrosser also mentioned that, in her case, USPS didn't communicate about the shutdown, so it came as a shock. She said they had an important check in the PO box too.
"There was no communication between the postal service and our organization through our email that was connected to the PO box," Kitrosser said, "and so we don't know what happened to all the stuff that was there."
Sophia Marraccini, a junior in the College of Communication, said she was inconvenienced by the office's removal when she arrived on campus this year.
"When school started, I didn't even realize that it had closed, so I brought packages with me to return to find out that it simply wasn't there anymore," Marraccini said.
Tori Abdalla, a senior in Sargent, said not having a post office on campus could impact students' ability to get absentee ballots.
"I feel like it'll probably impact voting and accessibility for next year," Abdalla said. "Getting stamps to vote would be kind of a pain in the butt if you don't have a post office."