Thanksgiving break seems like a year ago. But luckily, I had a wonderful time. Thankfully, it went slowly and actually felt like a break where I could let off some steam, mentally check out and catch up on some much-needed sleep. 
In retrospect, I probably should have done more homework with now only a week left of school and five projects due, but at that time I felt like I physically could not do it. Instead, I spent my break cooking every day and binge-watching shows and movies with my roommates. 
It was the most relaxing break I've had in a long time. 
Cooking has always been a great outlet to let off steam and still feel partially productive. I even enjoy cleaning up, but not nearly as much as eating. Break brought on heaps of all of it.
By using my trusty Instant Pot and oven, I made new dishes each day for my roommates and me to eat for dinner during the five-day holiday. I created tomato-based chicken soup, a Thanksgiving feast, breakfast hand pies, garlic parmesan pasta and chicken noodle soup. 
We were living large until we returned to school and dining hall food. But, I have some roommate favorites that I already need to make again. These are two simple, easy recipes that you can make any time. They were inspired from multiple different recipes I found online with an added very special original twist I put on them.
Garlic Mashed Potatoes (Instant Pot Recipe)
As a fan favorite, I've already made this again this past Saturday. It's a simple recipe that works with any meal if you have a plethora of potatoes at your disposal, especially on Thanksgiving Day.
Serves: six with second helpings
Total time: 25 minutes
Active time: 10 minutes
Ingredients:
6 medium potatoes, peeled and sliced into disks

About 5 cups water

3 teaspoons salt

4 tablespoons butter

½ cup sour cream

¼ cup milk

1 teaspoon garlic powder

½ teaspoon ground black pepper
Optional: 
2 tablespoons parsley, chopped

Gravy (obviously)
Directions: 
To cook the potatoes: using a six to eight quart Instant Pot, place the peeled and cut potatoes into the inner pot, then cover fully with water and add 1 teaspoon of salt. Close the lid to the Instant Pot and cook on high pressure for eight minutes until the timer ends, then instantly release the pressure by pressing the valve down. 
When the cooking finishes, drain the excess water from the pot and return the potatoes to the pot. 
Add pepper, garlic powder, butter, milk, sour cream and the remaining salt. Mash the ingredients and potatoes together until a desired consistency and taste. 
Breakfast Hand Pies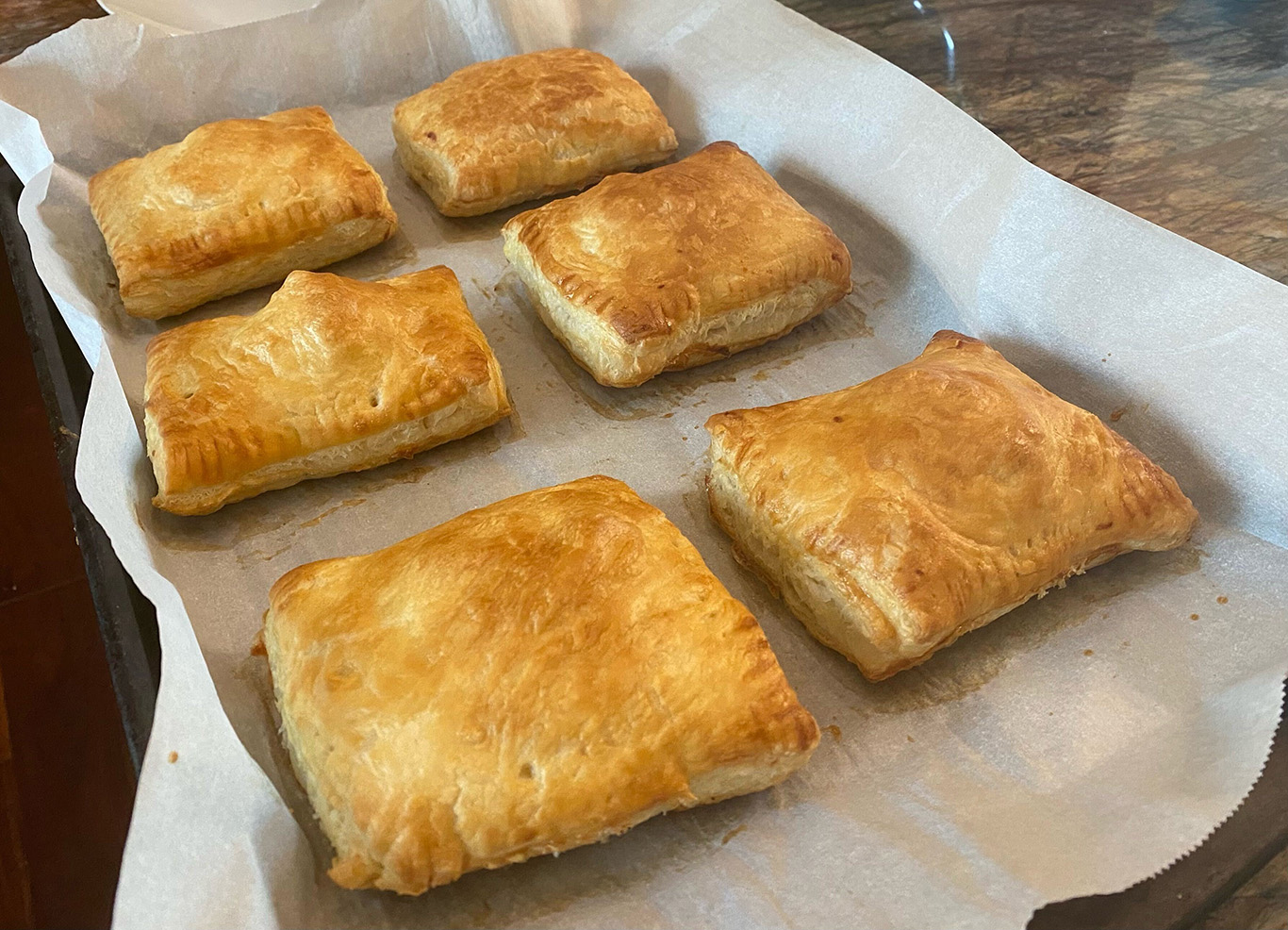 You can never go wrong with puff pastry. This recipe is always solid for anything filling you want to put in. They're particularly amazing when you need to get rid of Thanksgiving leftovers. 
Serves: six
Total Time: 40 minutes
Active Time: 15 minutes
Ingredients:
2 tablespoons butter

6 large eggs, use 1 for an egg wash

1 cup protein (ham, sausage or bacon)

1 cup shredded mozzarella cheese

1 cup shredded cheddar cheese

1 box (17.3 oz) frozen puff pastry, thawed and cut into 12 pieces

Salt and pepper
Directions: 
Prepare the protein: Using a skillet or oven, fully cook any protein you have. Then, cut any meat into bite-sized pieces. 
Prepare the oven: Line a sheet pan with parchment paper and preheat the oven to 400 degrees fahrenheit. 
Make the eggs: Heat a nonstick skillet over medium heat and add butter. Beat five eggs together and scramble, then add salt and pepper to taste. After they finish cooking, remove it from the heat and place it in a bowl to cool. After 2 minutes, add the meat and cheese to the bowl and stir to combine.  
Prepare the puff pastry: Thaw each puff pastry sheet as instructed on the box, then cut the pastry into six pieces per sheet. Then beat one egg in a separate container and add 1 tablespoon of water for an egg wash. 
Forming the pies: Layout a piece of the cut puff pastry and heap in the breakfast mixture, leaving the borders of the pastry empty. Then brush the edges of the puff pastry with the egg wash before stretching another piece of pastry over the top of it. Make sure you press down so the edges stick together and air bubbles get released. Then crimp the edges with a fork to seal. 
Cook: Transfer each pie to the lined sheet and brush the tops with the egg wash. Bake for 20 minutes or until golden brown.
I hope these recipes work out for you if you ever make them.