Entering Saturday's game against Binghamton University, a perfect record against America East opponents was on the line for the Boston University lacrosse team, and with an 18-16 win over the Bearcats, the Terriers reached their goal and remained flawless in their conference.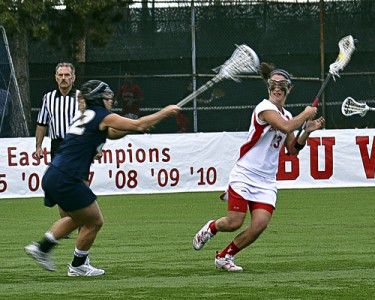 "I'm excited for the players," said BU coach Liz Robertshaw. "They worked really hard this season to go undefeated in the conference. It hasn't been easy, coming from behind in a lot of games and having to work hard to finish out the wins, but I credit them for getting it done."
In addition to the perfect regular-season record earned Saturday, the Terriers (11-5, 6-0 America East) also clinched the top spot in the America East Tournament in addition hosting rights to the tournament after its win over Stony Brook University two weeks ago.
"When it comes to our conference play, I think we did accomplish our goal of one, getting into the conference tournament, [and two,] hosting it," she said. "Could we have played better at times? Yes, we always can."
Against the Bearcats (3-16, 0-6 America East), junior attack and reigning co-America East Player of the Year Danielle Etrasco had one of the best days of her career. Her five goals, four assists and the resulting nine points earned her career highs in assists and points. She also won six draws.
"She's capable of doing that all the time," Robertshaw said. "Her team needed her to step up and score those goals or make those feeds and she did it."
Robertshaw also said she thought the Terriers were somewhat inconsistent in the game, but Etrasco was there when it counted most to keep them in the lead.
"Whenever we needed a goal, I think Danielle really stepped up into that role and either scored it herself or, even better, she created opportunities for her teammates," Robertshaw said. "She's a goal scorer, she can score a ton of goals, and I think she did very well [Saturday]."
BU scored first, but Binghamton took an early 4-3 lead with 15:13 remaining in the first half. A five-goal run in the next four-and-a-half minutes, however, put the Terriers up by four. Etrasco scored first in the run, followed by two from senior attack Catie Tilton, one more from Etrasco and one from junior midfielder Kristen Mogavero. Freshman attack Jenna Boarman assisted the last two goals.
Binghamton responded with five goals of its own in the next six minutes, taking the lead back at 9-8. Three goals during the last 2:13 of the half drove the lead again to BU's favor, 11-9 at halftime.
In the second, junior defender Kristen Stone tied it at 11 for Binghamton fewer than four minutes into the half, followed by a handful of lead changing. A four-goal run from 12:57 to 8:05 gave the Terriers their final lead of the game. Senior attack Hannah Frey found the net twice in the run.
Frey finished as Boston's second-highest goal scorer with four, followed by senior attack Molly Swain with three and Mogavero and Tilton at two each. Sophomore goalkeeper Christina Sheridan spent the entire game in cage, making five saves in the first and two in the second.
Binghamton junior Katherine Hunsberger led all scorers with six goals, which was also a career high for her. Additionally, she won five draws, picked up three ground balls, caused two turnovers and had one assist. She scored two goals midway through the first to give the Bearcats that aforementioned early lead and tied the game at 12 apiece with an unassisted goal fewer than 10 minutes into the second half.
Behind Hunsberger in goals was senior Lis Zuern with four. Junior Leah Amalfitano led the Bearcats with four ground balls. Amalfitano and Stone were also in front of Hunsberger in caused turnovers with three each.
The Terriers will now face the University at Albany in the first round of the conference tournament on Thursday at 1 p.m. at Nickerson Field.
Robertshaw labeled the Great Danes, the preseason coaches' pick to win the conference, as "dangerous," but said getting another win is the most important issue for BU.
"It doesn't matter who we play," Robertshaw said. "I just want our team to play well, and I want us to go after another win."