For the third game in a row, the Boston University men's hockey team will face the No. 1 team in the nation on Thursday. Last weekend it was a series against now-No. 2 Boston College, who dropped a spot after splitting games with BU. Now the Terriers will face the University of New Hampshire, who took over BC for the nation's top spot this week.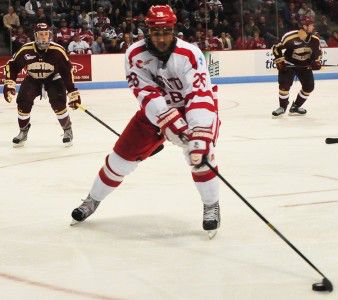 "They're doing a few things differently, and they're doing everything more thorough than they ever have in the past," said BU coach Jack Parker about the Wildcats (11–1–2, 8–1–1 Hockey East). "I think [UNH coach Dick Umile] was worried about who were going to be his goal scorers, and all of a sudden they're the highest-scoring team in the league."
UNH junior Kevin Goumas, who had 34 points last year, already has a league-leading 23 points this year (seven goals and 16 assists). Senior Austin Block ranks second in goals with nine, one behind BC's Johnny Gaudreau.
Sophomore defenseman Trevor van Riemsdyk has also added 13 points for the Wildcats this season, which leads all Hockey East defensemen.
The Terriers have already lost to the Wildcats twice this year. On Oct. 20, BU (8–5–0, 6–4–0 Hockey East) fell short in its first road game of the year in Durham, N.H., as freshman goalie Sean Maguire gave up four goals and the team struggled.
At Agganis Arena on Nov. 18, UNH took home a 3–1 win. BU put 47 shots on UNH goalie Casey DeSmith, but many of them were from the perimeter and many others were cleared away by the Wildcat defense before the Terriers could get second chances.
DeSmith leads Hockey East with a .943 save percentage and ranks second with a 1.72 goals-against average. He has already made 69 saves against BU this year.
"If we're able to get our forecheck going and get some good shots on him early, maybe beat him early, we can kind of get him off his game and maybe bring his confidence a little lower," said senior defenseman Sean Escobedo of DeSmith.
Part of the problem is also the Wildcat defense, which Parker said differs from the man-to-man defensive zone coverage the Terriers usually see. In clearing pucks and breaking out quickly, UNH both jump-starts its offense and avoids taking many penalties in the defensive zone.
If it does wind up in the box, UNH also has the league's best penalty kill, working at a 96 percent success rate. They have also had to kill just 50 power plays, fewer than any other team in the league except the University of Massachusetts-Lowell.
With the departure of sophomore wing Yasin Cissé, junior Sahir Gill will take the open spot on the first-line wing Thursday. Gill was recently demoted from the second line to the third, where he has looked more energetic and had an assist against BC Saturday.
"He has to be a guy that's on the puck, that's banging guys, that's really more intense than when he was on the first line," Parker said of Gill. "We moved him down, and I think he's playing really hard now, and he really deserves to be back on the first line."
"He'll play every power play and kill every penalty and be on the first-line wing again," Parker added.
Escobedo said that while UNH is formidable, BU didn't challenge it enough in its first two meetings this year.
"They're a No. 1 team and they're playing really good hockey, but they haven't seen our best game yet this year," Escobedo said. "So I think if we're able to establish our game plan early and often, have a good forecheck and play good defense, we're right there to contend with them."
Of the Hockey East teams BU has played so far, UNH is the only one it has not beaten. This is the Terriers' last chance to avoid being swept in the season series and, as Parker noted, pick up a win that could make an impact down the road.
"You're going to play them in bigger games down the line, and it gives you the opportunity to know that you have performed well against them," Parker said. "We have not played well against UNH in the last two games … because UNH outplayed us. And we've got to make sure they don't outplay us this game."