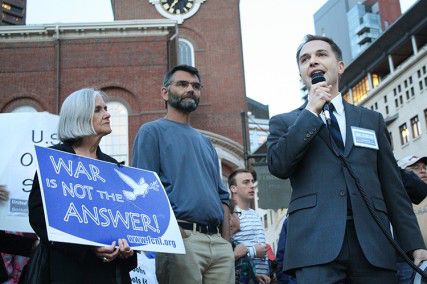 While U.S. President Barack Obama said he has postponed military action in Syria to allow Congress to consider Russia's proposal of confiscating and destroying Syria's chemical weapons, Boston University experts say a weapons forfeit is unlikely.
Obama addressed the nation Tuesday night and said while he supports a singular military strike in Syria, he has decided to allow Capitol Hill officials the chance to consider Russian officials' proposal.
However, BU anthropology professor Augustus Norton said it is doubtful Syrians will actually comply with Russia and forfeit their chemical weapons.
"Syria's main enemy is Israel, who has a very large — by regional standards — nuclear arsenal," Norton said. "So, the strategic argument in Syria is that a chemical weapon stockpile … is a deterrent weapon against Israel. And, therefore, I can easily see generals in the Syrian army very much resisting giving up these weapons."
Regardless of Syrian officials' next move, Obama said U.S. citizens should not ignore the ongoing crisis as the U.S. has a moral obligation to lessen Bashar al-Asaad's ability to use chemical weapons on civilians.
"This is not a world we should accept," Obama said in his address. "That is why, after careful deliberation, I determined that it is in the national security interests of the United States to respond to the Assad regime's use of chemical weapons through a targeted military strike."
Obama said a failure to act would make it easier for other terrorist organizations to obtain such weapons in the future. He explained the purpose of the strike would be to discourage Assad from future use of chemical weapons and to prove that the use of such weapons will not be tolerated.
"My answer is simple — I will not put American boots on the ground in Syria," Obama said. "This would be a targeted strike to achieve a clear objective: deterring the use of chemical weapons and degrading Assad's capabilities."
Obama said although he is the commander-in-chief and ultimate authority on such matters, he will allow Congress to continue their debate and to consider whether the U.S. should pursue Russian officials' proposal.
Norton said Obama's speech was mundane and thus unlikely to have changed the nation's collective mind on military intervention. He explained that due to Syria's weak relationship with the U.S., there are few options on how U.S. officials can deter Syria's use of chemical weapons.
Zack Robinson, a School of Management sophomore, said Obama's desire for a limited military strike is a good option as reasonable negotiations with Assad seem unlikely.
"I don't think even one strike is something that Assad is going to be able to ignore … It's definitely going to have an impact on him [Assad]," Robinson said. "Even if it doesn't have the … exact impact that some people would want, it would definitely say to Assad that chemical weapons are not okay."
Sarah Blair, a College of Arts and Sciences senior, said Obama made a compelling argument on U.S. officials' moral obligations to take action in Syria.
"I don't think he was trying to make the case that military intervention is the best option," Blair said. "He [Obama] said if a diplomatic solution can be reached … that would be ideal because it would save us from interfering into affairs with another country and also because the main goal of eliminating chemical weapons would be met."
Eric Kashdan, president of the BU International Affairs Association, said Obama showed a preference for an international confiscation of weapons, which demonstrates a worldwide intolerance of chemical weapons.
"He [Obama] said what he wants and prefers is this international option where the UN [United Nations] would confiscate weapons," Kashdan, a CAS senior, said. "He talked about letting Congress approve the authorization and reestablishing checks and balances when it comes to military action, and those are goals that definitely resonate with what Obama has always said."
Margaret Waterman contributed to the reporting of this article.