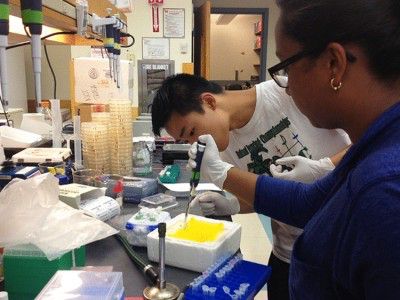 While some of us spent our summers lounging on the beach, Jake Awtry, a College of Arts and Sciences sophomore, and Shawn Jin, a Sargent College of Health and Rehabilitation Sciences junior, worked diligently on one of Boston University's team science projects. The culmination of their summer efforts will be an entry in the International Genetically Engineered Machine — or iGem — competition.
The purpose of Awtry and Jin's project is to standardize the way synthetic biologists work by switching from an old system called BioBricks to a new system called MoClo. The iGem competition is an international one that brings together the best undergraduate synthetic biology projects from all over the world.
Created at the Massachusetts Institute of Technology in 2003, iGem has since expanded and is now a rapidly growing independent program. The BU team will travel to Toronto for the regional competition in the beginning of October, and, if they receive a high enough score, they will participate in the international competition at MIT in November.
At each iGem gathering, there will be a variety of speakers and presentations. Each group must give an oral presentation that will be judged and each group must demonstrate a "poster session." At the poster sessions, teams must orally present all aspects of their projects, but must also allow the highly detailed poster speak for itself. The teams will choose tracks and be judged accordingly. In 2012, the competition hosted more than 190 teams from five different regions.
According the iGem website, the organization promotes "the advancement of science and education by developing an open community of students and practitioners in schools, laboratories, research institutes and industry."
Several former participants said iGem is a great way to get students in the lab as they work hands-on with the material learned about in class.
In a video on the iGem website, former iGem competitor, Alja Oblack of the University of Ljubljana in Slovenia, said she learned more from three months in the lab than she did in her entire three years of undergraduate education.
Jake Tennenbaum, a College of General Studies freshman, said he thinks this type of hands-on learning is most beneficial to students.
"Working with your hands is a proactive way of learning," he said. "You absorb information much better."
Allie Kolb, a senior in the College of Communication, said she thinks it is important that undergraduate students acquire this hands-on experience early on.
"Science is progressing so quickly that it's really important for students to get this experience during their undergraduate years," Kolb said. "I think it's amazing that students this young are doing such big things."
iGem also brings together students from a range of majors. Awtry is studying biochemistry and molecular biology, while Jin is a human physiology major. This proves that iGem is for anyone who has an interest in this vein of science.
The Project
Jin and Awtry said a fairly common problem researchers face with synthetic biology is the difficulty in reproducing experiments.
"Our idea is to make a standard for how experiments are done," Awtry said. "Synthetic biology has a problem where genetic parts are built that other people can't use."
Connor Richmond, a junior in the College of Engineering, believes this standardization could lead to faster advancements.
"More people would be able to contribute to more projects," Richmond said. "It eliminates a language barrier that I see occur similarly in computer science and it creates a medium for universal parts."
The current standard for constructing synthetic gene expression is a system called "BioBricks."  BU's team is proposing that iGem switches to a system called "MoClo," short for "Modular Cloning." Awtry said this newer system is three times faster than its predecessor.
Another positive aspect in switching to MoClo is that the newer system is more modular. Synthetic biology is supposed to be a modular science, allowing parts to be easily picked up and attached to other parts. For example, imagine that using MoClo is like playing with Legos. With MoClo, Legos fit together easily, while using BioBricks to assemble parts is like trying to fit Legos and Mega Blocks together.
Some of the previous iGem winners are projects such as "Arsenic BioDetector," "BactoBlood" and "E. Chromi," but Awtry and Jin do not seem fazed by former or current competitors. Their project, "Fuse or Die: The Case for the MoClo Revolution," is ready to take on the world.
"Before we go into the competition, we select a track," Jin said. "We picked 'data sheet' and 'foundational advancement.' Our project doesn't have immediate application, but helps to move the entire field forward by providing a more efficient way to make DNA parts."
The Process
During the summer, Jin and Awtry worked in a wet lab — a lab where biological matter and other chemicals requiring water and ventilation are tested — with a team of three other BU students advised by four mentors.
Awtry and Jin said there were two major stages to their work in the lab. The first stage involved the construction and manipulation of plasmids used for gene expression. A plasmid is a small circular piece of DNA that can be inserted into a bacterium, which then produces the gene product in large amounts. Awtry and Jin constructed plasmids with a set of critical components: a promoter — which acts as a catalyst — a ribosomal binding site, the gene of interest, and a terminator, which signals the end of translation or transcription.
The promoter begins the processing, the ribosomal binding site is where the protein expression of the gene is initiated, and the terminator ends the processing. The specific genes that the lab used were initially florescent proteins that derived from jellyfish. These proteins included a green florescent protein (gfp), a red florescent protein (rfp) and mCitrine.
The protein expressions that form these plasmids were monitored using a flow cytometer. The flow cytometer detects which gene is expressed from the brightness of the fluorescent protein and can quantify the strength of that expression.
"[The switch from BioBricks to MoClo] was useful because we put together an absurd amount of constructs in the time period, which shows how efficient MoClo is," Awtry said.
The second stage of experiments focused on manipulating the synthetic biology in a population of E. Coli bacteria. The team used the expression of small molecules that can control the behavior of a population of bacteria. For instance, the bacteria released molecules that influenced the way neighboring bacteria reacted. Awtry and Jin explained that bacteria float around randomly until the level of molecule concentration gets high enough. Then, bacteria begin to clump up into a community-like structure. When these clumps are fully formed, the bacteria have created a biofilm.
With MoClo, the team was able to control the amount of small signaling molecules that the E. Coli bacteria released and the bacterial population through manipulation of their chemical communication.
Because the MoClo program allowed them to synthesize these gene expression plasmids so rapidly, the results of the project have been extremely effective.
What's Next?
The second tier of Awtry and Jin's project is the dissemination of information to non-scientists. They said a major reason why they chose this project was to explain the critiques and misinterpretations of modern research.
"A lot of the projects are very misleading," Awtry said. "It will say it's an arsenic-detecting bacteria, but most of them are just proof of concepts that haven't actually been demonstrated to succeed in what they're trying to achieve."
One of their ideas for more transparency between synthetic biologists and the public is a series of articles. A tentative subject is debunking the misconceptions popular science fiction films create.
"Sometimes, society looks at sci-fi and they get a false perception of what science, biology and genetic engineering is actually like," said Jin. "We want to bring in some examples from movies and then compare them to what is actually happening in reality."
Steve Birnbaum, a junior in COM, thought that this would clear many misunderstandings that arise out of modern film, using the example of a recently released movie, Prometheus.
"In Prometheus, they had automated surgery where they cut out cancer with a robot, and the robot was able to target the cancer specifically and remove it," Birnbaum said. He noted that this unrealistic example of modern science often creates misunderstandings.
However, publishing papers that resolve these misconceptions can wait. In the meantime, Awtry and Jin will continue to focus on what is most important: Preparing for the iGem competition just three short weeks away.