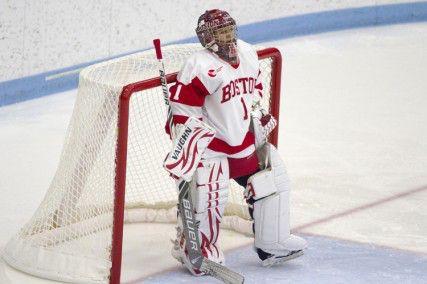 For Kerrin Sperry, it has been quite the ride.
In three seasons with the Boston University women's hockey team, the senior goaltender has led one of the nation's top collegiate women's hockey programs to vast success. To this point, she has a career goals-against average of 2.14, a .920 save percentage and an overall record of 64-23-7. She has a conference tournament MVP award under her belt and has amassed countless Player of the Week awards within the Hockey East Conference.
One could describe a player with these statistics and accomplishments in many ways — detailed, disciplined, prepared, tough and a leader.
But Sperry's leadership, preparedness and toughness extend far beyond the rink. The North Reading native joined the Army ROTC program due to her desire to serve the U.S. military.
"I've always been intense," Sperry said. "As a kid I was intense, as an adult I'm very intense. But the desire to serve my country just came from growing up during first of all, the worst event in the history of our country, 9/11,  and then seeing the aftermath of that, in the Iraq and Afghanistan wars, and seeing the impact it's had on our country … I think that made a huge impact on me. I think it made me proud to be able to serve my country and instill a desire in me to serve my country.
"Not only that, but it's about making a sacrifice and I think that basically I'm willing to sacrifice for my country, and I feel very, very, very strongly about it. I'm not quite sure where that came from, but I think it's because I have so much respect for the people who sacrificed for our country."
Sperry noted several parallels between goaltending and ROTC.
"Specifically for goaltending, goaltending's a very detail-focused position," Sperry said.  "… If you don't plan, if you don't prepare correctly, the puck's going in the net, and it goes up on that scoreboard. In the Army, the results are much more dire … you have to look out for your buddies, you have to look out for your country … You have to be prepared and the standards are very high."
Furthermore, both positions require a high level of leadership.
"Goaltending, you're a leader on the ice," Sperry said. "… I'm a senior and I'm a leader. I have to stay composed, I have to stay stable for my team to stay composed or stable, and if you're in the Army and out in the field, they always emphasize in ROTC that you're a leader. You're constantly a leader and people are looking at you."
In hockey, Sperry has become not only a leader for her teammates, but also a leader in the record books. Last season, she set program records for wins in a season (24), career wins (64) and career shutouts (11).
Four of those shutouts came in 2012-13, including a Hockey East Tournament semifinal matchup against Providence College — one of Sperry's proudest moments as a Terrier, she said. Sperry stopped 42 shots in that game, effectively shutting out Providence and propelling the Terriers to the Hockey East Championship game.
But despite Sperry's unbelievable efforts in that game, she gives most of the credit to her teammates.
"I think that my proudest moment, one of my proudest moments, was when … we played a Providence team that came to play," Sperry said. "They were getting tons of shots on net, for some reason. the ice must have been tilted to my defensive zone, but we continued to play our game. And that carried over into the next game when we played Northeastern [University]."
In that next game, when the Terriers battled the Huskies for the Hockey East Championship, Sperry made 35 saves, giving up only two goals. BU won by a score of 5-2, giving it an automatic bid in the NCAA Tournament. Sperry was named Tournament MVP.
"We had had trouble with them all season," Sperry said of Northeastern. "They were just a very tough team to play against, and we went out there with confidence, an amazing amount of confidence. And they kept trying to come back, and girls were clawing at each other's helmets, just trying to make sure that rebounds didn't go in my net. And I think that was my proudest moment, just seeing my teammates really, really putting it out for every shift and that was awesome."
That momentum carried through the NCAA Tournament, as the Terriers reached their second national championship game in three seasons against the undefeated University of Minnesota. Sperry made 23 saves in that final game, but BU could not stop the top-ranked offense in the nation, falling to the Gophers by a score of 6-3.
"The postseason run was very successful, but it wasn't without adversity," Sperry said. "And I think that one of the biggest things in the postseason run was that when you're in that final game and you're under that kind of pressure in front of all those people, the biggest thing you've got to do is just let it all go. Just play your game.
" … I think that maybe our team got a little bit too caught up in the flashiness of Minnesota and their big undefeated season — and not taking anything from them, they're a great team — but personally I feel like I went in with confidence, but I think that if I could do it again, I would go in with even more confidence."
Returning to a national final will not come without challenges, as BU enters the season having lost its top three scorers and one of its top defensemen from 2012-13. However, Sperry said her goals going into her senior year extend far beyond that elusive national championship and more upon being a constant presence for her team.
"You can always say you want to win this or win that, but I like to say that my biggest goal is to be consistent, snd hopefully consistently good," Sperry said. "The worst thing is to have a string of five great games, but then have a string of six terrible games. I want to stay pretty steady.
"… I want to be a leader for my team. I want to be a leader who leads by example … I think that I can be there for my teammates, not only on the ice, but off the ice as well. Just trying to be there as a support outlet. And I am the final barrier to the puck going in, so I hope that I'm also there to support them in the back."