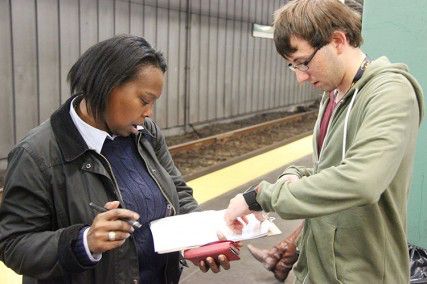 Students from the Student Labor Action Project at Boston University collected signatures Wednesday for a petition in support of legislation that seeks to improve labor rights in Massachusetts.
SLAP members gathered around 100 signatures from registered Massachusetts voters in support of the legislation, which would increase the Massachusetts state minimum wage to $10.50 an hour and provide guaranteed paid sick time to all employees throughout the state, said SLAP member Luke Rebecchi.
"Across the state a lot of labor groups … are getting involved in the campaign and gathering signatures, and the public is gathering signatures," Rebecchi, a College of Arts and Sciences senior, said. "So, we're organizing some folks to do that today. We're going to go to a few local T stations, other places that folks tend to congregate on Wednesday afternoons."
SLAP is independently working to aid a broader campaign across the Commonwealth of Massachusetts called Raise Up Massachusetts. The campaign's goal is to gather 100,000 signatures in order for legislation to be placed on the ballot. Wednesday's gathering was the first in a series of four consecutive weeks with Wednesday campaigns.
Raising the minimum wage is a way to enhance lives of the working class in Massachusetts, Rebecchi said.
"In the city of Boston, the estimated living wage for a single individual with no dependents is $12.62 an hour," he said. "So, raising it to $10.50 [an hour] still doesn't close that gap, but the juxtaposition of those two wages truly shows the condition of working people in the city, state and country."
Paid sick days are something all employees in the Commonwealth should have the right to claim when needed, Rebecchi said.
"Folks should be able to get sick and not lose their jobs," he said. "Parents of children in school should be able to stay home to take care of their children without losing their jobs … A lot of folks across the state already have that protection, and we want to make sure it's extended to everyone."
The participants primarily focused on the C and D Lines of the Massachusetts Bay Transit Authority, but also devoted campaign time to the B Line to gauge the number of BU students eligible to sign the petition, Rebecchi said.
SLAP member Micheal Gutman, who helped collect signatures, said the legislation is important to him, as he worked a minimum wage job over the summer in Houston.
"What we were paid was definitely not a living wage," Gutman, a College of Engineering freshman, said. "Even though I wasn't living off of it [minimum wage], I knew people that were, and they were having struggles. A lot of them had to have government subsidy [payments] just to survive, and that's why I think it's really important to increase it here in Massachusetts."
SLAP member Matt Bruenig, a third-year BU School of Law graduate student, said the campaign's primary goal is to improve the lives of low-income workers by increasing their wages and job benefits.
"It will be a raise for fast food workers and other low-income workers, which should be a net benefit for the communities that those workers live in and their families," Bruenig said. "In the short term, it also should be a bit stimulating to the local economy to put more money in the hands of those who are more likely to spend it, so that's a positive net result."