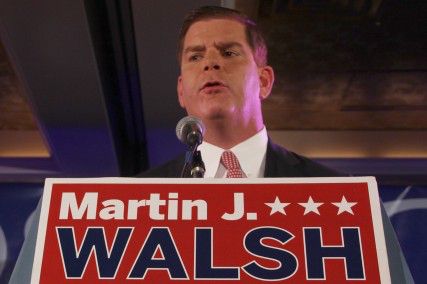 For the first time since his inauguration on Jan. 6, Boston Mayor Martin Walsh spoke out publicly on Saturday about his plans for reconstruction in the Boston Redevelopment Authority, the agency in charge of all development and construction functions in the city.
His plans, laid out on martywalsh.org, include an independent audit for the BRA and the appointment of an economic development cabinet chief to oversee a new agency called the Boston Economic Development Authority. BEDA will consolidate a number of economic development agencies, including the BRA.
"This new Secretary will serve as Chief Economic Development Officer of the City running a new Agency and oversee a cabinet of agencies critical to streamlining the planning, permitting and development process that includes most of the current functions of the existing BRA, in addition to some others," Walsh said on his website.
On Jan. 8, Walsh appointed former Mass. Rep. Brian Golden as acting director of the BRA, the first of his proposed changes.
Walsh, who will appoint four seats to the BRA, proposed a reserved board seat to be appointed by the city council. This will give the city council oversight power of the BRA for the first time in 25 years, Walsh's website said.
"I am committed to restructuring the Boston Redevelopment Authority and to bringing together in a smart, rational and effective way all the parts of city government dealing with job creation and economic development," Walsh said in his inauguration speech on Jan. 6. "We can make Boston a leader in streamlined, transparent, and effective job and business growth."
City Council President Bill Linehan is looking forward to the new opportunity to work together.
"Councilor Linehan is open to proposal and believes it will increase transparency and strengthen the relationship between the Council, Mayor and the BRA," said Kristin Abbott, spokesperson for Linehan.
Former Boston City Council President Larry DiCara worked with the BRA for several years and looks forward to the changes in the agency.
"The important thing is that some entity in the city needs to be responsible for development," he said. "Development should have certainty and transparency, especially where we now are dealing with worldwide capital markets. They need to know that if they do a deal in Boston, they can budget so much time and know they will get an answer one way or the other. The structure is not as important as it is to have something in place that works."
Several residents said they felt the BRA should not be one of Walsh's top priorities as mayor.
Jay Bordage, 51, of Roslindale, said she is concerned that the changes in the BRA will change its priorities in the city.
"Boston has some of its charm as being a very human-centered city, because the buildings were created at a time when walking was the only form of transportation," she said. "So if that starts getting torn down … I don't want Boston to lose its charm."
Greg Jones, 24, of Jamaica Plain, said there are more pertinent issues that Walsh should be fixing before altering the BRA.
"Everything is changing, it's just about whether or not it's changing for the better or worse," he said. "I'm sure there are a lot of other things to worry about. I'm not saying that he shouldn't worry about the BRA, but there are other things that are worse that need more attention."
Joann Holloway, 55, of Dorchester, said there might be potential downfalls in these sudden changes but said Walsh should have the ultimate decision.
"The mayor can't do it all himself so he needs the BRA," she said. "It should be his choice. Change is good sometimes, so if he's coming in with a new administration [in the BRA], then bring in the change."