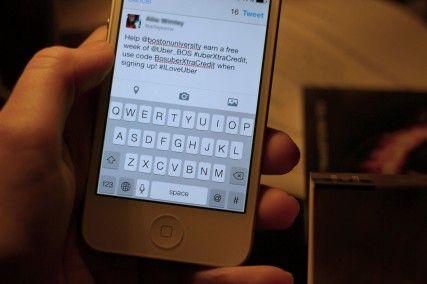 Uber, a vehicle-for-hire platform, launched a campaign on Tuesday encouraging students at participating universities, including Boston University, to sign up for Uber with the incentive of earning their campus one week of free rides.
The weeklong campaign, dubbed Uber Xtra Credit, pits Boston University up against Harvard University, Northeastern University and Boston College. The first college to have 1,500 students sign up for the company with their school's unique promotional codes will win their campus a week's worth of UberX rides, according to a blog post from Uber's website.
"We want as many people as possible to know about our service," said Nick Matthews, community manager of Uber Boston. "The best way to get people to experience [Uber] is to just have their friends tell them about it, get them to the back of the car, have them experience it for themselves. We're happy to offer an incentive to get them there."
New users who register with their school's promotional code will receive $20 off their first ride, the blog post stated.
Marshall Van Alstyne, an assistant professor at BU's School of Management, said Uber's marketing technique is smart and effective because it rewards both referrers and the people they refer.
"If they commit something like $75, and then you rebate that $75, what you've done is you've created an engagement, an interaction with the system, which helps them to appreciate it and get the ride, and then feel like they have to use it as opposed to just giving away free rides on the first go," Van Alstyne said. "The best [marketing techniques] actually reward both sides: people who send out an invitation and those that redeem the invitation."
Some students said the contest is likely to be affected by inclement winter weather.
"With the snowstorm it's even harder to get any transportation, so I don't think [students will] try to get a taxi because they know it will take a lot more time and, with the snow storm, the prices will go up," said Laura Cardona, an SMG sophomore.
College of Arts and Sciences senior Cherise Fields said students are likely to take advantage of Uber's services, particularly on the weekends, if they have a satisfactory experience.
"Around Boston University, and [with] Comm. Ave being such a long street, a lot people do use the taxi service, especially around Thursday, Friday nights, especially the weekends," she said. "The service will have to keep its quality up to give students a reason to return to it, though."
While the campaign may initially attract a lot of customers, Uber will have to make an effort to maintain business when the contest concludes, Fields said.
"I could see where students might use it only for the promotional offer and not after that," she said, "but if their first experience is good enough then maybe they'll continue using it. So it's up to Uber to keep that service going."
Daniel Fernandez, a SMG freshman, said Uber could take some other steps to further engage their target communities that could be more effective.
"It would be really interesting if they gave it a sort of a LevelUp system," Fernandez said, referring to Cambridge-based mobile startup that allows users pay with mobile phones and gives new customers discounts to local businesses and cash rewards for milestone visits. "Like use it this many times and you get, like a free ride — that would definitely be an incentive for me to use it instead of waiting for a regular cab."