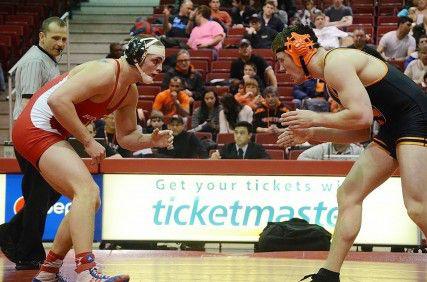 Members of the Boston University community collected over 1,000 signatures for a petition to defend BU's wrestling program in a Save BU Wrestling cross-campus campaign Friday.
Since BU Athletics officials announced that the wrestling program would be cut after its 2013-14 season, BU students, alumni and supporters of the program across the country have banded together to protest the decision. The "Save BU Wrestling" Facebook page now has over 7,000 members.
"[The decision] has had a devastating impact on our current students, their families, but also 50 years of [wrestling program] alumni. It's been extremely difficult to deal with," said BU coach Carl Adams. "If you pick one program out of 24 and you single that one program out [to be cut], you need to have a really, really good reason."
Adams and several members of the team said they still do not fully understand why the wrestling program is being eliminated.
In a previous radio interview with TakeDown Wrestling, Lynch said the administration "didn't feel as though we could continue to invest in a sport that we didn't really see had a really bright future for us here at BU."
BU Athletic Director Mike Lynch and BU spokesman Colin Riley did not respond to emails and calls requesting a comment on the issue.
"They [the administration] say that wrestling does not fit the strategic direction for the future of the athletic department at BU," said wrestling team member Brad Lewis, a College of Arts and Sciences senior. "That's a very political kind of response that they're giving because it doesn't actually say anything or give anyone any real reasons."
Alumni have been investigating the decision since April and believe that the program is being cut to meet Title IX requirements, Lewis said.
The legislation requires educational institutions to offer equal extracurricular opportunities to male and female students. In athletics, Title IX compliance is often determined by whether or not the number of men and women participating in intercollegiate sports is proportionate to overall enrollment, according to the U.S. Department of Education's Office for Civil Rights.
Lewis said New Balance, who donated $3 million to BU for the creation of a new field, pushed for a men's lacrosse program at the university. New Balance is one of the largest lacrosse outfitters in the nation, Lewis said.
"We were in compliance [with Title IX], everything was fine," Lewis said. "Then BU added men's lacrosse, which has 40 roster spots of male athletes being added. We have about 25 guys on our team, so dropping us frees up a little bit more Title IX space, and allows them [the administration] to compensate for lacrosse coming in."
College of General Studies Student Government President Austin Kruger said he was outraged by BU's decision to cut their wrestling program.
"It's wrong for a company to come in with $3 million and dictate how students' programs function here at the University," Kruger, a CGS sophomore, said. "I feel like the athletic department doesn't care and doesn't listen to their student athletes at all."
BU wrestling captain Nestor Taffur, a Metropolitan College senior, said the athletic administration has been unreceptive to requests for information about why the wrestling team has been cut.
"[Our alumni] have pretty much done everything to try to salvage a program here at Boston University and the athletic administration is turning a deaf ear to any of their requests for support," he said. "They have an agenda that they've been pushing, and they're not willing to listen to anything."
Adams said the decision to cut the wrestling program has caused concern throughout BU's athletic community.
"It's wrestling this time," he said. "Who's next? If one program could be singled out so easily for extinction, who's next?"