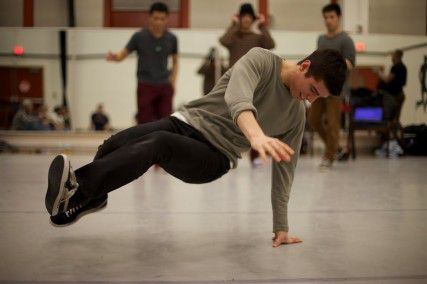 More than 20 individuals of varying size, age and gender breathed life into the squeaky-floored dance studio at the Student Activities Office on Saturday evening, inhaling and exhaling to the rhythm of hip-hop and stomping feet. Despite a rather modest attendance, Boston University Hip-Hop's inaugural "Pillar Event," the first in a series of four this semester, helped hip-hop fans jump into the world of "breaking," commonly known as break dance, at the club's B-boy Workshop and Panel.
The workshop-panel spanned two hilarious hours and aimed to instill both a self-testing joy and a heightened awareness of the legendary style of street dance. Carl Zhang aka "Zhango," a Sargent College of Health and Rehabilitation Sciences senior; Alejandro Ramon aka "Jandro," a Northeastern University junior; and Robinson Le aka "Conan," a University of Phoenix student spearheaded the event, guiding a mixed group of club members and guests through a short set of beginners' moves. The trio taught with confidence, undoubtedly the result of years of practice and dance-related battles.
First came the "up-top pop rock" (also known as the top rock) followed by the "six step," a rotational roundabout requiring the spider-like crisscrossing of legs while crouched. A few attempts actually succeeded in completing the basic move, but all in attendance were more than willing to experiment and risk toppling over. A fear of failure visually dissipated, and, in the midst of midterm season, so did stress. One girl, initially squirmy with a shy smile, voyaged to the center of a cheerful dance circle at the friendly urging of others — yet another moment of community and self-improvement that has come to define Boston University Hip-Hop.
"It's a lot about self-growth, and growing with others around you," said Ramon, who has been breaking for more than two-and-a-half years.
A crystalized bond intensified when Zhang, who has more than seven years of experience, led the encircled group in a side-step movement. Synchronized and smooth, dry foreheads gave way to sweat as the sounds of moving bodies filled the room and hoodies were discarded. Archaic soul jams and new school Action Bronson tracks guided and complimented a more tangible, man-made pulse.
Later, the student instructors were joined by local breaking legend Xcel of Problemz Kru, an explosive dancer who has traveled the world thanks to his impeccable sense of tempo and body control. With more than 15 years of experience, the fray-tested, artist-turned-teacher showcased power move after power move before leading a panel discussion that tackled the significance behind breaking as well as its origins.
"A beat boy is someone who understands the knowledge and history of the dance, not just somebody who can spin," Xcel said.
Though all four panelists shared an abundance of information (Never touch someone if you find yourself in a breaking battle — it's the ultimate sign of disrespect), the most applicable statement of the night came much earlier, during the workshop segment.
"Look in the mirror," said Zhang during a routine. "See how you look like, then see how you want to look like."
Zhang's words summed up the event's theme of advocating for the self-directed destruction of limits and comfort zones.
A similar principle led to the formation of BU Hip-Hop itself: The founders, who failed to see what they wished for in a collegiate environment, willed a vision into reality. In a room brought to life by personal growth, laughter and dance, the only marks of division in this expanding community are the positioning lines on the gray gym floor.