The 2013-14 school year was a massively successful campaign for BU athletics, as multiple teams captured Patriot League conference championships and NCAA Tournament berths throughout the year. Looking forward, the return of multiple Terrier veterans, coupled with an exciting influx of new talent, should make the 2014-15 year yet another thrilling ride for multiple BU teams.
Here's a brief look at some of the teams that BU has to offer and what to expect in the coming year.
Fall Sports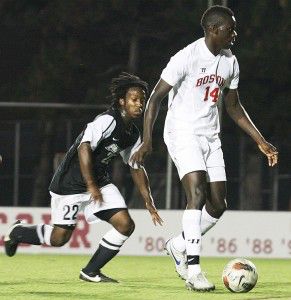 Men's Soccer
2013 Record: 6-10-1 (3-6 conference record, seventh in the Patriot League)
2014 top returners: Senior forward Dominique Badji (led the team with six goals and earned Second Team All-Conference honors, junior backer Jeroen Blugh (led all BU defenders with two goals last season), senior backer Kelvin Madzongwe (2011 America East Defender of the Year)
Head Coach: Neil Roberts
Season Recap: Expectations were high for the Terriers going into the year, as the team was tabbed to finish second in the Patriot League at the start of the season.  Unfortunately, injures to the team's most skilled backers in Jeroen Blugh and Kelvin Madzongwe doomed the Terriers, who finished seventh in the conference standings. There were some bright spots on the season in leading scorer Dominique Badji and senior midfielder Anthony Ciccone, who led the team with seven assists.
Expectations for 2014: With some new faces, including David Amirani, a standout at Fort Hamilton High School in Brooklyn, N.Y., and veteran stars in Badji and Blugh, BU hopes to join the ranks of perennial conference powerhouses like the U.S. Naval Academy and the U.S. Military Academy. While the Terriers will miss Ciccone, the team will return 23 players for next season.
Women's Soccer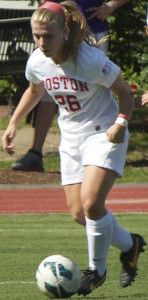 2013 Record: 15-4-4 (8-1-0 conference record, second in Patriot League)
2014 top returners: Sophomore forward Erica Kosienski (eight goals, two assists), junior forward Jenna Fisher (two goals, three assists), senior midfielder Jamie Turchi (two goals, two assists), senior defender Kai Miller (started all 23 games at center back)
Head Coach: Nancy Feldman
Season Recap: The BU women's soccer team had yet another strong season in 2013. Led by senior forward Madison Clemens and super-sub freshman Erica Kosienski, the Terriers powered their way through their Patriot League competitors, dropping only one league contest Sept. 20 against the U.S. Naval Academy. In the Patriot League tournament, the Terriers avenged their loss to the Midshipmen, defeating them 1-0 in the Championship match on a Kosienski strike. The conference championship gave BU a berth in the NCAA Tournament, where they faced crosstown rivals Harvard University at home in the first round. Yet another timely goal from Kosienski narrowly pushed BU past the Crimson, 1-0. Against No. 9 Santa Clara University in the second round, the Terriers put up a good fight, but fell to the Broncos by a score of 2-1.
Expectations for 2014: Although BU will lose starting goalkeeper Andrea Green and its second, third and fourth leading goal scorers to graduation, the future still looks bright for coach Nancy Feldman's squad as they bring back leading scorer Kosienski and several other key players.
Field Hockey
2013 Record: 13-7 (5-1 conference, second in the Patriot League)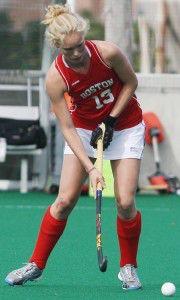 2014 top returners: Sophomore forward Amanda Cassera (tied for the team lead in points [16] and goals [eight], 2013 Patriot League Rookie of the Year Award), sophomore midfielder Hester van der Laan (All-Patriot League Second Team, five assists), junior fullback Rachel Coll (started 17 games for the Terriers following a lower-body injury midway through last season), senior goalkeeper Valentina Cerda Eimbcke (2013 Patriot League Goalkeeper of the Year).
Head Coach: Sally Starr
Season Recap: In its inaugural season in the Patriot League, the BU field hockey team shined on its way to a berth in the Patriot League tournament final. Led by a batch of underclassmen last year, the Terriers finished last season with their best record since 2007. Rookie forward standouts Amanda Cassera, Hester van der Laan and Taylor Blood led an offense that outshot opponents 275-205 over the course of the season. While the Terriers were only one win away from securing the conference title, the team ultimately came up short, falling to American University, 3-0.
Expectations for 2014: Although BU loses captain and lockdown fullback Ysi Schieb, it remains strong on defense in the capable hands of the trio of Rachel Coll, junior Katie Bernatchez and sophomore Bea Baumberger Altirriba, who lead a squad that finished second in the conference last year in goals-against average (1.35). The strongest aspect of this Terrier team, however, resides in front of the cage in Valentina Cerda Eimbcke. The Chilean-native played in every single minute last season, recording 96 saves and six shutouts as she solidified her place as one of the top goalkeepers in the nation. With depth at every position, BU will be one of the best all-around teams in the conference and look to be primed for a deep postseason run.
Cross Country
Key Returners for 2014: Senior Rosa Moriello (First at Patriot League championships), junior Shelby Stableford (Sixth at Patriot League Championships), junior Michelle Sumner (13th at Patriot League championships), junior Kevin Thomas (16th at Patriot League Championships), junior Ben Ravetz (22nd at Patriot League Championships)
Head Coach: Bruce Lehane
Season Recap/Expectations for 2014: Both the men's and women's cross country programs will look to build off of strong 2013 campaigns. As a junior, Rosa Moriello tore up the competition, finishing first at the Patriot League championship meet by close to 40 seasons and guiding the Terriers to a team championship. Moriello was named Patriot League Runner of the Year and Lehane received Coach of the Year honors. The team championship was the first Patriot League title for any BU athletic squad. At the NCAA Northeast Regionals, Moriello came in 25th in a highly competitive field and the Terriers finished in 14th place as a team.
On the men's side, senior Rich Peters led a strong BU squad in 2013. Peters finished second at the Patriot League Championships, just six seconds behind the winner, senior Tyler Mueller of Lehigh University. Sophomore Kevin Thomas and junior Ben Ravetz came in 16th and 22nd, respectively, to help the Terriers to a fifth-place team finish. Peters was again the team's top runner at the NCAA Northeast Regionals, completing the 10-kilometer race in 31:16.5, good for 41st place. Thomas also had another strong showing, running 31:23.7.
Winter Sports

Men's hockey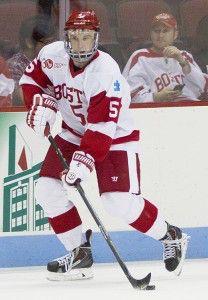 2013-14 record: 10-21-4 (5-12-3 conference record, ninth in Hockey East)
2014-15 top returners: Sophomore forward Robbie Baillargeon (10 goals, 17 assists, 2013-14 Pro Ambitions Hockey East All-Rookie Team), junior forward Danny O'Regan (10 goals, 12 assists), junior defenseman Matt Grzelcyk (three goals, eight assists in 19 games), Ahti Oksanen (seven goals, 17 assists, 55 blocks)
Head coach: David Quinn
Season Recap: The 2013-14 season for the men's hockey team was a new era for the program, as first-year head coach David Quinn assumed the role vacated by legendary coach Jack Parker, who retired at the end of the 2012-13 year after leading the team for 40 years. While the Terriers started off with a promising 3-1 start, the team was felled by a lack of experience, poor discipline and injuries, causing an inconsistent product out on the ice at Agganis Arena. In the roughest portion of their season, the Terriers lost eight games in a row from Dec. 1 to Feb. 17.
There were a few memorable matchups on the year, as the Terriers defeated Cornell University, 3-2, at Madison Square Garden on Nov. 30 in the fourth edition of Red Hot Hockey, while also facing off against the University of Maine at Fenway Park as part of Frozen Fenway 2014. The Terriers lost to the Black Bears in the contest by a score of 7-3. The Terriers' season finally came to a close March 8, as BU fell to the University of Notre Dame, 3-2, in the opening round of the Hockey East tournament, putting an end to a trying transitional year for the program.
Expectations for 2014-15: Staying healthy will be half the battle for the Terriers in 2014-15, as the team slumped last season after losing both Matt Grzelcyk and senior forward Cason Hohmann to injury, while Danny O'Reagan never returned to full form after suffering a nagging ailment during the World Junior Championships. However, with a now-experienced sophomore class expected to step up and an impressive freshman corps, highlighted by National Team Development Program U18 players Jack Eichel and Johnathan MacLeod, the Terriers should once again be a force to be reckoned with in Hockey East.
Women's hockey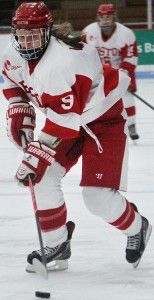 2013-14 record: 24-13-1 (14-7-0 conference record, second in Hockey East)
2014-15 top returners: Senior forward Marie-Phillip Poulin (19 goals, 36 assists in 2012-13, Won gold medal with Canadian Olympic team at 2010, 2014 Olympics), Sarah Lefort (2013-14 Hockey East Player of the Year, 32 goals, 23 assists)
Head coach: Brian Durocher
Season Recap: Despite coming off an appearance in the NCAA Championship game in 2013, expectations were lowered for the Terriers in 2013-14, as the team lost its top-three scorers – junior forward Marie-Philip Poulin to Olympic play, and senior forwards Jenelle Kohanchuk and Isabel Menard to graduation. However, a core of Terriers, led by senior captain Louise Warren (27 goals, 19 assists), sophomore forward Sarah Lefort and senior goaltender Kerrin Sperry (2.49 goals-against average, .926 save percentage) would quickly help BU put all doubters to rest, as the team posted a 24-13-1 record on the year, highlighted by an eight-game win streak from Oct. 26 to Nov. 15.
After winning their third-straight Hockey East championship with a win over Boston College, 3-2, the Terriers advanced to the NCAA Tournament, where BU fell in the quarterfinals to the same team that defeated them in the Championship title game last year, the University of Minnesota, by a score of 5-1.
Expectations for 2014-15: While losing Sperry in net will be a huge loss for the Terriers, the return of one of the most skilled players in women's hockey in Poulin should once again make the Terriers one of the most dangerous teams in Hockey East in 2014-15.
Men's Basketball
2013-14 Record: 24-11 (15-3 conference record, first in Patriot League)
2014-15 top returners: Junior guard John Papale (9.3 points per game, .414 3-point field goal percentage), sophomore guard Cedric Hankerson (6.0 points per game, 2.0 rebounds per game)
Head Coach: Joe Jones
Season Recap: The 2013-14 campaign was a season full of tremendous highs and frustrating lows for the BU men's basketball team. The Terriers' non-conference schedule saw the team defeat Northeastern University in the season opener and go toe-to-toe with strong teams like eventual NCAA National champions University of Connecticut and crosstown rivals Harvard University. However, the team also suffered disappointing losses to Eastern Washington University and Norfolk State. In league play, BU was dominant and earned a first-overall seed in the Patriot League tournament. Joe Jones' team looked poised to receive a berth to the NCAA Tournament but put up the worst offensive performance of the season in a 55-36 loss to American University in the Patriot League Championship game. The Terriers settled for the National Invitation Tournament, where they hosted the University of Illinois in the first round. BU led for a majority of the game, but could not hold off a comeback effort from the Illini and lost 66-62.
Expectations for 2014-15: Next season looks to be a rebuilding year for the Terriers as they will be without three of this season's starters, including Maurice Watson Jr., the team's leader in points, assists and steals and the core senior trio of forward Dom Morris, guard Travis Robinson and guard D.J. Irving.
Women's Basketball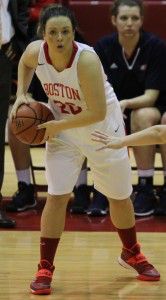 2013-14 Record: 13-20 (7-11 conference, seventh in the Patriot League)
2014-2015 top returners: Senior forward Mollie McKendrick (9.1 points per game, 6.4 rebounds per game), junior guard Clodagh Scannell (6.8 points per game, 4.5 rebounds per game), sophomore guard Sarah Hope (led team in 3-point shots made with 60)
Season recap: It was a tumultuous 2013-14 season for the BU women's basketball team as the Terriers endured the program's first losing record since the 2004-05 season. Not even seniors forward Rashidat Agboola and guard Danielle Callahan, two of the most accomplished players in BU history, were able to guide the Terriers through the Patriot League, as the Terriers ended the year with a 13-20 record. More controversy would emerge at the conclusion of the season, as head coach Kelly Greenberg stepped down from her position on April 22 after accusations of emotional bullying from former players.
Expectations for 2014-15: The Terriers have the potential to improve in 2014-15 thanks to the return of Mollie McKendrick and Clodagh Scannell, both of whom are veteran leaders with plenty of experience. BU also brings back a trio of sophomores in guard Courtney Latham, forward Meghan Green and Sarah Hope. Latham and Hope provide some pop from the outside with nearly 220 career long-range attempts between them. Meanwhile, Green will definitely see her minutes increase from the 9.7 per game she saw last year. Although the Terriers struggled last season, a young core at all five positions will give BU the chance to compete against top-tier Patriot League opponents.
Spring Sports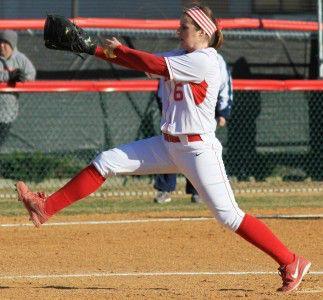 Softball
2014 record: 36-21 (13-5 conference record, second in Patriot League)
2015 top returners: Sophomore third baseman Brittany Younan (.379 average, 10 doubles, 39 RBI), sophomore outfielder Moriah Connolly (.327 average, 12 doubles) junior pitcher Melanie Russell (13-5, 2.11 ERA), junior Lauren Hynes (.333 average, 12 RBI)
Head coach: Kathryn Gleason
Season Recap: It was a tale of two seasons for the BU softball team, as the Terriers posted a lackluster 19-18 record through 37 games last year. While it looked as if the Terriers were doomed to post a lackluster line on the year, BU reeled off an incredible 13-game win streak during the final stretch of the season. The Terriers would carry that momentum into the Patriot League tournament, defeating Bucknell University in the Patriot League final to earn a bid to the NCAA Tournament. BU would make it to the second elimination round of the NCAA Regionals before falling in heartbreaking fashion to Louisiana State University, 8-3.
Expectations for 2015: While the loss of an impressive senior class that includes shortstop Brittany Clendenny, catcher Amy Ekart, first baseman Chelsea Kehr and outfielder Jayme Mask will hurt the Terriers, an impressive sophomore class and a full season from Melanie Russell should ensure another great season for the Terriers.
Men's Lacrosse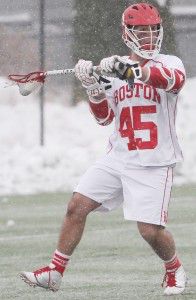 2014 Record: 2-11 (2-6 conference record, seventh in Patriot League)
Key Returners: Sophomore goalkeeper Christian Carson-Banister (.545 save percentage), sophomore midfielder Sam Talkow (six goals, two assists, .567 faceoff percentage), sophomore attack Ryan Johnston (17 goals, two assists), sophomore midfielder Cal Dearth (11 goals, 15 assists)
Head Coach: Ryan Polley
Season Recap: Playing in its first season as a Division I program, the BU men's lacrosse team had by all accounts a successful first season. The Terriers faced several highly ranked squads in its inaugural season, including eventual NCAA Champions Duke University and 2012 national champions Loyola University-Maryland. After several close games, the team finally earned its first win, a 12-7 road victory over Lafayette College on March 15. Ryan Polley's squad would only earn one more victory in 2014, a 9-8 win over the College of the Holy Cross, but the season was not devoid of positives for the young team.
Freshman goalkeeper Christian Carson-Bannister was a force to be reckoned with in between the pipes for the Terriers. The Dallas-native ended the season sixth in the NCAA in saves per game with 12.17 and 17th in save percentage. Against the Blue Devils, Carson-Banister recorded 25 saves, an NCAA single-game high for 2014.
At the faceoff X, midfielder Sam Talkow was another bright spot for the Terriers, as he stood second in the Patriot League in faceoff percentage. Freshman attack Ryan Johnston, freshman attack Adam Schaal and redshirt freshman Sam Tenney anchored a strong BU attack that put up 101 goals throughout the course of the season.
Expectations for 2015: With all of its key players returning to the field for the 2015 campaign, the Terriers will only look to improve in their second season as a varsity program.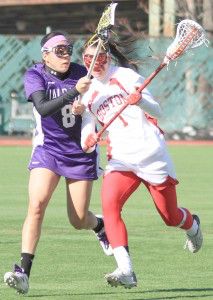 Women's Lacrosse
2014 Record: 9-11 (5-3 conference, second in the Patriot League)
2015 top returners: Junior midfielder Jill Horka (All-Patriot League First Team honors), senior attack Lindsay Weiner (20 assists)
Head Coach: Liz Robertshaw
Season Recap: After starting out the season facing some of the top competition in the country, the BU women's lacrosse team won nine of its last 16 contests, which included a deep postseason run resulting in a Patriot League Championship game berth.
Expectations for 2015: Despite graduating key players, such as Becca Church and Elizabeth Morse, much of the Terrier squad remains intact. Offensively, redshirt sophomore attack Mallory Collins and Lindsay Weiner will pace BU, having combined for 66 points last season. On the defensive side of the ball, Siobhan McCarthy plays field general at the back, after coming off a stellar season in which she caused 10 turnovers and scooped up 13 ground balls. However, the strength of this Terrier team will continue to be the midfield, where Jill Horka reigns supreme. The Westborough-native is coming off of a stellar season in which she carried the Terriers both offensively and defensively, scoring 35 points, while putting up 24 caused turnovers and 46 draw controls. After having lost some team leaders to graduation, BU's young starters will look to step up and take the Terriers to the next level on a national scale.
Full Year Sports
Track and Field
Key Returners: Junior Michelle Sumner (distances), junior Christy Wood (sprints), senior Gemma Acheampong (sprints), sophomore Justin Flynn (sprints), junior Alec Olson (distances), junior Reuben Horace (throws)
Head Coach: Robyne Johnson
Season Recap/Expectations: As has been customary under the leadership of director of track and field and cross-country Robyne Johnson, the BU track and field program posted incredible results in both the indoor and outdoor seasons. The women were especially dominant over their Patriot League competition, winning both the indoor and outdoor team titles.
First, at the Indoor Patriot League Championships, the Terriers had strong performances all across the board. For the men, senior Rich Peters led the way, as he was named Male Track Athlete of the Meet after winning both the mile and the 1,000m races. Senior Nat Hinckley finished third in the heptathlon with a personal-best 4,567 points. Sophomore Reuben Horace won the 35lb weight throw to help BU to a third place team finish.
The women had several top-finishers that helped them claim the team championship in assertive fashion, finishing with 210 points, 80 points ahead of second place Lehigh University. Sophomore Catherine Sampson got things started early on the first day of the meet, coming in third in the heptathlon. A day later, sophomore Michelle Sumner won the 5,000m run in 17:03.13. On the final day of competition, senior Monica Adler won the mile and senior Rosa Moriello was victorious in the 3,000m. In the last event, the 4x400m relay team put the exclamation mark on the weekend, winning by over three seconds.
Peters and Adler advanced to the NCAA finals of the mile, where they finished fourth and eighth respectively and were named an All-American by the U.S. Track and Field and Cross Country Coaches Association.
At the Outdoor Patriot League Championships, the women shined yet again en route to another team title. Senior Alison Barwise received Field Athlete of the Meet honors while senior Nikko Brady earned Track Athlete of the Meet thanks to their impressive performances. Barwise posted school records in the javelin and high jump, and won the heptathlon with 5,628 points. Brady won the 100m hurdles in 13.68 seconds and was a member of a 4x400m relay team that broke its own school record en route to a first place finish. In the distances, Adler won the 1,500m and senior Rosa Moriello was victorious in the 5,000m.
For the men, four Terriers won their events to help BU finish third overall. Freshman Justin Flynn capped off his successful rookie campaign, posting two-top five finishes, including a second place result in the 100m. Flynn was also a key member of both the 4x100m and 4x400m relay teams. The Patriot League awarded Flynn with Patriot League Rookie of the Meet honors.
The distances reigned supreme again, as Peters, Olson and sophomore Kevin Thomas won the 1,500m, 3,000m, and the 5,000m respectively.
As both squads return several key athletes, BU will look to continue its success in its second year in the Patriot League.