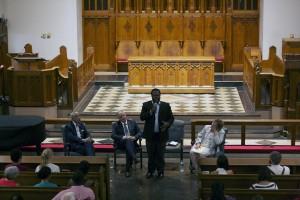 University Chaplain Brother Larry Whitney hosted a forum Wednesday night at Marsh Chapel to open dialogue on campus about the Aug. 9 shooting of Michael Brown, a national controversy that has sparked demonstrations and protests across the United States.
"I'd like to think of Ferguson as a site of cultural haunting," said panelist Walter Earl Fluker, a Martin Luther King, Jr. professor of ethical leadership at the School of Theology. "Think of post-racial America as a ghost [that] is hard to catch… [It's] an opportunity to look at the shadowy aspects of life and the lost instincts."
The forum, which featured a panel of four leaders from the BU community who shared their thoughts about issues surrounding the Ferguson, Missouri shooting, had about 40 students and Boston residents who attended the talk.
Thomas G. Robbins, Boston University Police Department chief and director of public safety, said it is important for departments and officers to remember they are in a position to serve and protect the community rather than to control it.
"Officers are moving towards a model that considers racial undertones and that they realize we're part of a community and society," he said. "I wonder what that officer was thinking. He [Brown] was an 18-year-old man, not a monster… Police are trained to use the lowest level [with] the tools they have."
The second part of the forum gave attendees the chance to have an open discussion about a variety of bigger questions such as the state of race relations, citizenship and activism.
College of Arts and Sciences Dean Virginia Sapiro said it is important for people not to view Ferguson as an isolated event and a mere cautionary tale.
"At a university or academics, it's easy to theorize," she said. "An example doesn't have all its lessons. We have to work against the idea that by naming the incident we will understand and remember it. By doing that, we have tried to think about what else or if something similar has occurred elsewhere … Are we too self-satisfied? We need to be vigilant and mindful."
Linwood Blizzard, II, an associate minister and STH Ph.D. student, said perceptions of black individuals are often generalizations that can prove deadly, such as in the case of Ferguson.
"When I say I am Michael Brown, it is not a hashtag," he said. "I know I'm black, but I'm reminded of that when I step outside. We need to get beyond the fear. We're not going to bite. I'm not going to hold you up at gunpoint. [We have] lives that go beyond what the media portrays."
Several attendees said they found the forum a helpful tool for talking about the implications of what happened at Ferguson.
CAS sophomore Marwa Sayed said she hopes dialogue about Ferguson and its impact on the community continues and that solutions arise out of the resulting conversation.
"Most importantly, we need to stay awake about these issues," she said. "Michael Brown's shooting was in the news for two weeks and then disappeared even though things are still happening. People treat it as an isolated event and use it as an example to add to an imaginary scale of how bad things are. There shouldn't be a next time."
Brittany Schwartz, 22, a BU alumna and Allston resident, said as someone who is interested in social justice, the situation in Ferguson is at the forefront of these issues.
"I attended the event to show I care and get a fresh perspective," she said. "It was nice to hear from the panelists and connect with other people [and] hear the personal stories from members of the audience. It was nice to get an idea of some of the systematic change we need."