On an average weekday, Beth Wittenstein walks into the kitchens at 808 Commonwealth Ave. and starts cooking. She watches iconic Boston chefs and foodies carve, sauté and braise – and then she does it herself.
Wittenstein is a student within Boston University's Master of Liberal Arts in Gastronomy, a graduate-level program that combines experiential culinary courses with academic concentrations. It's a culinary school with a scholarly twist, where students carve charcuterie with James Beard Award winners, forage for ingredients in Massachusetts and study ancient fermenting practices with internationally renowned scholars.
Gastronomy, or the study of the culinary arts, is not a common field of study within the university setting, but it's becoming more popular. As information about genetically modified organisms and world hunger increase in common consciousness, more graduates are pursuing food policy and culinary ecommerce. When cooking school doesn't cut it, food studies and gastronomy programs allow students to explore the world of food from a different angle, be it fiscal, political or historical.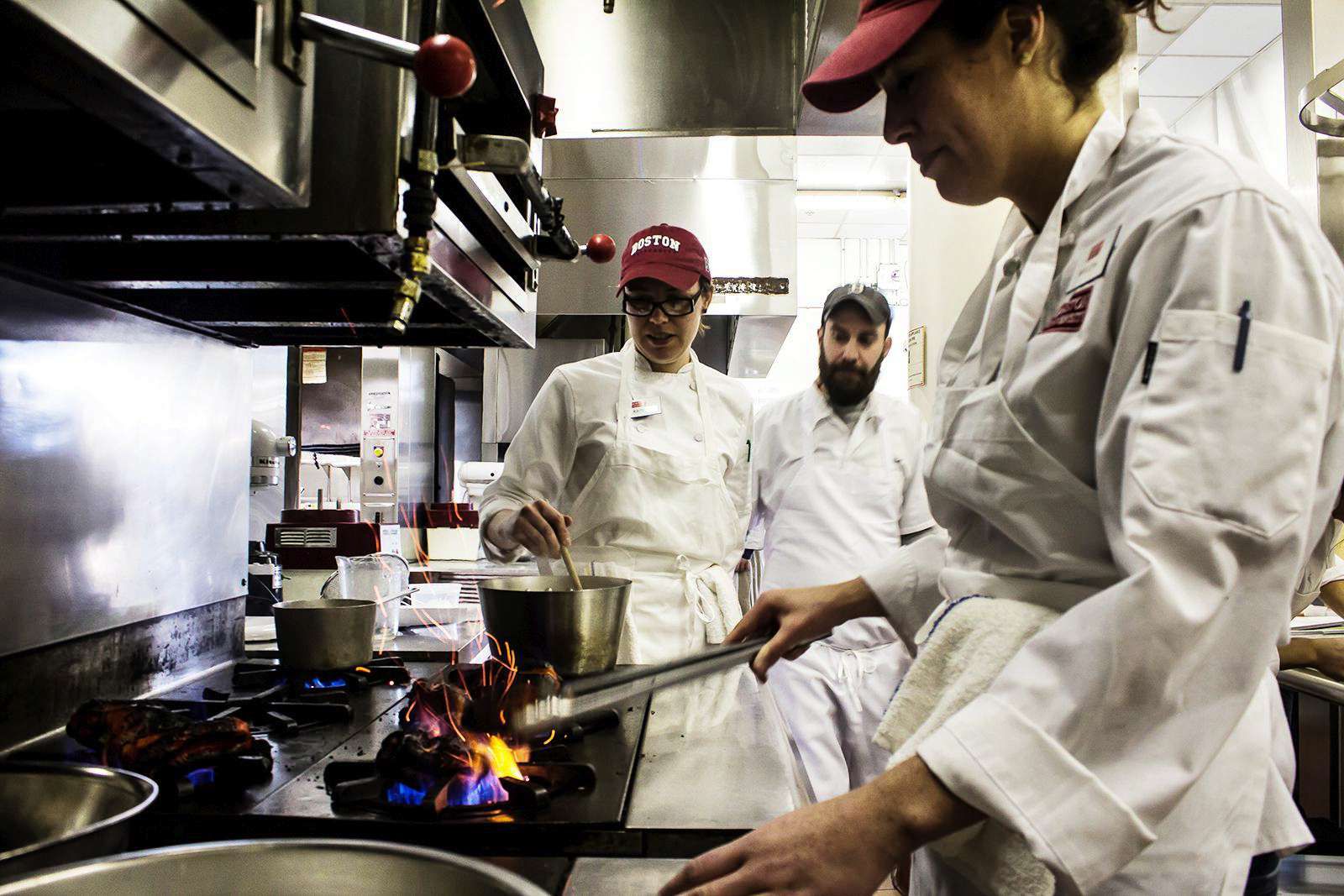 BU's gastronomy program offers four major areas of study: business and entrepreneurship, communication, food policy and history and culture. Wittenstein, who now freelances for the food section of The Boston Globe, said the communication classes give the program an edge over similar programs at other schools – especially her class with Globe Food Editor Sheryl Julian.
"She [Julian] taught us everything you'd possibly need to know about food writing and getting your stuff out there," Wittenstein said.
Wittenstein is in the Culinary Arts Lab, an eight-credit elective with lectures, food demonstrations and field trips. She arrives in the morning, puts on her whites and listens to a guest lecture and demonstration.
On Monday, the kitchens at 808 Comm. Ave. welcomed Debra Samuels, an author of Asian cuisine cookbooks and a Globe contributor. Samuels lectured on the Korean kitchen and made bibimbap, a rice bowl served with vegetables, protein and spicy chili paste. Wittenstein and her classmates followed suit, making their own rice bowls, before taking a short break. In the afternoon, the permanent professor leads a second cooking lesson. Students leave the Culinary Arts Lab with a culinary school experience.
Mary Beaudry, the interim coordinator of the MLA in Gastronomy program, said students pursue the degree because of the "good employability" of gastronomy.
"Food studies degree programs are popping up everywhere [now], but in 1991 [when BU introduced the program], people thought we were really silly," she said. "People said, 'Why would you want to study food?' That seems to have answered itself."
Beaudry has the slow drawl of a sommelier, but she started working at BU through the archaeology program. One day in the early 1990s, Jacques Pépin, a television personality and iconic French chef, popped in Beaudry's office and said, "You're the only person here who specializes in food."
Pépin and Julia Child were playing with the idea of a program that combined academia and "culinaria," and they wanted an academic to help develop a food studies curriculum complete with anthropology, communication and history. Beaudry eagerly agreed and within the year, Pépin and Child founded the program, and Pépin was teaching a course for the program called "Culture and Cuisine of France," which is still taught to students.
With about 100 students and a collection of adjunct professors, BU's gastronomy program offers courses like "Artisan Cheeses of the World," taught by Ihsan Gurdal of Formaggio Kitchen. Gurdal is a former Olympic athlete who found his love for cheese while coaching volleyball at Harvard University.
"A whole panoplies of respected chefs have taught here [at BU]," Beaudry said.
One of those chefs is Boston-based Jamie Bissonnette, who taught culinary courses within the food and wine program for nine years. Now, he guest lectures in the Culinary Arts Lab.
"To me, the word 'chef' invokes the word 'teach,'" Bissonette said. "Chefs should be teaching their family, friend, guests – everyone they can."